After being trapped in his vehicle after an electrical pole fell yesterday [July 15], driver Mark Anderson recounted his experience of being surrounded by live electrical wires, saying that he was "terrified" and freaked out" and offered his thanks to the Bermuda Fire and Rescue Service for coming to his aid.
Mr. Anderson told Bernews, "I was driving along North Shore Road, and as I was driving, this pole was falling, cracked – completely cracked – and fell right in front of me.
"It landed on my car, on the top part of my bonnet. There's damages to the top front part, also the sides of the car. The pole was sparkling, everything that you can imagine – live wires and stuff like that. I basically freaked out.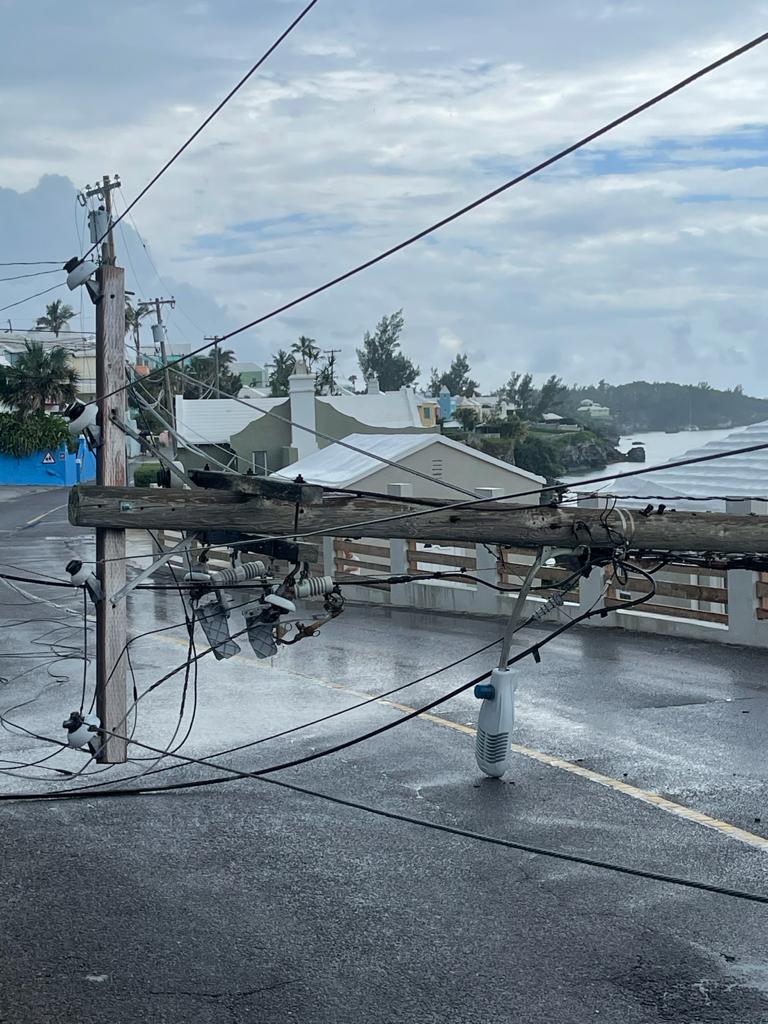 "As the pole hit my car, I immediately backed up as quickly as I could, because I was afraid of the car catching on fire, and also possibly getting electrocuted. The fireman had said that I did extremely well by not getting out of the car because had I gotten out of the car, I would have probably been electrocuted because there were live wires all over the place.
"I was terrified, petrified, everything. It was just crazy. Anyway, I'm okay. And wow, this was an experience."
"The police, the fire department were extremely…thank goodness. They were the ones that pretty much calmed me down.
"I would like to thank the fire department because there were three firemen that came. They had to walk on the embankment first because remember, it was still live wires. They walked on the bank to see if I was okay, and I told them I was fine."
The BFRS previously said, "At 1:33 pm on Thursday, July 15th 2021 BFRS Dispatch receive a report of a fallen BELCO pole on North Shore just west of C Mart. The caller was trapped in a vehicle that was surrounded by live electrical wires from the pole.
"One appliance from Hamilton Station was dispatched to the incident with four firefighters. Upon arrival fire crews found one pole had fallen with wires surrounding a car. Fire crews along with BELCO personnel removed the vehicle from danger. There were no injuries and no damage to the vehicle. The cause of the incident is under investigation by Police."
BELCO said, "BELCO received a report of an accident on North Shore Road to the west of C Mart which resulted in a broken pole and downed wires. The initial report was that a delivery truck had become entangled in telecommunication cables which resulted in the pole breaking and utility lines landing on a nearby private car.
"BELCO crews were dispatched and ensured that the de-energized lines were safely removed from the car. There were no injuries reported and no damage to the vehicle. The downed pole resulted in a power outage that initially affected approximately 575 customers."
Read More About
Category: Accidents and fires, All, News