Mosaic Insurance has welcomed its first intern, award-winning Bermudian national public speaker, McKenzie-Kohl Tuckett.
Ms Tuckett, 18, a former head girl at the island's Warwick Academy, youth parliamentarian, and public-speaking champion, heads to the University of Bristol, UK, in September to study law.
She was invited to join the global specialty insurer this month for a four-week internship at its Bermuda headquarters. Among other projects, she will develop content for Mosaic's new website, research corporate policies, participate in industry events, meet Mosaic's growing team, stage a social platform 'takeover,' and learn about life inside a start-up.
McKenzie-Kohl Tuckett with the company's Co-Founder & Co-CEO Mitch Blaser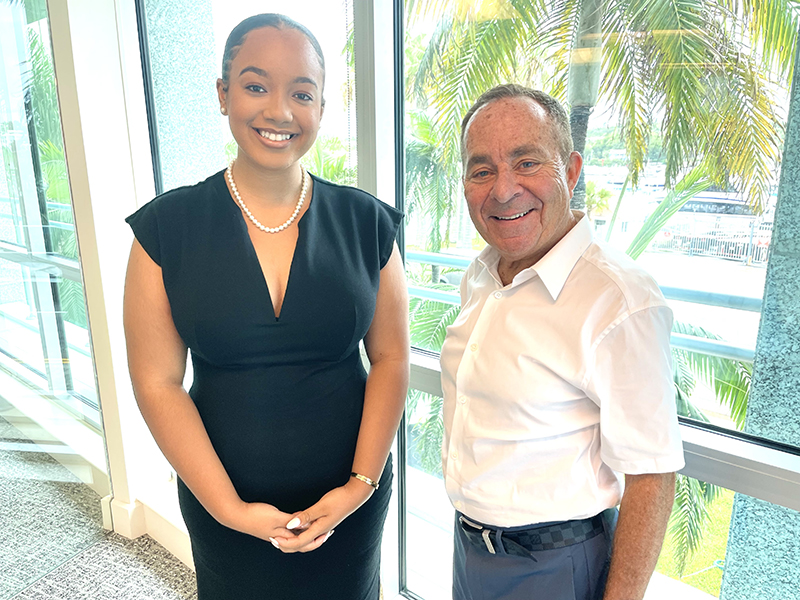 "We're excited to offer McKenzie a unique start-up experience, with visibility across our growing global enterprise," said Mosaic Chief of Staff Lisa Fontanetta. "We look forward to expanding our internship and training programs across different jurisdictions in the years to come."
A spokesperson noted, "Tuckett has served as Youth Premier in Bermuda's Youth Parliament; is Youth Assistant Director of the island's Future Leaders program; works as intern reporter with Media Maya Broadcasting; and has excelled in local and international competitions for public speaking as a member of Bermuda's National Debate Team. She will represent the island again later this month at the World Schools Debating Championships staged virtually from Macau July 26–27."
"At Mosaic, Tuckett attends company strategy meetings and speaks with underwriters in Bermuda, Chicago, London, New York, and Asia to learn about geopolitical trends driving the insurer's specialised business model and products—from ransomware and cybersecurity to political violence and the nuances of M&A deals. Among other projects, she is drafting text for website content, collateral, and key messaging, as well as conducting research to draft Environmental, Social and Governance [ESG] and Diversity and Inclusion [D&I] policy initiatives.
"Coincidentally, Tuckett got an inside-out view of Mosaic start-up journey during a previous month-long internship this summer at Conyers, Mosaic's Bermuda law firm, where she became familiar with the insurer's legal incorporation process. At Mosaic, she will see the other side, completing the corporate governance annual general meeting [AGM] forms, company incorporation, and economic substance filings.
"Notably, Tuckett is also helping expand Mosaic's social-media strategy and will stage a 'takeover' of its Instagram Stories feed during her tenure, highlighting her own take on the company's #startupstory. To follow her insights, go to @Mosaic_1609."
"We're thrilled to have McKenzie on board this summer and hope to make her time with us as mutually impactful as possible," said Mosaic Chief Communications Officer Rosemary Jones, whom Tuckett reports to while engaging with all units in the Mosaic team.
"Our aim is to give her a holistic view of what it takes to launch a global company from Bermuda and become a market leader across our specialty lines. Her many accomplishments made her the perfect choice for this opportunity."
"It's been a great experience so far, with opportunities to work with Mosaic's leadership team and meet virtually with its worldwide team of underwriters," said Ms Tuckett.
"The fact that this is one of Bermuda's newest insurers is exciting and gives me the chance to play a hands-on part in Mosaic's growth."
Read More About