Minister of Education Diallo Rabain will address the public via the Government media channels on Thursday [July 22] at 8.00pm, when he will be "sharing the final decision for parish primary schools."
The Government had previously announced, via social media, that they would be making this announcement on Thursday evening, and in a statement today, a Government spokesperson said, "The Minister of Education the Hon. Diallo Rabain, JP, MP, will address the Bermuda public on Thursday, July 22nd at 8pm, sharing the final decision for parish primary schools, it was announced today.
"Last December, the Ministry of Education embarked on a thorough and in-depth consultation process, carried out over four months and ending on March 12th, 2021. Along with the publication of the Parish Primary Schools Consultation Document, the Ministry held 20 public parish and stakeholder consultation and engagement meetings, several of which were live-streamed on Facebook, CITV and YouTube.
"Minister Rabain encourages the community to tune into the announcement, which will air on Thursday, July 22nd at 8pm on Facebook [@moedbda and @bdagovernment] YouTube [The Ministry of Education Bermuda and CITV Bermuda] and CITV [WOW Channel 102 or Bermuda Cablevision Channel 2].
"We understand that this is an issue of tremendous national significance for many individuals and families on the Island, which is why we encourage all stakeholders, including parents, grandparents, educators and students, to tune in for Thursday's broadcast," said Minister Rabain.
"The presentation will outline the decision on parish primary schools, including the rationale behind our decisions and next steps we are undertaking to ensure each and every child in Bermuda has access to a high-quality education that prepares them for success – both now and in the future."
"Following the Minister's Decision announcement this week Thursday, there will be several opportunities for internal stakeholders, as well parents, students and community members, to ask their questions and get answers from the Ministry of Education team. Stay tuned for more details on upcoming community events and Q&A sessions."
The proposal involved reducing the amount of primary schools we have from 18 to 10, with an aim to "deliver 21st century learning facilities."
List extracted from proposal's executive summary, for context please read the full document [PDF]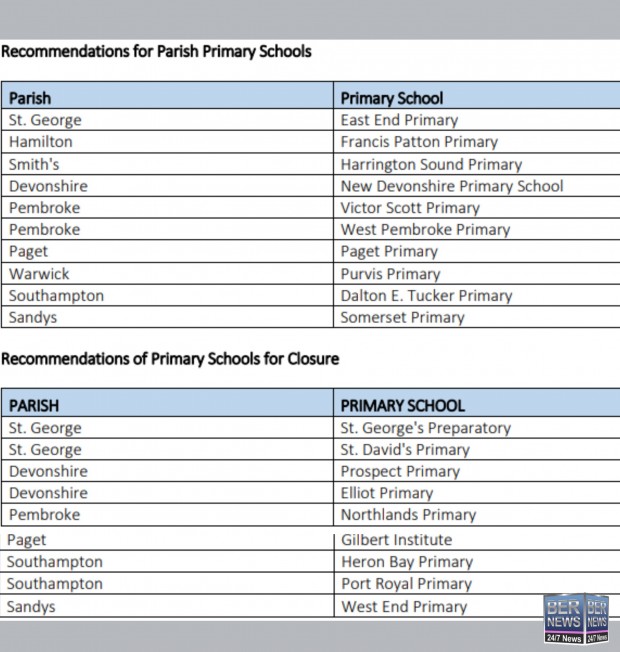 Read More About