People can be seen gathering outside Sophia Cannonier and Michael Watson's residence this afternoon [July 13] in a show of support for the couple, who recently arrived back in Bermuda from the UK, and did not enter a quarantine facility.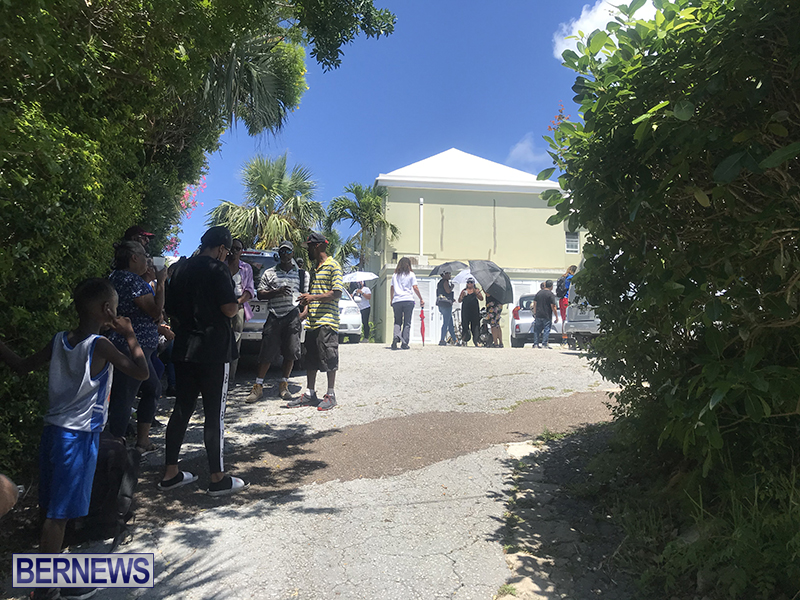 This follows after a number of police officers were seen outside of the Cannonier Watson residence late Sunday night and early Monday morning, which was followed by the Health Ministry and Police stating that the couple "are in breach of section 27[1][ab] of the Quarantine [Covid-19] [No. 3] Order 2020 for refusing to comply with a requirement to quarantine" and it "is expected that this matter will go before the courts.
Speaking with Bernews at the scene this afternoon [full comments in video above] Eugene Dean said, "Today I got phone calls to say that police had returned to the property.
"So we came on site; the police didn't really have any idea exactly why they were here when we asked further questions. Apparently the Ministry of Health is trying to get a security detail to come and monitor the property and they've asked police to hold the fort until that detail is put into place.
"Then we received word that there were efforts to put warrants in place to arrest the family, then we got contacted by the police to make it clear to us that they haven't approved the execution of any warrants.
Mr Dean then indicated that it appears "it's the Government, or the Ministry of Health, that is actively trying to get these warrants executed."
"So there is interest in being able to arrest the family still, however there haven't been any warrants executed by the police at this point and it doesn't appear the police would like to see that happen either."

You can find more information on the links below and also on our dedicated website BermudaCovid.com, which is the most comprehensive resource and historic record available of Bermuda's handling of the pandemic.
Read More About