[Updated] A number of police officers were seen outside of Sophia Cannonier's house overnight. and supporters of Ms Cannonier also gathered at the residence.
The police have not yet made an official statement and we have not directly spoken with Ms Cannonier, however according to unofficial comments from supporters at the scene as well as a live stream on the Bermuda Freedom Alliance social media, the police appear to be present due to some form of an issue related to quarantine, with Ms Cannonier said to have arrived on the island today.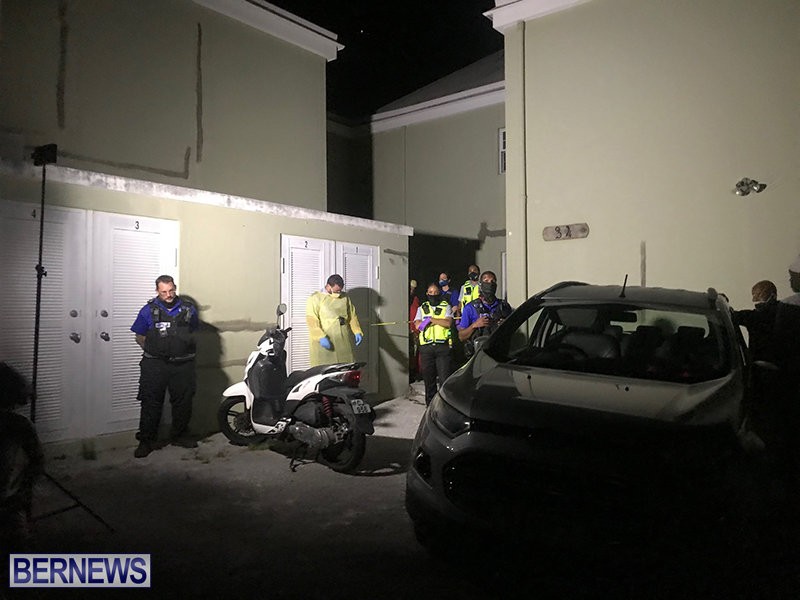 Ms Cannonier, a well known Pilates instructor and natural health advocate, has been outspoken about matters related to Covid-19.
There are multiple police officers on the road leading up to the residence, and multiple police officers outside the actual residence.
There is also yellow tape across an area and at least one person wearing the PPE you normally see health/testing official wearing. The situation has been ongoing for at least two hours now, and a number of supporters are present.
Update 4.00am: The police said, "The Bermuda Police Service wishes to advise that the situation involving a family who declined to quarantine at a government approved facility, and instead proceeded to their residence upon returning to the island, remains under review. As such, there will be no further comment on the matter at this time."
Update 5.30am: While we did not exactly go right up to the door [due to the anti-social hour] as of 5.15am this morning, we do not see the same large police presence in the general area of the residence this morning.
We will update with further information as able.
Update 7.48am: Speaking with Eugene Dean this morning, he told Bernews, "Last night, as a result of conversations that were had by legal representatives, the Health Department and the police, what was agreed upon was to take a recess.
"All those who had gathered dispersed, the police officers left, the Health Department officials left, and two police officers remained in an effort to make sure that no one went in or came out of the house."
He added that it was agreed that no effort would be made to enter the house or to attempt to arrest and the "conversation is meant to continue on today" about "what next steps will be taken."
Mr Dean explained that they had a test before leaving the UK, noted that the couple are holistic health practitioners and work to assist people in being healthier, and said this was the first time something like this has happened in Bermuda, and called it "precedent setting."
He thanked the police and health officials for "being part of a process that allowed what was happening last night to come to an end and take a recess" and also thanked lawyer Marc Daniels, who he said is representing the family.
Mr Dean also thanked everyone for the "outpouring of support from the community," noting that people showed up in person  and said it made a difference. "Thank you very much to everyone," he said.
We have asked the Government for comment and will update as able. As most people are aware, as of June 20 2021, the policy is that "all non-immunised persons travelling to Bermuda are subject to mandatory quarantine" at "hotel and guest house properties that have been designated as such by the Bermuda Government." There are some exemptions to this, and for the latest information see here on the Government website.
Update 2.33pm: A statement [PDF] from the Bermuda Freedom Alliance said, "Just prior to 4am this morning an agreement was made between the Police Department, the Health Department and the legal representative for the Cannonier Watson family to take a recess and resume conversations about how best to proceed, with what we understand to be an unprecedented situation, later today.
"Once that agreement was made all attending media and supporters left the property outside of the Cannonier Watson residence and, after a long and taxing exercise, the police officers on duty were allowed to go home. It was also agreed that two fresh police officers were set to remain overnight to ensure that no one came in or out of the residence, since the family had yet to receive the results of their arrival tests. Assurances were given by the Deputy Commissioner of the Police Department that no further efforts would be made, at this juncture, to enter the home of the Cannonier Watson family or to arrest any of the family members once the media and supporters left.
"What was determined during the numerous conversations that took place between the legal representative, the family, the Health Department and the Police Department is that there is discretion in the legal framework created for matters of this nature."
The statement added, "Because their arrival test results were negative, as anticipated, that, in and of itself, would appear to be sufficient evidence, at this point, to suggest that the family is far from posing any risk of significant harm to the community. Particularly any harm that warrants the Health Department exercising discretion in the manner we saw last night when they arrived at the Cannonier Watson residence unannounced with the support of 13 police officers, a number that grew considerably as time elapsed."
Update 6.45pm: A joint statement from the Ministry and BPS said, "Upon returning to Bermuda yesterday [11 July 2021], Sophia Cannonier, her husband Michael Watson and their two children did not follow the requirements set out in the Quarantine [Covid-19] [No. 3] Amendment [No. 2] Order 2021.
"The family of four arrived without an approved Bermuda Covid-19 Travel Authorisation form for each family member. Also, in lieu of proof of vaccination, this family presented antibodies documentation, which is not recognised in Bermuda.
"As such, the Cannonier/Watson family is considered unvaccinated, and according to the legislation, must go into a quarantine hotel, which they refused to do.
"They are in breach of section 27[1][ab] of the Quarantine [Covid-19] [No. 3] Order 2020 for refusing to comply with a requirement to quarantine as directed by a Health Officer.
"It is expected that this matter will go before the courts and the Bermuda Police Service, and the Ministry of Health will not comment further on the specifics of this case."
Read More About