The Association of Bermuda International Companies [ABIC] Education Awards luncheon was recently held, with awards presented to 19 students.
A spokesperson said, "Nineteen Bermudian students received financial support for their further education through the island's largest post-secondary scholarship programme at the recently held annual Association of Bermuda International Companies Education Awards luncheon.
"Over its 44-year history, the programme, which is supported by annual donations from ABIC member companies, has provided funding to more than 700 qualified Bermudian students pursuing undergraduate or graduate education in areas related to International Business."
Chairman of ABIC and CEO of AXA XL's Bermuda Insurance Operations Patrick Tannock said, "For Bermuda to remain relevant and a jurisdiction of choice, adaptability and learning agility are critical competencies and we must continue to invest in education to nurture the island's existing and future talent pipeline.
"It also important that Bermudians from diverse backgrounds have the opportunity through scholarships to acquire the skillsets so that they are prepared to participate in International Business, one of the key engines driving the Bermuda economy."
Some of the 19 recipients of the ABIC Education Awards, together with ABICEA Chairman Christian Dunleavy and guest speaker Kyla Evans, pictured after the presentation luncheon at the Harbourfront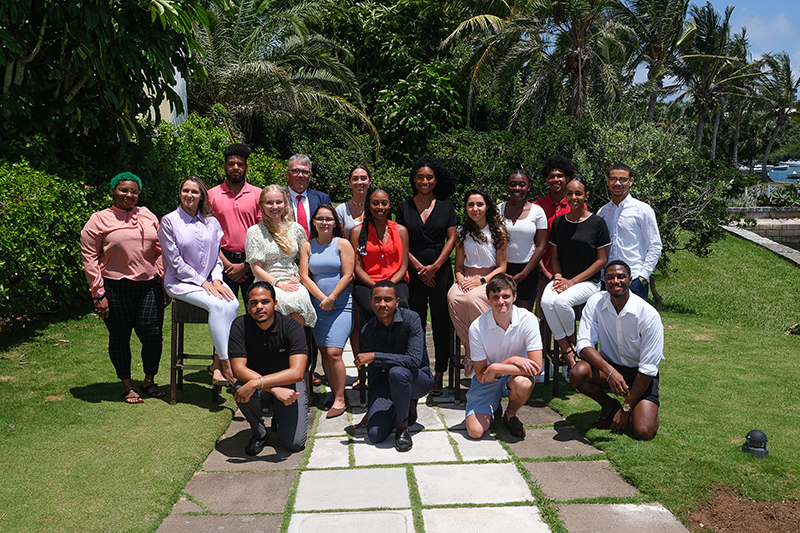 The spokesperson said, "Over the past ten years alone, ABIC member companies have donated $5.5 million to the programme.
"During the luncheon at the Harbourfront restaurant, guest speaker Kyla Evans urged the 2021 awardees to step outside their comfort zone at every opportunity, to network vigorously and to build their own personal brands."
Ms Evans, now Vice-President, XS Casualty at Bowring Marsh, said, "I once read the quote, 'Nothing ever grows from your comfort zone.' I live by this."
The spokesperson said, "While studying for her Bachelor of Science degree at the University of Kent in the UK, she pushed herself to sit next to a new person in the library every day to meet a broad range of students, from whom she learnt much."
Ms Evans said, "By doing this I became a natural connector and when I got into the insurance industry, I was building connections and networks easily."
The spokesperson said, "Ms Evans added that this capability was particularly useful in her profession as a broker.
"She told her student audience to never underestimate the value of networking, especially in Bermuda. She recalled that when she returned to the island from university, she worked in an HR role at Colonial Insurance and learned all she could about the industry and found that broking appealed to her."
Ms Evans said, "I went to Port O Call one Friday night and ran into some underwriters and brokers. I introduced myself and gave my two-minute elevator pitch on why I wanted to do broking and work in insurance.
"Less than a week later I had a job offer to work for Marsh and I haven't left since. The moral of that story is that we live on a 21-square-mile island and we have access to some of the most senior and experienced people in this industry. Take advantage of that. It's so much harder to connect with senior professionals anywhere else in the world.
"Networking online is also valuable. Setting up a LinkedIn profile while at university was the best ten minutes I ever spent, and directly led to two internships in London."
The spokesperson said, "She urged the students to visualise themselves as they wanted to be in five years and to start acting like that person now."
Ms Evans said, "Your brand and who you are speaks louder than anything else. You are ultimately responsible for building, growing and maintaining that brand."
Christian Dunleavy, chairman of the ABIC Education Awards and CEO of Aspen Bermuda Ltd, said, "When someone asks you to do something, say yes and figure it out later.
"Many people ask themselves, can I do it? Am I ready to do that? I think a lot of people who have succeeded in the industry have stretched themselves, built networks and said 'yes' more than they've said 'no'."
The 2021 ABICEA recipients were:
"Stefan Ackah Simons: graduated from Bermuda Institute in 2019 and is now attending Oakwood University in Huntsville, Alabama, majoring in accounting with a minor in Spanish.
"Joshua Blee: graduated in 2021 from Mount Saint Agnes Academy as the Valedictorian of his class. He will attend Dalhousie University in Nova Scotia to pursue a Bachelor of Commerce degree, majoring in either accounting or finance.
"Ellie Cordeiro: graduated in 2020 from Warwick Academy, then followed with a gap year at Neuchatel Junior College in Switzerland. She will attend San Diego State University in the fall and plans to major in global development and human geography.
"Brianna Correia: completed her Associate of Arts [Business Administration] degree at Bermuda College in May 2020 and is now a senior at Mount Saint Vincent University pursuing her Bachelor's in Business Administration, with a major in accounting and a minor in finance.
"Cassandra DaPonte: a 2020 honours graduate of CedarBridge Academy who has completed her first year of an Associate Degree course at Bermuda College. In the fall she will attend Birmingham City International College in the UK to complete her BA [Hons] in business management with a major in finance.
"Malachi Dates: 2019 CedarBridge Academy graduate, who graduated from Sheridan College – Pilon School of Business in Ontario, Canada with his Ontario College Diploma in Business Accounting and is now in his second year at Sheridan pursuing a Bachelor of Business Administration – Accounting.
"Gianni Desilva: a graduate of The Berkeley Institute who currently attends Florida Atlantic University, where he is pursuing a Bachelor of Business Administration with a major in management information systems.
"Tessa Dill: a 2019 IB graduate from Bermuda High School, who has completed her second year at the University of Hertfordshire pursuing a BA [Hons] Human Resource Management degree.
"Cree Dunn: a 2020 IB graduate of Bermuda High School who will attend the University of Strathclyde in Scotland, where she will study for a BA [Hons] in Journalism, Media and Communications, as well as Economics.
"Andreaz Glasgow: a graduate and former Head Boy of The Berkeley Institute, who will be pursuing a Bachelor of Business with a major in marketing and management at Long Island University in the fall.
"Christen Lugo-Elibox: a 2021 graduate of the Calverton School in Maryland, who will be attending the University of Mount Olive in North Carolina to pursue a degree in business management and a minor in sports management.
"Isabella Murdoch: a graduate of Saltus Grammar School who is going into her sophomore year at the University of Guelph, where she is studying environmental governance.
"Ashley Pacheco: a 2020 CedarBridge Academy graduate, who graduated from Bermuda College in 2021 with an Associate Degree in Business Administration with Distinction. She will attend Dalhousie University in Nova Scotia to pursue a Bachelor of Commerce with a focus on accounting.
"Samaria Paynter: entering her third year as an accounting major at Acadia University this fall and working towards the Certified Public Accountant certification alongside professionals through the co-op programme at the university.
"Owenea Roberts: a graduate of The Berkeley Institute who graduated from Bermuda College with her Associate of Arts in Business Administration with Merit. She will attend Quinnipiac University in Hamden, Connecticut to pursue a Bachelor of Science degree in accounting with a minor in finance.
"Nisha Smith: a junior at St. John's University in New York City, where she is pursuing a Bachelor's degree in quantitative risk management and insurance with a concentration in actuarial science.
"Nadir Young: a 2021 graduate of Bermuda College who will attend Acadia University in the fall to pursue a Bachelor of Business Administration with a focus on accounting.
"Cyana Burgess: graduated from Georgia State University summa cum laude with two Bachelor's degrees in actuarial science and finance. This fall, she will attend the University of Leicester to pursue a Master of Science degree in actuarial science with data analytics.
"Kristen Gibbons: in 2019 she graduated summa cum laude with distinction with a Bachelor of Business Administration degree with a management concentration. Currently pursuing an MBA with a marketing concentration at Keiser University."

Read More About