The North Village Community Club [NVCC], in collaboration with PRIDE Bermuda, is offering the Botvin LifeSkills programme to youth football and netball student athletes.
A spokesperson said, "When we think of North Village Community Club, we typically think of various sporting achievements; a Premier football team that has won over 50 trophy titles, including the coveted 2019 BFA Premier League Champions title, the only netball team in Bermuda to have a continuous and consistent presence since the 1972 inception of the Bermuda Netball Association, a diverse golf and cricket team, a Master's Division football team of players who still love the game, and a youth football and netball programme that boasts over 170 players for the 2021-2022 season, and has a waiting list.
"But what you might not know is that in February 2021, in collaboration with PRIDE Bermuda, Bermuda's foremost substance abuse prevention organisation, North Village became the first local sporting entity to ever pilot and deliver the evidence-based Botvin LifeSkills programme to a group of youth football and netball student athletes."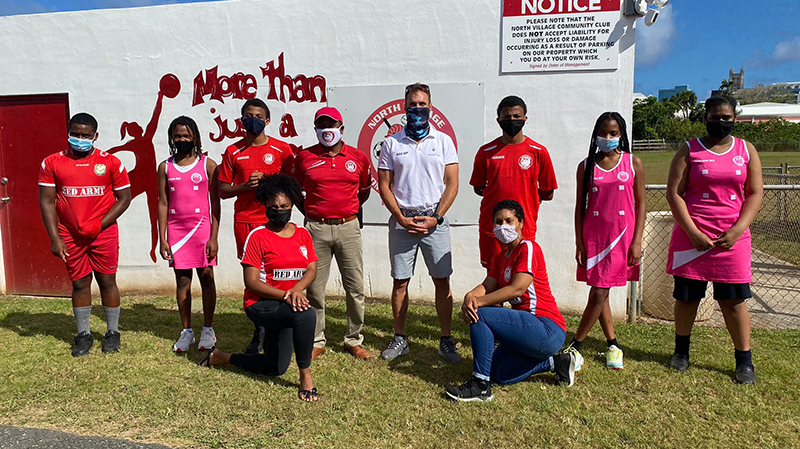 Truell Landy, PRIDE Executive Director, said, "We are pleased to partner with North Village Community Club, who have taken up the mantel to deliver the Botvin LifeSkills Training programme, which is designed to help build assertiveness, self-esteem, positive decision making, drug resistance and resilience skills.
"Our role is to provide evaluation and monitoring support to ensure the programme is run with fidelity and meets the goals and objectives. In addition, we are always available to provide resources and support.
"The participants of this inaugural pilot group attended remotely and in person according to necessary health guidelines, but were most excited when they were able to attend in-person at their very own North Village Butterfield and Vallis Education Centre, which was originally sponsored by the company in 2014 – a partnership that still remains strong today."
One participant said, "You can learn how to deal with challenges better, and learn new things while having fun."
The spokesperson said, "North Village has always been well known for placing importance on sports and education, and in 2020, when Covid forced the world to pivot, North Village did the same, and began to action a new club direction and expand their structured programme offerings.
"Once the LifeSkills programme was introduced as a possible option, the next step was to figure out how to provide it at no cost to their membership, because many families were already under extreme financial struggles. The team buckled down and began to research community grants to support their efforts. After countless hours and many many applications later, the dream came to fruition."
Vice President Allan Young said, "We are thankful to our generous team of grant supporters, who are aligned with our vision to use our sporting platform to create a learning environment for our athletes, focus on holistic development, role-modelling, mentorship and giving back to the community.
"Their choice to invest in the North Village is appreciated and we look forward to sharing the results."
Facilitator LaToya Outerbridge said, "The PRIDE Botvin LifeSkills educational programme was chosen to deliver to our youth members, because it aligns with the core values and education we wish to instill in our athletes."
Shervin Dill, President of North Village Community Club, said, "We have to provide additional layers of support to prepare our young people to actively and healthily engage in a 21st century society, where significant risks are now a part of everyday life.
"We are preparing our youth to become independent, positive societal contributors, who celebrate diverse backgrounds and are prepared to succeed on national and global levels."
The spokesperson said, "LifeSkills Cohort 2, designed for NVCC middle school student athletes, started in remote fashion on September 20, 2021 and will run until December 13. LifeSkills Cohort 3, designed for for NVCC high school student athletes, will be delivered in January 2022."

Read More About