[Written by Stephen Wright]
It has been more than 53 years since Dr John Carlos raised his fist in the Black power salute on the podium at the 1968 Olympic Games in Mexico City.
The iconic image of Dr Carlos and his United States teammate Tommie Smith heads bowed as they punched their gloved fists in the air, was a milestone in America's Civil Rights Movement and a symbol of resistance and defiance that still resonates today.
Dr Carlos on the Olympic podium in 1968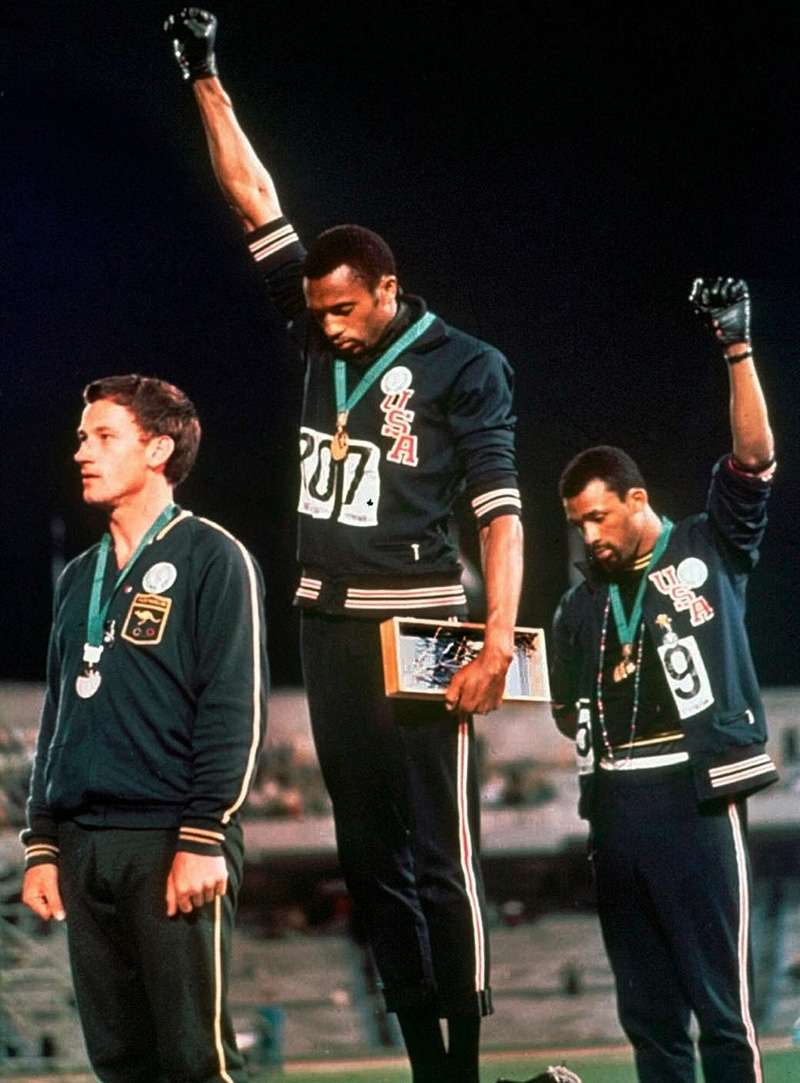 So what led to that moment, etched into sporting history, which has inspired Black athletes past and present to become agents of change?
For Dr Carlos, then a 23-year-old inspired by influential Black voices, Malcolm X and Dr Martin Luther King, it was simply his moral obligation.
"It's the responsibility of every Black athlete to be a voice," said Dr Carlos, who won the bronze medal in the 200 metres.
"Many of us come from the slums of the city, you might say, and achieved greatness through athletics.
"But it's your responsibility to look back and try to bring up those left behind, bring them into the light and make them more conscious in terms of their responsibility to step up and represent themselves and their race.
"What led to [the podium protest] was that I was born on June 5, 1945, and somewhere along the line I looked in the mirror, and I saw a young Black kid, that was the initial start right there.
"I realised at a very early age that we [Black people] were there, but we weren't there."
A lifelong activist, Dr Carlos travelled to Bermuda last week for the inaugural Black Golfers Week, where he joined Bermuda's sporting trailblazers Clyde Best and Kim Swan at the Legends Lunch at Ocean View Golf Course.
Clyde Best, Kim Swan, Dr Carlos and the BTA's Hazel Clarke at the Legends Lunch: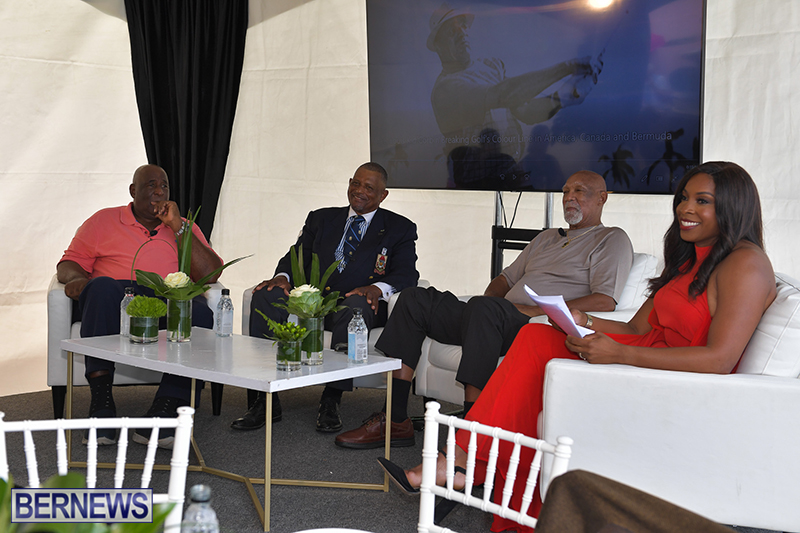 He told the panel that he had no regrets over the consequences of his actions during the medal ceremony at the 1968 Olympics, where Dr Carlos and Smith were joined in protest by white Australian sprinter Peter Norman.
The American pair were later expelled from the Olympic Village and sent home.
"It's been true of me my whole life in terms of going against the stream," Dr Carlos, now 76, said.
"I've had people saying to me, 'Hey, you're going in the wrong direction' and I'd tell them, 'It's difficult for you to say I'm going in the wrong direction because we haven't reached the finishing line yet and haven't figured out who is right and who is wrong'.
"In 1968, there was a lot of unrest in America. It was the first time in modern-day that Black people had become aware of themselves and had started to assert themselves in society. When the Black Panther Party began defending their communities, feeding their people, educating their people, it was time for society to wake up because the sleeping giant had woken up."
Dr Carlos and Smith, who met as students at San Jose State University, had initially been part of a plan to boycott the 1968 Olympics entirely as a protest against racial segregation.
That proposal fell through, however, but Dr Carlos quickly realised he could make an even bigger impact should he reach the podium.
BTA Chairman Wayne Caines, Dr Carlos and BTA CEO Charles Jeffers II at the Legends Lunch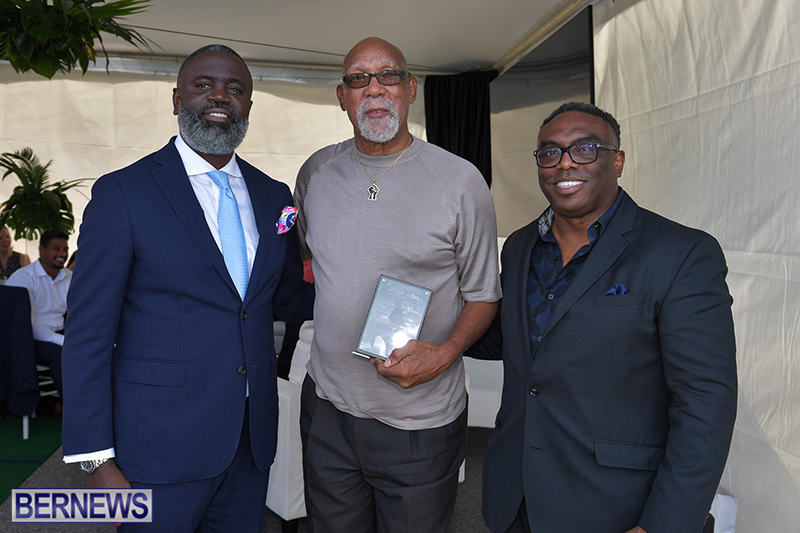 "As young athletes from San Jose State, we looked at it as a community issue in terms of prejudice and bias towards young Black students going to San Jose State," he said. "It was hard for us to get a job, it was hard for us to get an apartment, it was difficult for us, period, based on the colour of our skin.
"When we looked at it again, we realised this problem was bigger than San Jose, bigger than the United States. It was worldwide. The first place we went was the library to educate ourselves and make sure we had covered every base. Why? Because if we made a statement [at the Olympics] relative to race relations, the first thing they are going to do is put that microphone and camera in your face, so you better not step up and show your ignorance.
"[They will say], here you are fighting for something, and you don't even know what you're fighting for – well, we made sure our foundations were solid, and we knew what our cause was for, we knew what our commitment was."
Dr Carlos believes the US has come a long way since he and Smith took a stand against racism as the Star-Spangled Banner reverberated around the Olympic Stadium in Mexico City 53 years ago, but noted there is still a distance to go in the fight for equality.
"In '68, we put our fists up, and our cause was humanity," said Dr Carlos, who was born and raised in Harlem, New York. "When we did that, we wanted humanity to wrap its arms around us. But they flipped the narrative and said it wasn't about humanity, it's about Black power, so humanity froze.
"Since Mr [George] Floyd and Trayvon Martin [were killed], Black Lives Matter was born into the world. The thing that we had looked for 53 years ago, humanity – well, it wrapped its arms around Black Lives Matter.
"They had the backdrop, Black Lives Matter, and everywhere in the world, you'd see the billboard, a poster, a T-shirt, or they would be talking about it on TV.
One hour video of the panel discussion with Clyde Best, Kim Swan, and Dr Carlos
"It was the responsibility of the Black Lives Matter organisation to take it to the next level. But they didn't know what the next level is, and that's why I say we need to be thinking and studying. This is a humane issue, and the issue we're confronting is racism, bias, prejudice and separatism."
"You used to hear about Black Lives Matter 400 times a day. Now you'll go 400 days and you'll hear about Black Lives Matter one time."

Read More About