[Written by Stephen Wright]
Naquita Robinson, the Bermuda women's coach, has backed her side to bounce back from their defeat to Jamaica in their Concacaf W qualifying opener with a goal-laden display against the Cayman Islands today.
Although Bermuda lost 4-0 against Group C favourites Jamaica in Kingston last Thursday, Robinson said she was encouraged by aspects of their performance.
And she is confident they will have far too much experience and firepower for a Cayman side that also lost their opener 4-0, against the Dominican Republic, at home on Saturday.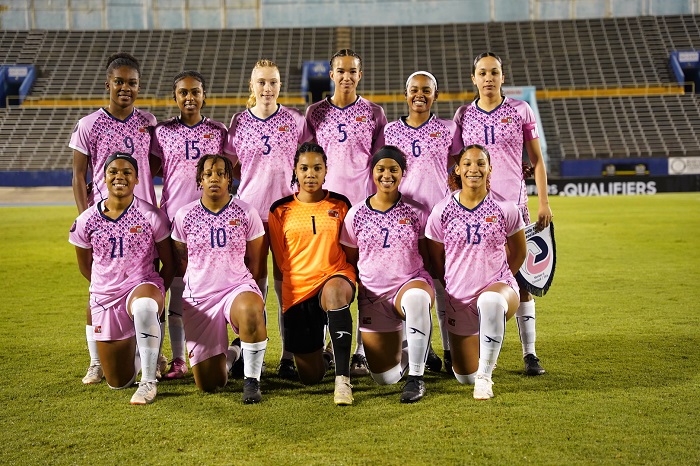 However, Bermuda will be without midfielder Jaden Masters, who suffered a knee injury against Jamaica and will require surgery to repair a ruptured ACL and torn meniscus.
"Without going in overconfident, we're looking forward to this match," Robinson told a press conference yesterday. "I cannot stress enough that we have the players capable of getting the result we want against Cayman.
"We're going to be set up more to attack than we were against Jamaica given the level of respect we had for their position.
"The girls executed the way we wanted them to [against Jamaica] and, although they scored four goals, the team played how we wanted them to play.
"While not forgetting the things we have to do defensively, we're looking to attack Cayman."
While Robinson has cautioned her players against being overconfident against Cayman, she believes Bermuda's chances of victory are "extremely high" after watching the highlights of their opponent's defeat to the Dominican Republic.
"I'd put us in the same boat as the Dominican Republic, and we'll be looking to build when we can and counterattack when we can" she added.
"I don't tend to focus too much on the opposition when it comes to how we want to play and how we want to attack.
"I'm sure we will have quite the same level of performance against Cayman as Jamaica and yet be on the winning side and score some goals.
"We're more focused on ourselves in this match as opposed to how Cayman will play."
Bermuda's hopes of advancing to the Concacaf W Championships as one of the six group winners appear slim after losing to Jamaica; however, Marley Christian, the team's co-captain, said the mood in the camp remained upbeat.
"Despite the loss against Jamaica, the vibe was very positive, and everyone was proud of the way everyone came together and executed our tactical plan," said Christian, who replaced the injured Masters in the second half against Jamaica.
"We're just really excited about the Cayman game. We've adapted to a more attacking game and have introduced that into our tactical plans in training."
The Concacaf match preview:
The IMG Academy in Bradenton, Florida will be the site of Tuesday's encounter in Group C and it promises to be a good one between Bermuda and Cayman Islands. Both teams boast players who helped their respective Under-20 teams qualify for the Concacaf Women's Under-20 Championship, including CWU20 Qualifying top scorer Molly Kehoe of Cayman Islands.

Bermuda played 2019 FIFA Women's World Cup side Jamaica to a 4-0 final in which the Reggae Girlz led only 2-0 entering the final 10 minutes, while Cayman Islands equally proved a tough foe for Dominican Republic in a 4-0 defeat.

Read More About