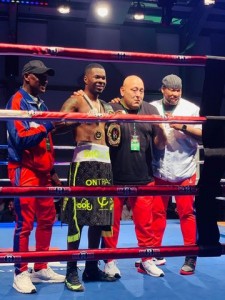 [Written by Stephen Wright]
Andre Lambe produced a display of power in his stunning first-round stoppage win over Dajuan Robinson at The Shed in Royal Naval Dockyard last night.
Lambe dropped Robinson, a mixed martial artist making his boxing debut, four times during a lop-sided contest, eventually forcing referee Anthony Mouchette to stop the bout after two minutes and 50 seconds.
The 26-year-old said many of the combinations that left Robinson reeling were flurries he has been perfecting with his coach Varo Pelon Andrade.
"We've been exercising the same combinations over and over, trying to perfect them," Lambe told Bernews.
"The first combination I landed on him, a straight left hand-right hook, I've been practising in the gym for weeks.
"It was awesome. He was already stunned when I hit him with the left and would have gone down before I threw the right hook anyway.
"It just shows my power is increasing. I've been doing a lot of strength and conditioning training with my coach David Lunn.
"I got a bit wild at one point because I didn't feel his [Robinson's] power. I just wanted to get him out of there."
It was a ruthless performance by the southpaw, who stalked his opponent with menace from the opening bell, uncorking a straight left hand that caught Robinson flush on his chin, stunning the American before landing a right hook to send him to the canvas.
Displaying control and incision, Lambe connected with a pair of vicious right hooks before putting Robinson down again with a thudding right hand.
Robinson resorted to retreating towards the ropes and hit the canvas for the third time as Lambe found a home with a flashy right hook, a punch that is becoming the Bermudian's signature.
Looking increasingly unsteady on his feet, Robinson again withdrew to the corner before a heavy barrage of blows put him down for a fourth and final time to hand Lambe his second victory this year.
Lambe, who was headlining a fight card for the first time, will return to the ring against Jamaican Toriano Nicholas on home soil on May 28.
The pair were due to meet in March 2020 before the Covid-19 pandemic brought live sport on the island to a halt.
Nicholas, who has a record of 1-1-3, lost his previous outing by technical knockout against Carlos Dixon, of the United States, in Kingston, Jamaica, in July 2019.
"He's supposed to be a pure boxer," Lambe added. "This fight was about keeping me active, so I'm ready for that one.
"It's great having regular fights. They help me develop my skills and stay engaged. I'm working on different things every fight, so when I get those big fights, those tough fights, I have my bases covered."

Read More About