A new website — which is highly informative, useful and very well designed — has been launched, with BermudaLunchBox.com created by a team of talented and tech savvy Berkeley Institute students.
The class, led by teacher Diamond Outerbridge, said the initiative was to "help support food security on the island." with the twenty students in the class creating the website with an aim "to empower people by connecting them with local food resources in Bermuda."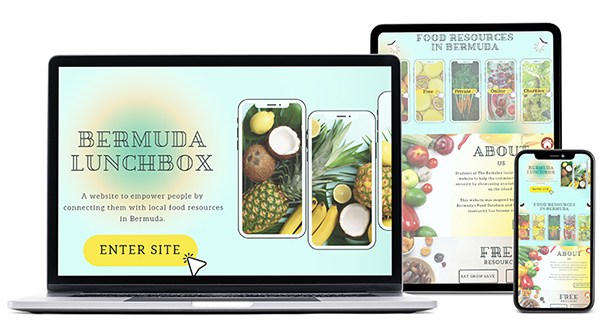 Ms. Outerbridge told Bernews, "Let me begin by saying how proud I am of my students. They have been dedicatedly focused on this goal since the start of the project and deserve all the recognition for their hard work."
S1 student Ira Thompson, who contributed significantly to the design, said, "We made this website because people should be talking more about food insecurity on the island and Bermudians who are struggling with this should be heard more."
Ms. Outerbridge explained, "As a project-based learning teacher, about every 6-8 weeks we embark on a new project [set firmly in our curriculum goals] that seeks to help solve or address a real world problem in our community. Each project I design takes into consideration student 'voice & choice' and builds on the skills and understanding of the previous projects even as they address separate issues and topics.
"This multi-year level, cross-curricular unit called 'The Food Justice Project' spanned 7 weeks in total and encompassed English, Mathematics, History, Agricultural Science, Technology, and other 21st Century Skills such as problem solving, creativity and collaboration."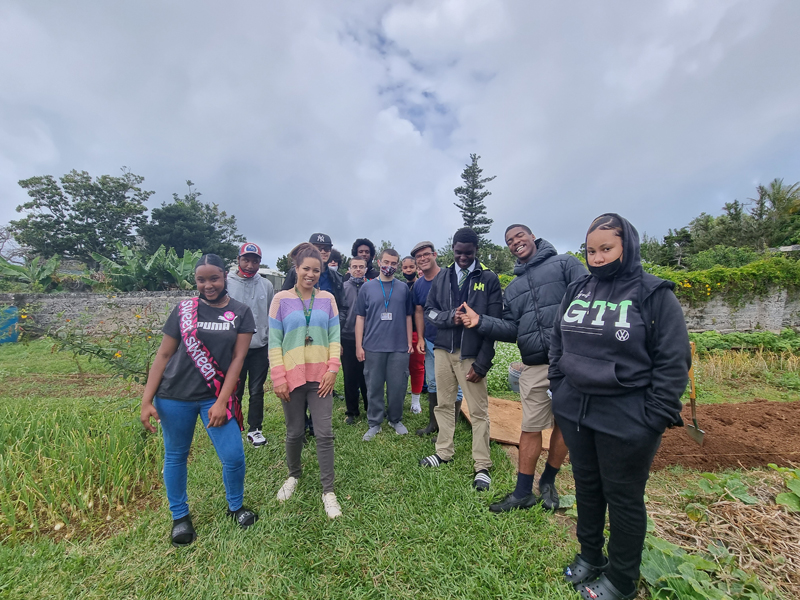 As S1 student Mi'Kenzii Armstrong explained, "The process of creating this site was a challenge because researching involved calling people and organizations to confirm information and there was a lot of detailed writing and reading."
Ms. Outerbridge went on to say, "The students and I became interested in the topic of food during the first Covid-19 stay-at-home mandate when we began to research sustainability along with medicinal and edible plants around the island in a project titled 'Survival'.
"After researching the rising costs of groceries and the many factors that contribute to food insecurity, especially during the pandemic, the students were eager to help make a difference."
Daniell Simons, an S3 student, said, "I think creating this website was a great idea for people who are going through hard times and people who want to help them through that. I was surprised by how many food resources are available to the public. Now that we have designed Bermuda Lunch Box people who need these resources will be able to reach them."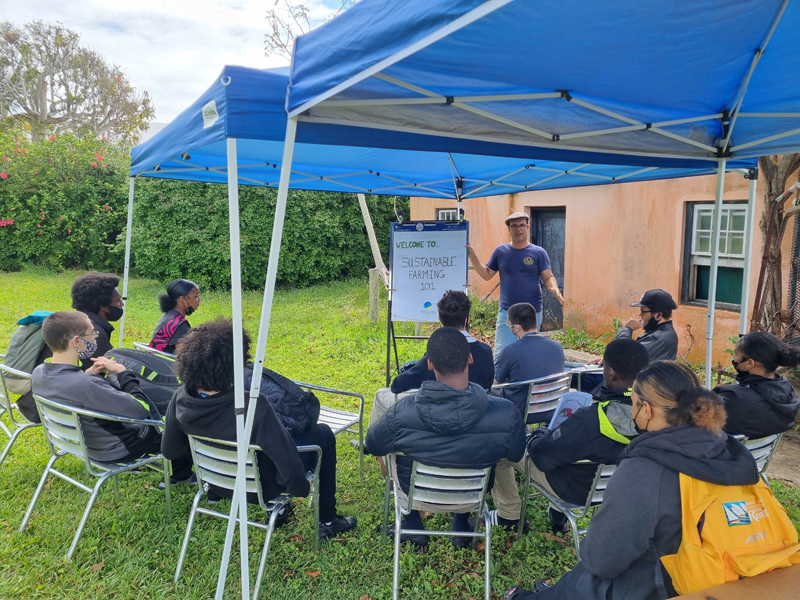 When asked about the project goals and inspiration, Ms. Outerbridge stated, "The goal was to create a new technology that would help address the issue of food insecurity in our community. We realized that although there were many organizations already dedicated to this cause, they weren't all well-known.
"Social Justice Bermuda tackled this first with their Food Database document which listed most of the food resources available on island. As a class, we were inspired by their food activism and used their database as a stepping stone to creating the website."
The name of the website was the brainchild of S3 student Daezjhi Talbot, who is interested in graphic design. When asked about the project, he said, "It was good to experience another side of digital art & design. I think the project we worked on was important and will help people because many of us know what that feels like to be on that side of things."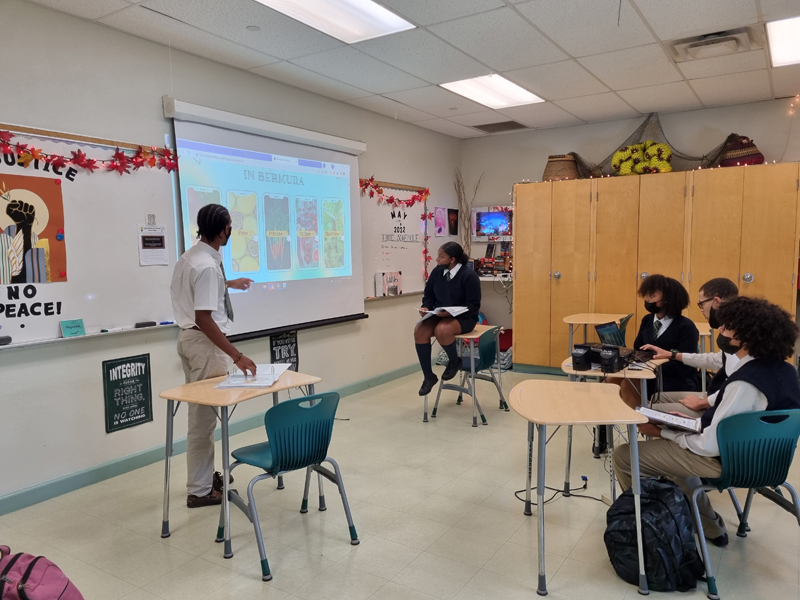 S2 student, Amiyah Anderson, said when asked about the project, "Our website will help people who are in need of getting food from different services or people wanting to lower their grocery cost by starting a home garden. I'm really proud of the work we did because it will help people who are going through poverty. Without this website, people would have had a hard time connecting with all of these resources."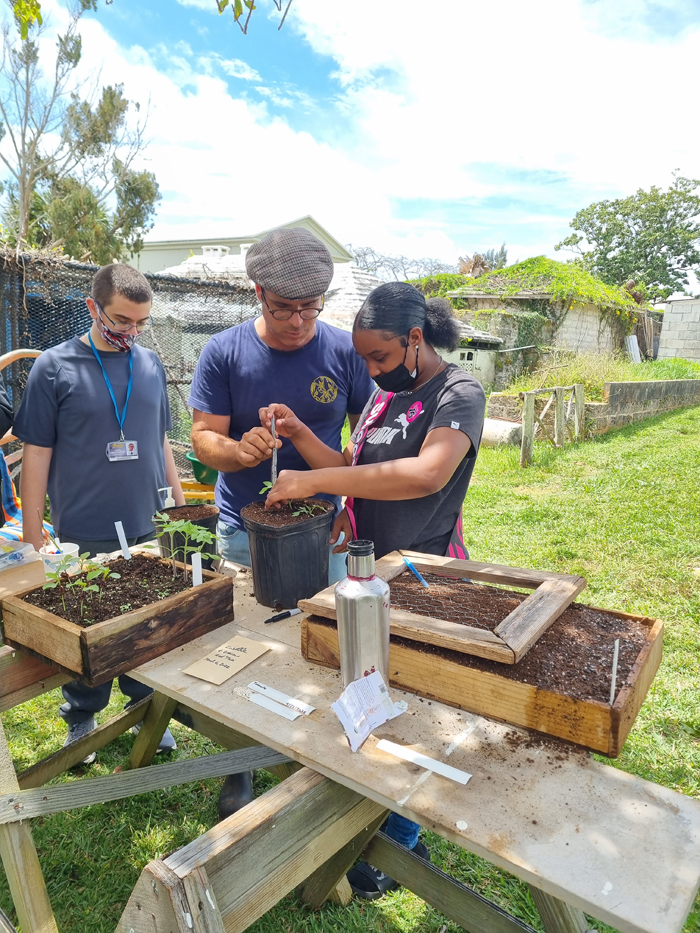 From another S2 student, Xureck Thompson, "The whole project was a great experience, especially the field trip to Agra Living, where we learned about growing food in a sustainable way. I enjoyed watching the local documentary 'Poverty in Paradise', it just showed me how life used to be for me and encouraged me to help people who don't have food security."
He continued, "After learning more about this, I plan on growing my own garden at home and I hope all of us students could take at least one thing from this project to apply to our lives. We hope the community will use this new resource. If you would like to leave us some feedback please use the 'contact us' link on the website."
To visit the website — which we highly recommend you do — go to Bermudalunchbox.com.

Read More About
Category: All, News, technology