The Bermuda Tourism Authority today [May 16] released first quarter figures that they said "highlighted gradual recovery for several key tourism metrics."
A spokesperson said, "According to the data, leisure air visitor arrivals were down 70% over pre-pandemic figures which reflected 314% growth over 2021 measures. Bermuda's air capacity has dropped by nearly 44% vs 2019 but has increased 112% vs 2021.
"While reduced air capacity, visitor arrivals and hotel capacity continue to challenge the sector, there is a glimmer of hope with triple digit increases over 2021 figures. The sector is gradually moving in the right direction, yet reduced hotel inventory and airlift remain a limiting factor.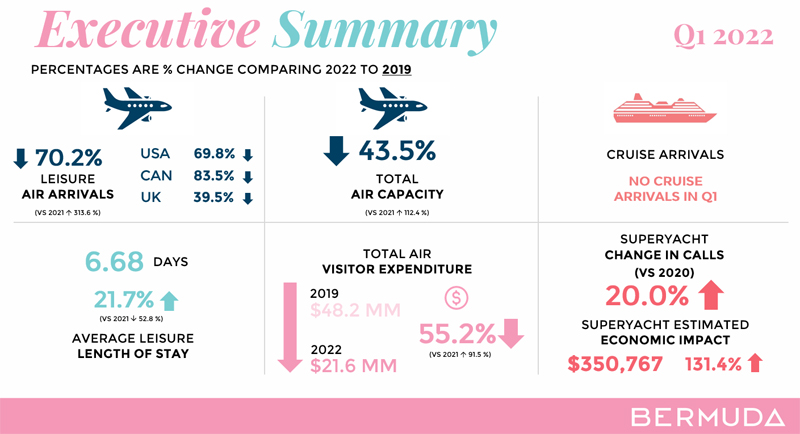 "Visitor trends including spending and length of stay on island have shifted in the first quarter. Declines in total visitor expenditure over 2019 figures persist with air visitor expenditure in the first quarter totaling $21.6M, 55% down from $48M in 2019 due to the smaller volume of visitors. This represented a 91.5% increase over Q1 2021 air visitor spending.
"The island's businesses, transportation providers and tourism entrepreneurs rely in large part on the cash injection from visitor spending, and with visitor numbers down, the total volume of cash reflects that reality.
"The good news is the spend per air visitor in Q1 has shown growth of 40% for business and leisure air categories. In fact, in the leisure air category, spending has moved from $1326 per visitor to $1971 per visitor. Length of stay continues to be longer than pre-pandemic levels with visitors during Q1 staying on average 6.68 days, or 21.7% longer than in 2019.
"Vacation rentals have seen a solid return to 2019 occupancy levels with nearly 4% growth over pre-pandemic figures.
"Since 2020, the Bermuda Tourism Authority has engaged the international yachting community through marketing and outreach specifically targeting superyachts. While only the first quarter, growth can be seen in the yacht and superyacht sectors with calls and economic impact up vs 2021 and 2020. 396 visitors came to Bermuda via yachts of all sizes which represents an overall increase of 92% vs 2019. The superyacht category welcomed six superyachts in the first quarter of 2022.
"The business visitor category, decimated over the past two years, has finally shown signs of a recovery with 2,660 visitors travelling here on business from January to March this year. While the business traveller segment has a way to go to match the baseline arrival numbers recorded in 2019, it spiked by 218% over the previous year's figures.
"This quarter, Business travellers outpaced 2019 length of stay metrics by 48%, averaging 7.69 days on-island. In line with the category's longer stay, the per person expenditure for business travellers grew by 47% compared with 2019 figures. On March 7 the island's travel protocols became more streamlined making it simpler to travel to the island, it is expected that along with parallel international shifts in business travel demands and planned on-island conferences, business travel declines will turn around over the next few quarters."
Charles H. Jeffers II said, "Our tourism sector recovery is underway with tactical marketing and outreach activities geared to ensure our industry stakeholders benefit from renewed interest, more leisure and group business, and increased visitor expenditure. over the coming months. Q2 projections look strong with key international events and growing group business in place to support our goal of boosting our year-round visitor numbers."
Minister of Tourism, Vance Campbell JP MP, said, "Bermuda's tourism product continues to feel the impact faced by the world since 2020. In spite of the economic challenges across industries, tourism's key indicators are moving upwards. With the passing of the Fairmont Southampton Hotel Act 2022 in the House of Assembly, our long-term group business prospects look bright. We recently received more good news with the announcement of the approval of Ariel Sands redevelopment plans. In the short-term, there is cautious optimism for accelerated growth in Q2."
The full BTA Quarter Tourism Measures Q1 2022 follow below [PDF here]:

Read More About