Irish Media outlet The42 has shared a tribute to the late Freddy Hall, recalling his positive presence both on and off the the football field.
Mr Hall — who passed away at age 37 following a collision — was widely regarded as as one of the island's best ever goalkeepers, and played professionally overseas, becoming a fans' favourite during his three-and-half years at Irish outfit Limerick.
The42 website said, "The booming, American-sounding accent was unmistakable. It didn't matter whether it was a low-key training game or a match in front of thousands of people.
"The message would invariably be the same: 'Enjoy it.' These were the words of Freddy Hall, the Bermuda-born former Limerick goalkeeper who tragically passed away at the age of 37 last month.
"He would habitually say these two simple words as he played the ball out to teammates.
"We would start laughing every time he did it because normally 'keepers are insane and they are usually giving out or screaming something," Hall's former Limerick teammate Paul O'Conor tells The42.
"We all found it hilarious and it instilled a bit of confidence in whoever he was giving the ball to.
"He had that sort of presence about him. He would put that sort of confidence in players and people." In many ways, 'enjoy it' summed up Hall's approach to life also.
"There have been numerous cases of foreign players who have come to the League of Ireland in recent years and struggled to adapt, often not lasting long in the division as a result. However, the opposite was true of Hall. He embraced the challenge of playing in a new country and flourished in the process.
Tweet by the Limerick Football Club in Ireland following Mr Hall's death last month: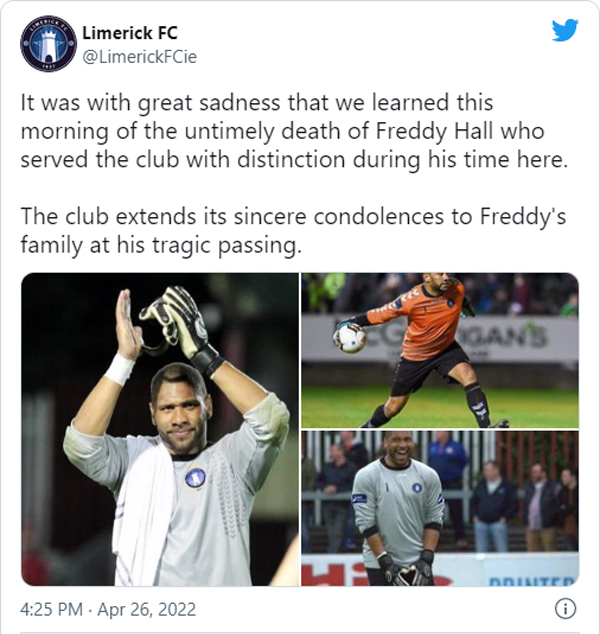 "Limerick took to him very well," says O'Conor. "He's one of those people who if he'd be walking down the streets, other people would be screaming across from the other side of the road, giving big smiles and he'd have no problem screaming across the street and saying 'hi' to people because everybody would recognise him. He had a big accent as well. He loved screaming across to people. He was just one of those people that is very upbeat.
"He made time for people, fans, kids, everyone no matter who you were," says Kelly. "You go walking down the street with him and he's talking to everyone. He got to know everyone in such a short space of time — he was just one of those gentle, laidback people that everybody loved.
"He genuinely was one of the best people I've ever met in football. Playing around the league and playing on different teams, you play with 20-30 different people and in Ireland, squads change a lot."
You can read the full story here on The42 website.

Read More About