[Written by Stephen Wright]
Jah-Nhai Perinchief said he is even more determined to try and win a medal at the Commonwealth Games after what he called a disappointing World Athletics Championships.
Perinchief said he is still smarting after falling short of reaching the triple jump final at the recent worlds in Eugene, Oregon, finishing 22nd overall with a leap of 16.38 metres.
His confidence, however, seems unaffected, with the 24-year-old adamant he is capable of challenging for top honours in Birmingham when he competes in the final on Sunday.
"I'm looking to execute and perform, especially as worlds didn't go as planned," Perinchief told Bernews.
"I want to go for the record [17.86]. I know it's a big goal, but things like that help lock me in.
"If I can get it, then it could be two birds [gold medal] with one stone!"
File photo of Perinchief competing in Bermuda earlier this year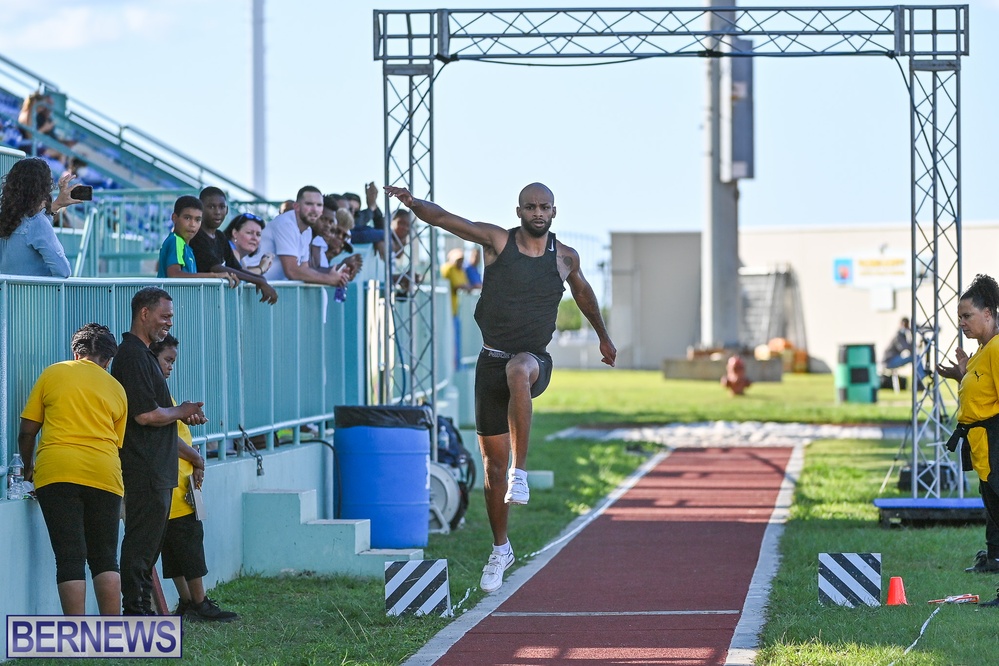 Perinchief, whose personal best is 17.03, said he has been ironing out any technical wrinkles with his coach Travis Geopfert and will seek extra input from Brian Wellman in Birmingham.
Bermudian Wellman, the former world indoor champion, has travelled to Birmingham as Perinchief's coach.
"The worlds were a learning experience," said Perinchief, who finished fifth on his debut at the World Athletics Indoor Championships in Belgrade, Serbia, in March.
"My coaches talk a lot and have discussed what I need to work on from the worlds. It's the perfect set-up.
"I'm always excited when those two talk because there's always something new for me to learn.
"I knew what I needed to fix [from the worlds], and I literally did it the next day.
"I'm sure I'll be back to my old self. It felt weird not making a final."
Perinchief, who expects Jamaica's Jordan Scott and England's Ben Williams to be among the challengers, said he has been inspired by Flora Duffy's gold-medal heroics in the women's triathlon last week.
"Flora's is so consistent," he said. "It's amazing. She understands herself, her sport and her mindset. It's crazy how she always delivers on the big occasion."
Perinchief added: "I forgot how big the Commonwealths are. I had a lot of people at the worlds asking me about them. [The Commonwealths] are a really big event."
For our ongoing daily updates of the 2022 Commonwealth Games click here, and for all our coverage of the Commonwealth Games over the years click here.

Read More About