[Updated + Written by Stephen Wright]
Jah-Nhai Perinchief etched his name into the annals of Bermudian sporting history after winning the bronze medal in the triple jump at the Commonwealth Games in Birmingham.
Perinchief's first attempt of 16.92 metres earned him a spot on the podium on the final day of the competition at an atmospheric Alexander Stadium.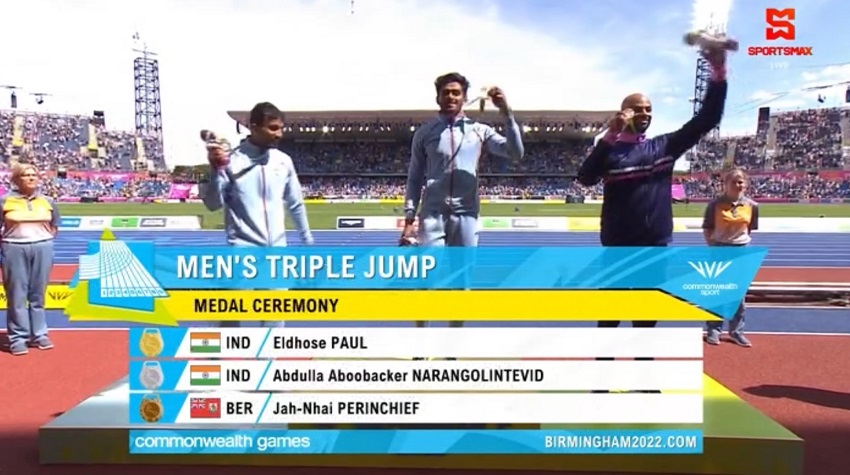 The 24-year-old becomes the first Bermudian to medal in athletics at the Commonwealth Games since the 1990s.
"I feel great," Perinchief told Bernews. "I'm happy to do it for Bermuda. Hopefully, this inspires the island's youth to think, 'I can do it too!'
"I've always thought, 'Why can't I medal?' I'm from a small nation, but we have a lot of talent."
Perinchief said he was determined to right the wrongs of what he viewed as a  disappointing performance at the recent World Athletics Championships in Eugene, Oregon, when he missed out on reaching the final.
By his own admission, he was not in prime shape heading into Birmingham and later revealed he was experimenting with a brand-new run-up.
Bernews Interview With Medal Winner Jah-Nhai Perinchief
Such is Perinchief's unwavering confidence, however, he never for a moment doubted his medal-winning credentials.
"I was nervous before my first jump," he said. "But I was like, 'I have nothing to lose' as the worlds didn't go well. I've already been there. I was just looking to go out there, execute and do my best."
Perinchief executed his very first jump, recording his best distance and after two more efforts of 16.55 and 16.67 advanced to the medal round in second place behind India's Eldhose Paul, who claimed gold with a personal best of 17.03.
The Bermudian moved into third after Paul's Indian teammate, Abdulla Narangolintevid, jumped 17.02 in his fifth attempt to set up a nerve-shredding final round.
Well, nerve-shredding for every Bermudian apart from Perinchief, who insists he was eyeing gold when he stood on the runway and stared towards the sandpit for his sixth and final jump.
"I don't really get nervous," said Perinchief, who came fifth at the World Athletics Indoor Championships in Belgrade, Serbia, in March.
"I only get nervous with my first jump when I don't know what to expect.
Jah-Nhai Perinchief Awarded Bronze Medal
"When I get into a rhythm, I like it when [my rivals] jump farther because it pushes me to do better.
"The wind was a little tricky today. I felt like I ran into a brick wall a few times."
Winning bronze at his first Commonwealth Games elevates Perinchief into an exclusive club of Bermudian athletes who have achieved greatness on the world stage.
And he paid tribute to Bermuda athletics "Three Musketeers", Clarence Saunders, Brian Wellman, and Troy Douglas, and said they have all helped mould him as an athlete at different stages of his development.
"All three of those guys have been very influential in my life," Perinchief said. "We had 'Dougie' as national coach, and I had Wellman looking out for me today [at the Alexander Stadium] as my coach.
"I spoke to 'Nicky' a lot when I was a high jumper. It's good that I can be in the realm of legends like that."
Asked how he will celebrate his moment of glory, Perinchief added: "I'm probably going to go home, have some food, and take a nap. I'm tired!"
Update | More/better videos added below!
Here it is!! This is the huge leap — 16.92m [55.5 ft!] — by #Bermuda's Jah-Nhai Perinchief which won the bronze medal at the Commonwealth Games today!! pic.twitter.com/2mItJtYzCv

— BernewsSports (@BernewsSports) August 7, 2022
And a better look at the medal ceremony as #Bermuda's Jah-Nhai Perinchief is awarded the bronze medal at the Commonwealth Games!! pic.twitter.com/8DvLau8zel

— BernewsSports (@BernewsSports) August 7, 2022
For our ongoing daily updates of the 2022 Commonwealth Games click here, and for all our coverage of the Commonwealth Games over the years click here.

Read More About