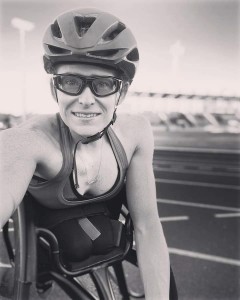 [Written by Stephen Wright]
Paralympian Jessica Lewis believes she is on the right track to fulfilling her goals as she prepares for a hectic two years of major competitions.
Lewis enjoyed an encouraging season, setting a personal best of 16.37sec in the T53 100 metres, finishing second at the Daniella Jutzeler Memorial in Nottwil, Switzerland, in May.
The 29-year-old, whose previous best was 16.74, said the performance boosted her confidence as she builds toward the World Para Athletics Championships in Paris next summer, followed by the Parapan Am Games in Santiago, Chile, in November next year.
"I've got four championships in the next two years – it's going to be busy!" Lewis told Bernews.
"I've got high hopes for Parapan Am, and then, in 2024, I've got the rescheduled World Para Athletics Championships [in Kobe, Japan] and the Paralympics in Paris.
"I'm hoping the next few years will be my peak as an athlete."
Lewis, who will focus on the T53 100 and 400 rather than 800, was recently fitted for a new custom-made racing chair and has altered her seating position to increase her power.
"I flew to Florida for the day to get remeasured," said Lewis, who has won three gold and a silver medal at the Parapan Am Games.
"My new racing chair should arrive in the fall when I return to Mississauga [in Ontario] to continue training.
"We've been looking at areas where we can change my seating so I can gain more power.
"I have such a small body and have to find little tricks to stay competitive with the girls who have more body mass where they can add more muscle.
"We've made the racing chair a little lighter and changed the seating to lower my knees so I can get more downforce. It will take a bit of getting used to."
Lewis was recently appointed a director of the WindReach charity and vice-chairman of the Bermuda Olympic Athletes Commission.

Read More About