[Written by Dale Butler]
On Sunday, September 11, 2022 at 7.00pm at Bungalow 56 on Reid Street in Hamilton, adjacent to The Music Box, I was flooded with numerous memories of Hubie's Bar, the iconic jazz club that closed in May 2010. Hubie's was located on Angle Street in Pembroke [north Hamilton area] directly opposite Rosalie Gardens, which has a Music Wall of Fame that has captured the names of several Bermudian entertainers and historic nightclubs like Écarté, The Forty Thieves, Jungle Room, Unity Patio and Clayhouse Inn, to name just a few.
Bungalow 56 is offering live entertainment as a response to demands that were regularly expressed on Bermuda's radio talk shows by listeners who now need to "walk their talk" by patronizing the establishment as it is in danger of meeting its demise in the same way as those entertainers inscribed on the Music Wall of Fame in Rosalie Gardens.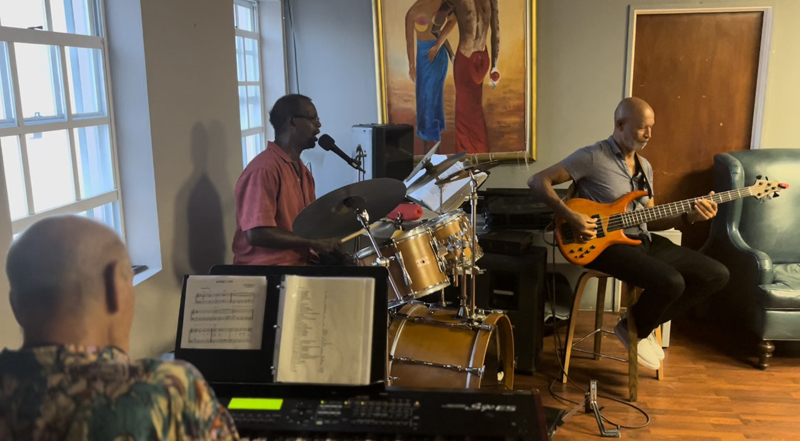 Bungalow 56 offered a trio of veterans known as Just Friends for a pittance of $20, which included two drinks. If you wanted to feel the Hubie's spirit or did not know what it was, you need to come and hear Toni Bari [who was born with a piano in his hands and exudes every single key by his body language], Earl Leader [a giant of a drummer who never misses a beat, is creative, and has an excellent voice—just perfect for many of the jazz classics in the band's extensive repertoire], and last, but not least, Brian Swan, who took up the bass as a hobby and evolved to competently perform with such great bands as Tempo, Spice and Legacy, to mention but a few.
On Sunday we were afforded a golden opportunity by owner Glen Wilks to hear Just Friends. Without much fanfare the band kicked off with:
This Masquerade: written by American Leon Russell and made popular by George Benson. This was followed with:
What's Going On: Marvin Gaye. It remains a standard that you can't get rid of. Leader's fine voice would have impressed Marvin.
Bossa Nova
12-Bar Blues
I'd Rather Drink Muddy Water
Morning Mr. Radio
Just the Two of Us
Déjà Vu, and
You Can't Hide Love. These chartbuster hits won over the audience.
Each musician was given an opportunity to solo and this added to the electric atmosphere to see them, as we used to say, show-off. This became a glue sticking moment that almost everyone talks about when they leave. They did not let us down.
It does take a while to build a good reputation and see things flourish. But with music trends changing, an aging population, a dying group of jazz enthusiasts, and many choosing to stay home because they've already done it, this club will go the same way as Hubie's due to lack of patrons.
The location is excellent and many in New York's famous Greenwich Village or Blue Note would love to be at this indoor/outdoor venue listening to those cats in the Bermuda Triangle. If we don't find a way, Bungalow56 will end up on the top of the Music Wall of Fame in Rosalie Gardens. And while we may embrace many fond memories of it, you can rest assured I'll hear the chant: "We want more local music."
It is already here in an exhilarating way with our very own music industry veterans. So, bring your cameras, dress up and get ready to have a terrific time. The best therapy you could ever find is with Just Friends, who will leave you energized and talking about the great time you had at Bungalow56.
- Dale Butler is the professor of local music and also writes culinary reviews for Bernews.

Read More About
Category: All, Entertainment, Music