[Written by Stephen Wright]
A former Royal Bermuda Regiment soldier has described the past few weeks carrying out humanitarian work in war-torn Ukraine as among the most challenging yet rewarding experiences of his life.
Bermudian Jason Rhind is working with Task Force Yankee: Ukraine, a United States-based aid group, transporting and delivering essential medical supplies.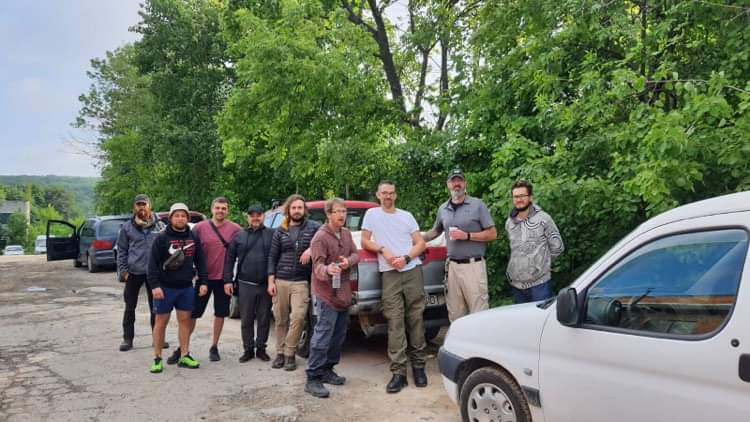 The 36-year-old originally planned to stay in the country for three months but is now applying for a one-year residency to continue helping meet the needs of the Ukrainian people, who have been badly affected following Russia's invasion.
"The first few days of my trip were challenging adjusting to all of the changes," said Mr Rhind, who was raised in Smith's Parish and schooled at Mount Saint Agnes. "It felt overwhelming at times, and I had to tell myself to stop thinking.
"A new country, not really knowing anyone ahead of time, a different language and alphabet, being jetlagged and overtired, periodic air raid sirens – it was a lot of change all at once. I was very much out of my comfort zone."
Task Force Yankee: Ukraine is the brainchild of US Army veteran Harrison Jozefowicz, who lost a close friend in a suicide bombing in Afghanistan last summer.
When Russia launched their invasion on February 24, he felt compelled to take action and help the Ukrainian people.
The group's humanitarian aid efforts range from rescuing civilians from war-ravaged cities to providing safe houses in Poland for refugees. It also establishes supply routes and actively recruits volunteers.
Mr Rhind said that on Wednesday 20 Ukrainians and about 15 other international volunteers joined the group to help.
"Task Force Yankee was very much a grassroots organisation when it started in February," said Mr Rhind, who is based in Lviv, the largest city in Western Ukraine.
"As the organisation grew and the intensity of the fighting slowed down, along with other knock-on effects – fuel shortages, challenges finding reliable vehicles – Task Force Yankee had to adjust in many ways."
"During this time, we also received about 6,000 IFAKS [Individual First Aid Kits] in total – some already assembled, but a good portion of that was just the individual components. So that was a lot of equipment to be unloaded, carried, and packed away.
"The easiest way to ensure all IFAKs had the correct components meant unpacking every single IFAK and repacking them. It's tedious, but the alternative is that people will die who don't have to."
On Thursday, Mr Rhind and seven volunteers headed east, close to the frontline, to drop off crucial supplies in Dnipro – a city that has experienced considerable shelling – including surgical equipment for doctors to perform life-saving surgeries.
"We have medical supplies, laptops, toys for children, among other things," Mr Rhind said.
"The majority of these supplies are packed into suitcases and, once emptied, will be given to people heading west to escape the fighting so they can take as much of their personal belongings with them as possible.
"It's incredible to hear these stories and be a small piece of the puzzle to help people who desperately need help."
Mr Rhind, who left the regiment as a Lance Corporal in 2018, said his ten years of service have been beneficial, especially in problem-solving and working as part of a team.
The Regiment provided a reference letter for Mr Rhind as part of his application to Task Force Yankee.
"I was quite frustrated initially with the transition period," he said. "Some of the growing pains have been ensuring information is properly communicated to people.
"It has been a bit challenging as some of the guys don't have military experience – which isn't crucial.
"But, having military experience means you've had the opportunity to learn how to really be a team player and work together with other people.
"I tried to focus on putting my head down and working as hard as I could –because I came here to work."
The heroism and self-sacrifice of the Ukrainian people Mr Rhind has met since crossing the Polish border into Ukraine on May 13 has left him humbled and heartbroken on occasions.
He said the country is "incredibly united" and its people are showing remarkable bravery and resilience in supporting the military and fellow citizens who have fled their homes.
"A few days ago, we had about 20 Ukrainians come to the warehouse, and they worked with us all day helping to unpack and then repack IFAKs," Mr Rhind said.
"It was great having them there to help us, and they were incredibly keen and hard-working,"
"A Ukrainian friend I made in Lviv was telling me that they send a portion of their paycheck to help support the military as well as helping to buy kit and equipment for their friends in the army, territorial defence, legion, etc. It's inspiring to hear but also heart-breaking."
Despite the logistical challenges, harrowing circumstances and potential dangers Mr Rhind has faced during his short time in Ukraine, he believes volunteering for Task Force Yankee is unequivocally the best decision he has made.
"After thinking back on everything that's happened since I left on May 13, it reminded me of something I've known for a long time," said Mr Rhind, who has worked for several non-profit organisations.
"The close bonds you form with people you're living and working with is what I love. It's what I loved about my Duke of Edinburgh Gold expedition, my experiences with Raleigh Bermuda, Raleigh International, Outward Bound, and Spirit of Bermuda.
"Those have been the happiest times of my life. I've been happier in these past 12 days than I have in the last five or six months."
Mr Rhind has encouraged people to donate to Task Force Yankee, adding, "If people donate to TFY you'll know exactly where your money is going, what supplies you're helping to provide, and where those supplies are delivered to."
For more details about donating, e-mail Mr Rhind at jasonrhind@gmail or message him on Facebook.
Read More About