Minister of Youth, Culture and Sport, Sen. Owen K. Darrell, joined the community in expressing his sadness at the passing of Mr. Frederick "Skipper" Ingham.
Minister Darrell said, "I extend my heartfelt condolences to Skipper's family, loved ones and friends. Skipper Ingham was a martial arts legend in Bermuda. He became involved in the sport after spending time in Japan during his time as a merchant seaman.
"He honed his karate skills in New York, studying under Grand-Master Peter Urban. And from there his talents grew, and over the years, he became one of the most revered and respected martial artists in Bermuda. He was determined to grow the sport in Bermuda and opened a karate school, where he trained the next generation of martial artists.
"Mr. Ingham amassed numerous recognitions and honours over his lifetime, including a Queen's Honour and an induction into the Sports Hall of Fame.
"Skipper's passing is a great loss for Bermuda. He was an inspiration and a mentor to many, and we will be forever grateful for his contributions to Bermuda's community and sports history."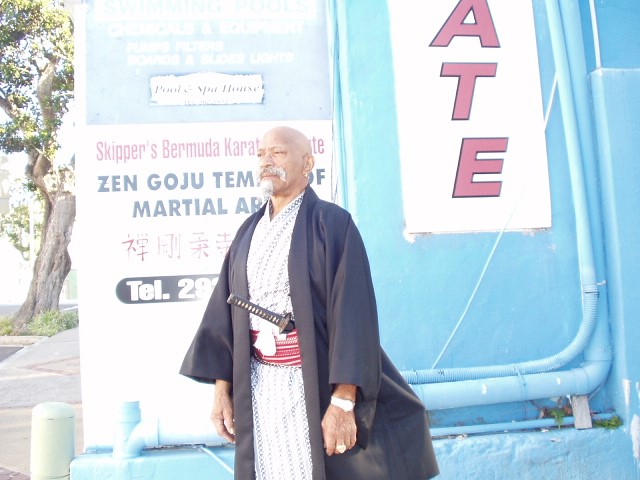 Frederick "Skipper" Ingham's Bio
"Until 1970 it was impossible for people in Bermuda to study martial arts. Then Grand-Master Skipper Ingham changed that situation by opening Bermuda's first ever martial arts school, the Bermuda Karate Institute. Two years later, he gave Bermuda another first by promoting the first karate tournament ever to be held in Bermuda. Since then, he has taught hundreds of people karate, including his wife, Kristina and his son, Zenji, while also training many to represent Bermuda abroad in international tournaments and championships. Bermuda's highest ranking martial artist, Skipper holds a 10th degree black belt rank, and has himself successfully competed in numerous international martial arts events. In recent years, he never lets his age deter him. He has also been featured in many martial arts magazines and appeared on the cover of "Black Belt" magazine.
"Born in 1930, he was filled with the desire to travel from an early age. After serving in the US Army, he became a merchant seaman and it was on a visit to Japan he noticed a karate school and became intrigued. In 1955 in New York he joined a karate school, studying under Grand-Master Peter Urban, thus beginning his lifetime commitment to the martial arts. In 1994 he was the first martial artist to receive the Queen's Certificate and Badge of Honour for his contributions to the martial arts in Bermuda. In 2007 he was inducted into the Bermuda Sports Hall of Fame.
"His personal awards are innumerable, but the achievements of his students, in all areas of their lives are what are most important to him. As he explains, he not only teaches his students his athletic skills; he teaches his philosophy and way of life: to take care of his health, to respect his fellow men and women, to help whenever he can, and to listen to everyone."

Read More About