Bermuda HealthCare Services [BHCS] and Brown-Darrell Clinic have expanded clinic hours to accommodate patients.
A spokesperson said, "Bermuda HealthCare Services and Brown-Darrell Clinic, the island's leading healthcare and diagnostic imaging providers, are pleased to announce expanded clinic hours to accommodate patients. This schedule is made possible by the addition of Kym Dumas to our diagnostic imaging team.
Kym Dumas ARRT [R][MR][CT] and David Weingarten R.T. [R][ARRT][CT][MR]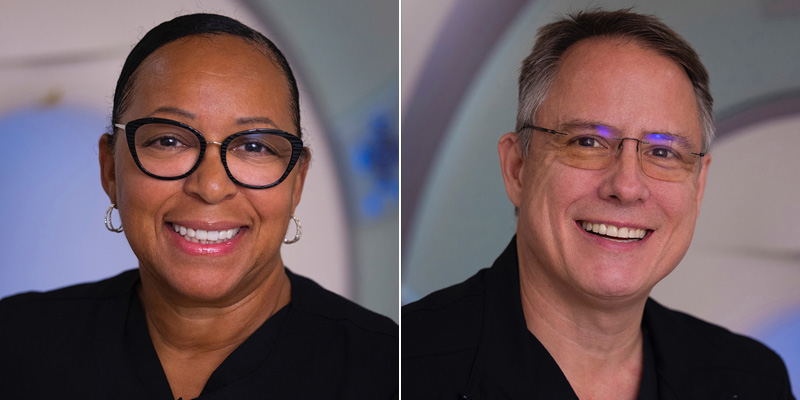 "Kym Dumas has over 30 years of experience in MRI, CAT Scan, and Diagnostic Imaging. Ms. Dumas is highly skilled in all aspects of imaging. She possesses expertise with Picker Siemens, GE, Hitachi, and Toshiba equipment and is committed to ensuring every patient receives exceptional care.
"Kym understands patients' anxieties, especially those with claustrophobia, and is renowned for her ability to guide clients through the process with empathy and compassion. Given the island's high breast cancer rate, Kym is particularly interested in providing accurate diagnoses as a member of Bermuda's most qualified diagnostics imaging team.

"David Weingarten brings decades of experience in the field of Diagnostic Imaging. Having worked in numerous medical settings, including emergency rooms, he is eminently qualified. An expert in all aspects of diagnostic and interventional angiographic procedures, David is dedicated to diagnosing accurately in a professional and caring environment.
"David has expertise utilizing Siemens SOMATOM Sensation CT Scanner, Siemens MAGNETOM Definition CT Scanner Espree MRI Scanner, and the GE Signa HDxt 1.5 Tesla Scanner."

Executive Chairman Dr. Ewart Brown said, "Bermuda HealthCare Services continues to lead the way in ensuring the community has access to state-of-the-art diagnostic imaging. However, patient care is much more than having the right equipment. David and Kym bring knowledge from more than 60 years in various areas of Diagnostic Imaging.
"Aside from their qualifications, they understand and care for the people we serve. Our team consists of the most qualified technicians in Bermuda." Our referring physicians' benefit from our longstanding affiliation with Lahey Hospital. Expert interpretations are available from Lahey in 24 hours."

Read More About
Category: All