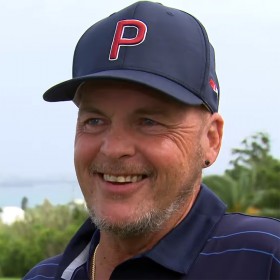 [Written by Stephen Wright]
Professional golfer Brian Morris, who realised his ambition of competing on the PGA Tour and inspired people across the world, has died from cancer aged 55.
Mr Morris was granted a sponsor's exemption to play in the Butterfield Bermuda Championship at Port Royal Golf Course last year.
A head professional at Ocean View Golf Course, Mr Morris won the hearts of the world's golfing community when he played at the Championship while battling stage IV brain cancer.
In a statement released before the tournament, Mr Morris said: "It feels absolutely fantastic to be able to walk the links and compete with some of the greatest players in the world.
"I hope the Bermuda public is as excited as I am. I want them to have just as much fun as I do. I would like to thank the Butterfield Bermuda Championship team for this opportunity and the PGA Tour for allowing me the use of a cart because without it, this is impossible."
Saltus Grammar School, where Morris attended, also paid their respects with a Facebook post, reading: "The sincere condolences from all the Saltus family to the family of alum Brian Morris!
"His fight against cancer was incredible, and his fortitude throughout the battle was a lesson to us all. Brian was truly one of life's great characters and will be greatly missed by his family and legion of friends."
Bermuda Government Consolidated Board of Trustees Chairman Kim Swan said, "We the Bermuda Government Consolidated Golf Courses Board of Trustees express our profound sadness on learning of the passing of our Golf Professional at Ocean Golf Course, Mr. Brian Morris.
"Brian's courage battling terminal illness made him a role model for many to emulate as he lived purposefully to the very end. Our prayers and heartfelt condolences go out to his wife, children and family.
"Personally, I got to know Brian as one of our apprentices golf course superintendents at St. George's Golf Course – who would later switch golf disciplines- serving alongside, Alex Madeiros, Marie Hassell, Billy Joe Pitcher, Janice Trott, Terry Fisher, Darron Swan and others.
"His contribution to golf was enormous having served in many capacities within the Bermuda PGA – including that of President. He will be long remembered as our most recent tournament chairman who helped revive tournament competition amongst member professionals.
"He served passionately and gave his all to whatever he set his mind to. In addition, we recognize his golfing and sporting family in Bermuda and around the world are also mourning his passing.
"Brian Morris did not allow a terminal illness to prevent him from living his life purposefully and he carried out his duties and mentored his under studies to the very end.
"He will be truly missed by many around the world. Our deepest condolences to his loving wife, children, family and friends. May He Rest In Peace."
Read More About