The Bermuda Underwater Exploration Institute [BUEI] is hosting a Free Members Only Talk on Saturday [June 3] at 12.00pm in anticipation of World Oceans Day.
A spokesperson said, "The event will feature Dr. Joseph Dituri, known more widely as "Dr. Deep Sea" who recently made headlines when he broke the record for the longest time living underwater without depressurization on his 74th day.
"Joining us virtually from Jules' Undersea Lodge, situated at the bottom of a 30-foot-deep lagoon in Key Largo, Florida; Dr. Dituri will share his experience with Project Neptune 100, a 100-day undersea mission combining research and ocean conservation outreach, organized by the Marine Resources Development Foundation.
"Project Neptune combines the long-term study of the physiological and psychological effects of compression on the human body and uses the uniqueness of the mission and location to bring more awareness of current marine research, and the importance of conservation of our ocean's resources and processes.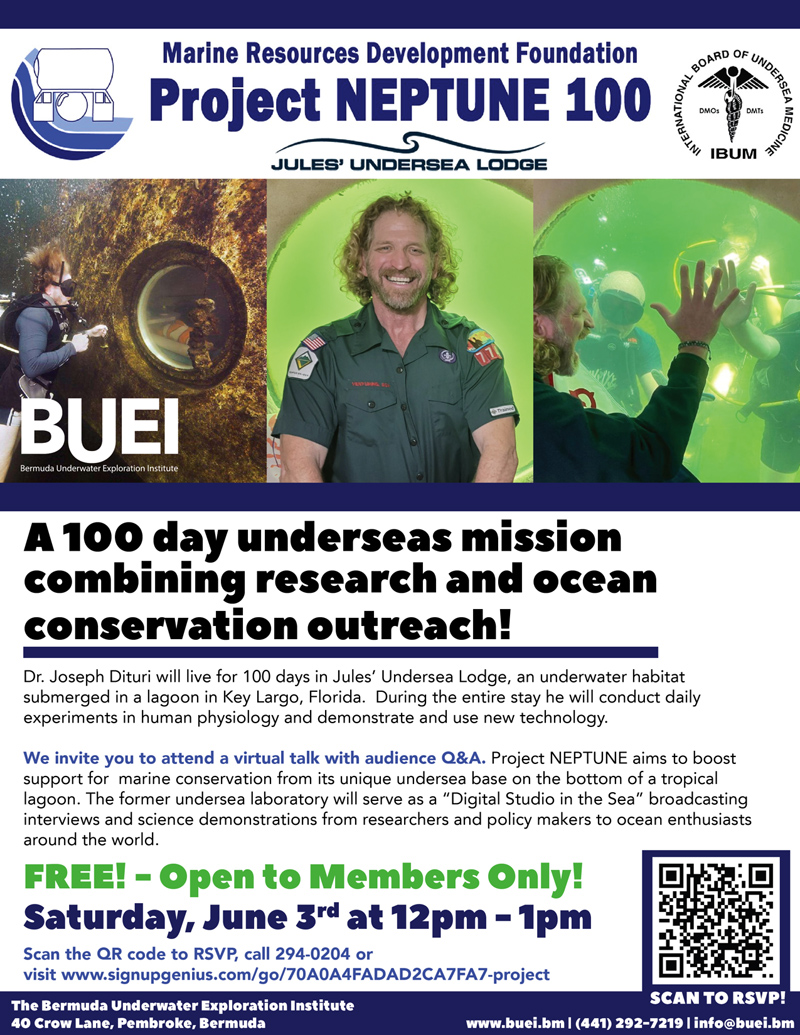 "Dr. Ditiuri plans to stay in the undersea lodge for deep sea divers until June 9, when he reaches 100 days and completes his underwater mission. [Submerged March 1] His research includes daily experiments in physiology to monitor how the human body responds to long-term exposure to extreme pressure.
"The outreach portion of Dr. Dituri's mission includes conducting online classes and broadcast interviews from his digital studio beneath the sea where he has reached over 2,500 students through online classes in marine science."
Of the study Dr. Dituri said, "The idea here is to populate the world's oceans, to take care of them by living in them and really treating them well,".
The spokesperson said, "The 'Project Neptune 100 Virtual Talk and Audience Q&A' will take place live for an in-person audience at BUEI's Tradewinds Auditorium with our overseas guest presenting via video link. Admission is free for BUEI Members and Students with a valid ID. Please note, caregivers must stay on site for the hour.
"Space is limited and advanced registration is encouraged. To register for the 'Project Neptune 100 Virtual Talk', please visit www.BUEI.bm or call the Oceans Gift Shop on 294-0204.
"To become a BUEI Member, visit the Join and Support page on www.BUEI.bm, and enjoy this special talk for free!
"The previous record of 73 days, two hours and 34 minutes was set by two Tennessee professors ― Bruce Cantrell and Jessica Fain ― at the same location in 2014."

Read More About
Category: All, Environment