[Written by Stephen Wright]
Bermuda triathlete Tyler Smith believes his career is moving in the right direction since relocating to Boulder, Colorado, to team up with Flora Duffy's coach Nate Wilson.
Smith made a bold decision to leave his long-term training base at the University of Leeds at the start of the year, spending three months in Stellenbosch, South Africa, training alongside Duffy under the guidance of Wilson.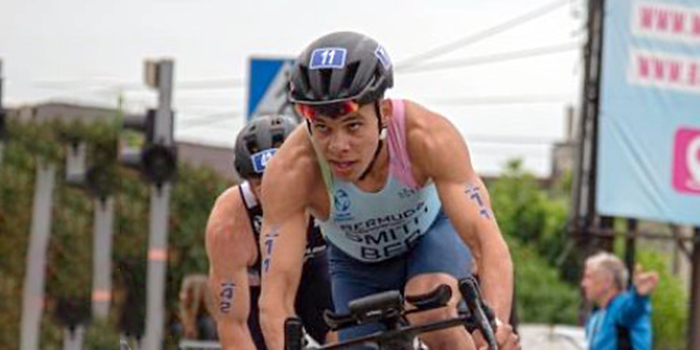 The 24-year-old is now settled in Boulder, where many professional triathletes call home, including Duffy and fellow Bermudians Tyler Butterfield and Erica Hawley.
"Leeds was a great place for me for the past six years, but I needed to try something different and get more hands-on coaching," Smith told Bernews.
"Nate's been coaching me since January, and things have been going really well, especially in the running. I have my own training programme and goals.
"I've been staying with Erica, see Flora most days at the pool, and I've had a few rides with Tyler. It's great to have those guys close by as resources to lean on. They have been here for a long time, know the riding routes, the ins and outs, and have made my transition easier."
Smith produced a career-best display at the Commonwealth Games in Birmingham last summer, coming thirteenth in the individual event.
However, he suffered an Achilles injury soon after and was not fully fit when he entered the World Triathlon Championship Series Bermuda in November last year, withdrawing from the event after two laps of the 1,500-metre swim because of breathing issues.
"The higher the level you reach almost correlates to a higher risk of injury because you're doing higher training volumes with more intensity," Smith said.
"I tried to line up in Bermuda with it being a home race but didn't even make it out of the swim. Part of that was because of these underlining injuries and the added stress that entails knowing you're not fit or in a position to compete.
"Over the past four years, it's been a continuous cycle of injury, get fit, get some OK results, get injured again and back to square one.
"It becomes a vicious cycle. At the end of last year, I knew I needed to change something [and relocate] to have a future in this sport."
Smith started the season competing in the African Triathlon Cup series, looking to reignite his bid of qualifying for the Olympic Games in Paris next summer.
"I didn't have any world ranking points [because of injury], so I had to start the season early, and the best place to do that is the Southern Hemisphere – South Africa, Namibia and Zimbabwe," said Smith, who has opted out of the Central American and Caribbean Games in San Salvador, El Salvador, next month to focus on other races.
Despite winning a silver medal at the Central America and Caribbean Championships in Punta Cana, Dominican Republic, on May 13, Smith said he was disappointed not to win – perhaps a sign of his growing confidence in his ability and body.
"It was a mixed result," Smith said of the race, which also served as the Americas Triathlon Cup in which Smith finished tenth.
"You have to take more risks if you want to try and win. I took a risk in breaking away on the bike, and it didn't play out that well."
Smith, who competes in the World Triathlon Cup Huatulco next month, hopes to qualify for Paris through a "new-flag spot" for smaller National Olympic Committees such as Bermuda.
"To qualify, I need to be the highest World Triathlon-ranked athlete in the Americas," he added. "There is one spot for the highest-ranked athlete not already qualified through the other routes, which accounts for the triathletes from larger nations. It's still pretty tough!"

Read More About