At a presentation held this morning at the offices of Bermuda HealthCare Services, St. Georges Cup Match player Delray Rawlins was announced as the 2023 recipient of the Calvin "Bummy" Symonds Safe Hands Award.
Dennis Wainwright, Dr. Mahesh Reddy, Delray Rawlins, and Irving Romaine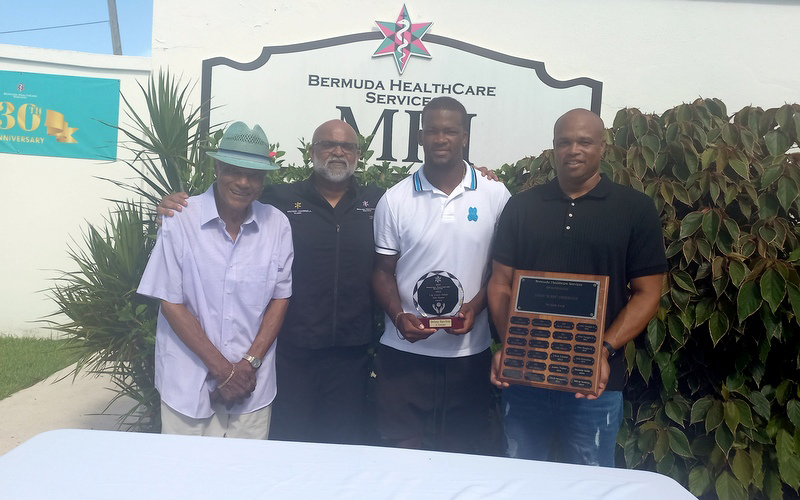 "The award is sponsored by Bermuda HealthCare Services [BHCS] and this year was given to the player who made the most spectacular catch during the iconic two day match. Mr. Dennis Wainwright, former St. Georges wicketkeeper, and his committee choose the winner on behalf of BHCS," a spokesperson said.
"The star player proudly accepted the award from BHCS Medical Director Dr. Mahesh Reddy. Also in attendance at the brief presentation was Irving Romaine, nephew of Calvin 'Bummy' Symonds.
"As the Calvin 'Bummy' Symonds Safe Hands Award winner, Delray Rawlins receives a trophy and a $1000.00 cheque courtesy of sponsor Bermuda HealthCare Services."

For extensive coverage of Cup Match spanning over a decade, visit our website BernewsCupMatch.com, the island's most comprehensive resource on the Cup Match holiday.

Read More About