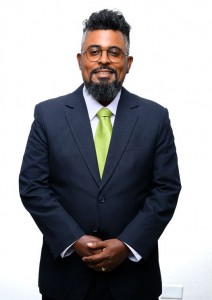 [Opinion column written by Mischa Fubler]
Good day to the people of Constituency 8, Smith's South.
My name is Mischa Fubler, and I am the Progressive Labour Party's candidate.
Over the past few weeks, I have had the immense honour to have met many of the residents in the area. I have been humbled by the warm reception I have received and the willingness of constituents to welcome me into their homes to discuss both constituency and nationally-related concerns and exchange ideas about moving our country forward.
In the lead up to the bye-election, I will continue to canvass door-to-door to expand this dialogue throughout the constituency and to share my values and my vision for the future.
I represent the potential for change in the Bermudian political landscape and, in Constituency 8. My values include community building, environmental stewardship, socio-economic justice, walkable/bikeable urban areas and data-driven decision making.
I envision us building community through activities that align with these values. What we build together depends on what you'd like to see happen, but some examples would include:
a neighbourhood farmer's market to improve our food security
collaboration with the local businesses to improve the state of our private estate and main roads impacted by their operation
events to encourage engagement and increased awareness of the important role our green spaces like Spittal Pond play in the protection of our flora and fauna.
We, as a community, have been presented with a unique opportunity: the option of having a young, progressive mind advocating on your behalf. As the father of two young children, I have a vested interest in the long-term success of both our community and our nation.
I am asking for your partnership, your ideas, and your trust. Together, we can make our community an even better place for our families and for the generations that will follow. Together, we can be the change we want to see.
My desire is to serve you, Constituency 8, Smith's South. Working together, we can not only improve our neighbourhood, but we can make change for the betterment of Bermuda and our people.
I humbly request your vote at the polls at the bye-election to be held on Thursday, October 5th at St. Patrick's Church. I pledge to be available, to listen and represent this constituency in the House of Assembly.
Sincerely,
- Mischa Fubler
Read More About
Category: All