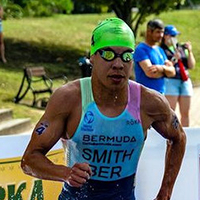 [Written by Stephen Wright]
Tyler Smith said he is encouraged by his recent impressive displays as he prepares for the Americas Triathlon Sprint Championships in Santa Marta, Colombia, on Saturday [September 9].
Smith will compete in the elite men's competition, which features a 750-metre swim, 20-kilometre run and 5km run.
Last weekend, the Bermudian finished ninth in the Americas Triathlon Championships in Veracruz, Mexico.
"Nice to collect some valuable world ranking points [in Veracruz] to bump me up closer to where I need to be," Smith wrote on Instagram.
"Made some bad decisions on the swim and couldn't recover it to make the lead group out of the water.
"We got close on the bike, but it wasn't to be. Kept the head screwed on and ran up to ninth surprising myself with the third-fastest run split on the day.
"Training in Bermuda in August is coming in clutch. I feel like I've shown all the individual pieces are there this year but need to put it all together.
"Another chance this weekend over the sprint distance on the beaches of Santa Marta, Colombia."

Read More About