The Department of Education organized a prize-giving event for 14 talented young artists who took part in the 58th Annual Schools Art Exhibition at the Bermuda Society of Arts.
A Government spokesperson said, "The People's Choice certificates and prizes were awarded to primary, middle and senior school students who garnered the highest number of votes during the exhibition. Members of the public were encouraged to visit the gallery and engage with the artistic creations of Bermudian public and private students through physical ballots or online voting.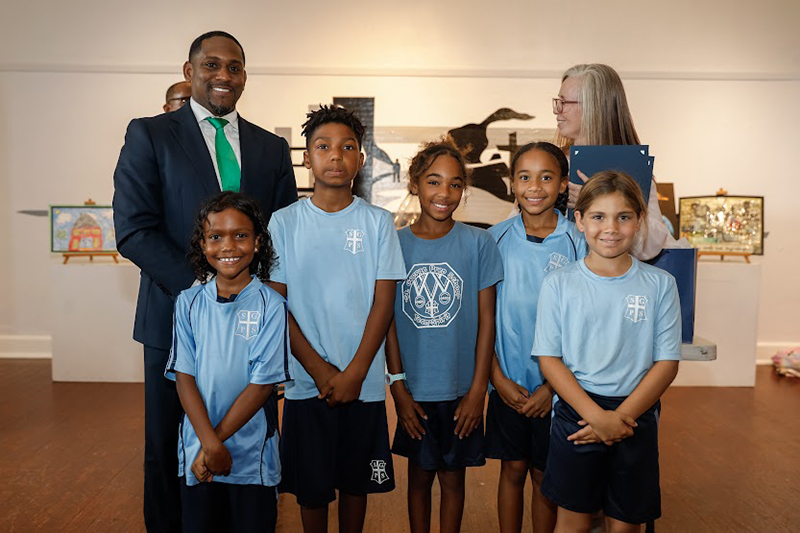 "Visitors had the chance to pause and reflect on the theme 'Transformations: A Fresh Perspective' before submitting their final vote.
"Prizes included a gift bag of art utensils and drawing materials, courtesy of the Department of Education, and a copy of I Wish I Could Tell You: Bermuda Anthology of Children's Literature and Young Adult Stories. The overall winners in each category also received a $50 gift card to Brown & Co, courtesy of the Department of Youth, Culture and Sport, as well as a 2023 Membership to the Bermuda Society of Arts, courtesy of BSOA Gallery Director, Ms. Nzingha Ming.
"Parents, visual arts teachers, and school administrators attended the event in support of the People's Choice recipients. Also in attendance were the Minister of Youth, Culture and Sport, the Hon. Owen Darrell, JP, MP, the Director of Academics, Dr. Llewellyn Simmons, and the Minister of Education, the Hon. Diallo Rabain, JP, MP, who gave his remarks.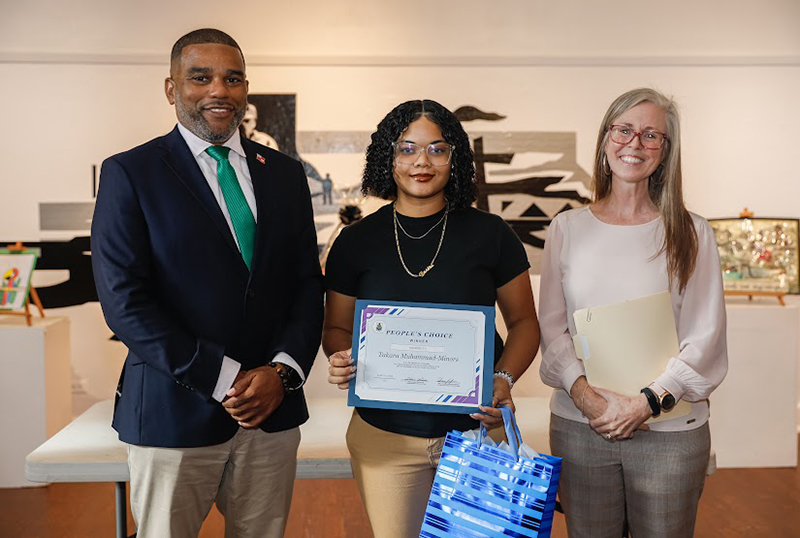 58th Annual Schools Art Exhibition People's Choice Awardees:
Lower Primary [P1 - P3] Category
Winner – Zoey Paul [P1] from Paget Primary School
Runners up – Divine York [P2] from West Pembroke Primary and Dallas Hinds [P3] from Northlands Primary
Honourable Mention – Jahziah Douglas-Dill from Dame Marjorie Bean Hope Academy
Upper Primary [P4 - P6] Category
Winner – Julia Stoppa [P4] from Mount St. Agnes Academy
Runners up – Della Masters [P6] from Harrington Sound Primary and a tie between Matteo Aleong [P6] and Maddison Erskine [P5] from Somersfield Academy
Honourable Mention – P4 class at St. George's Preparatory School for their collaborative artwork of Queen Elizabeth II and King Charles III
Middle School [M1 - M3] Category
Winner -  Nyah Roberts [M3] from Bermuda High School
Runners Up – Linae Grant [M3] and Geah M. DeGuzman [M3] from Dellwood Middle School
Honourable Mention – Dellwood Middle School for garnering 70% of the middle school votes
Senior School [S1 - S4] Category
Winner – Takara Muhammad-Minors [S4] from The Berkeley Institute
Runners up – Chelsea Scarth [S2] from Mount St. Agnes Academy and Syla Demoura [S3] from Warwick Academy
Honourable Mention – Warwick Academy for garnering the majority [24%] of the Senior School votes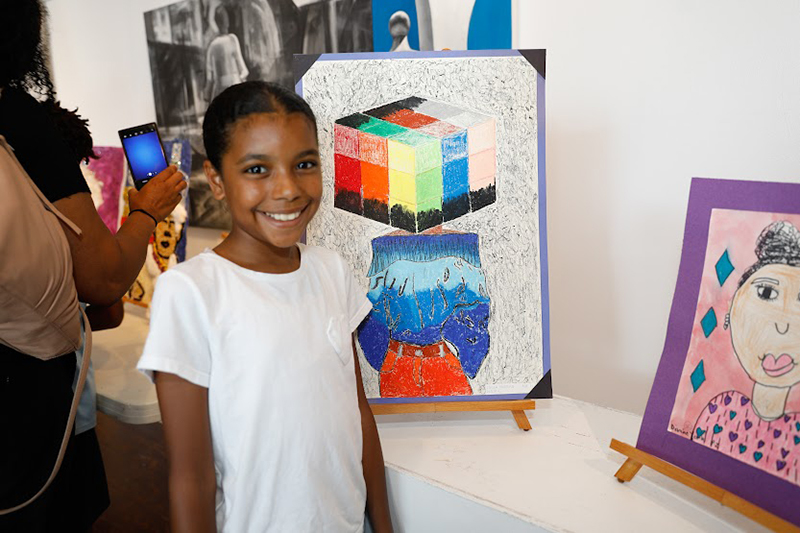 "The 58th Annual Schools Art Exhibition saw 100% participation from public and private schools Island-wide. Every student who participated in the exhibition, as well as every dedicated art teacher who contributed to the masterful displays will receive certificates from the Acting Arts Education Officer, Mrs. Shannon Rose-Robinson and the Commissioner of Education, Mrs. Kalmar Richards.
Mrs. Rose-Robinson commented, "Thank you to everyone who visited the Bermuda Society of Arts gallery in support of our young, budding artists. We are excited to see what new and expressive works of art will be in store as we prepare to celebrate the 59th year of exhibiting visual arts from our schools".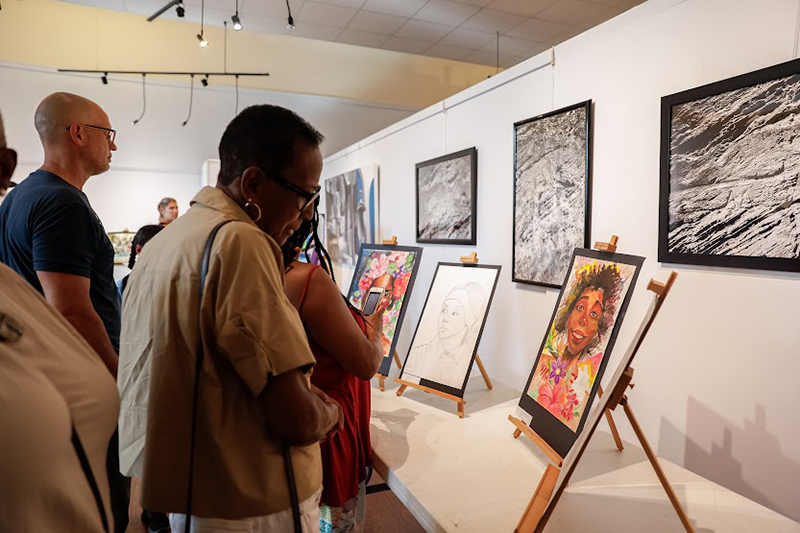 Ms. Ming commented, "Congratulations to our four winners, the runners up and Honourable mentions, of this year's 58th Annual Schools Art Showcase and Exhibition. Well done!
"I have the bounty of meeting BSoA gallery visitors who come from all over Bermuda as well as those from around the world, some who travel to experience the Schools show each year.  Every person who came, enthusiastically voted and enjoyed showing me the pieces they were most moved by, and it was always a difficult choice to vote for 'just one'.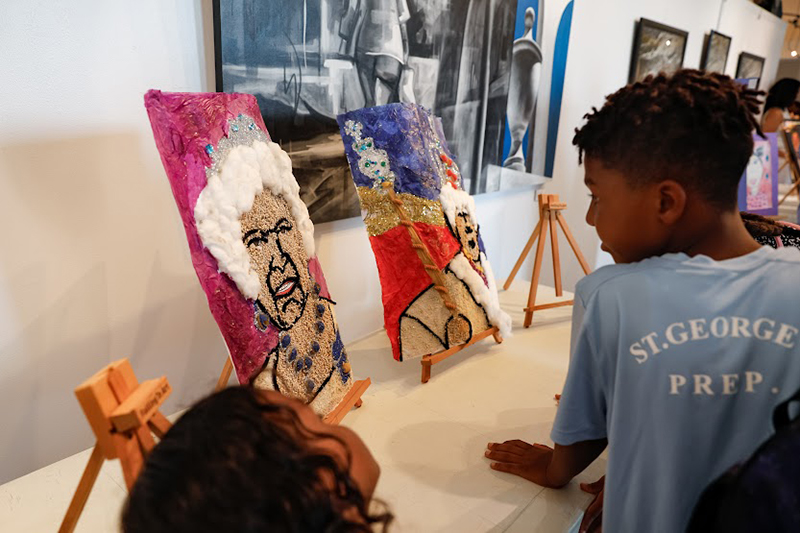 "The arts have the power to move the world. The arts serve as a reflection of our innermost emotions and the world around us. It can also influence culture, our wellness, it can bridge the gap between the differences in people and be an overall source of unity. Every artistic voice and expression is so important. I want to thank all of you for contributing your artistic voice to this special and important show."

Read More About
Category: All, Entertainment, News