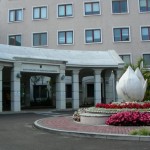 One of the victims from the triple shooting last week has been released from hospital.
49 year old Robin "Bird" Stovell, the only Bermudian injured, has reportedly been released from King Edward Memorial, and is home recuperating.
On Fri, March 19th,  two men sped by the sidewalk outside Place's Place Bar shooting over 11 bullets into a group of men, hitting three of them, and escaped speeding down Court Street.
Three days later the Bermuda Police made an arrest in the case, and a 30 year old Smith's Parish man is currently in custody.
26 year old Jamaican national James "Junior" Lawes was killed in the shooting, which also saw Robin Stovell and Maurice Martin being shot. Mr. Martin, also a Jamaican, is still in hospital in stable condition. We understand he is expected to make a full recovery.
March has seen a dramatic increase of activity involving firearms, other gun incidents in March 2010 include:
Read More About