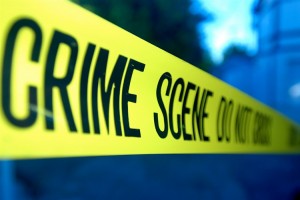 The Police have confirmed the identity of this morning's murder victim as Dekimo Martin.
During a press conference this afternoon, Detective Chief Inspector Nick Pedro and Acting Assistant Commissioner Antoine Daniels said that multiple gunshots were fired at Mr Martin at his residence at #8 Peacock Crescent, Sandy's Parish.
At approximately 1:04 am today [May 28],  the Police responded to reports of gunshots and Mr Martin was rushed to King Edward Memorial Hospital, where he was pronounced dead at around 1:45am this morning. Mr Martin was 24 years old.
When queried over the rumour that had recently been released from prison, and whether it was gang related, the Police said that just as someone was in prison doesn't mean they were necessarily in gangs, and that they are keeping all options open. They were not willing at this time to release any detailed information on the shooters, however did say that they had already spoke with some witnesses.
When queried over rumours that the incident may have been related to the Kellon Hill murder trial, the Police would not confirm and said they are keeping all avenues of investigation open. They did say however that they have spoken with family members of those involved in that matter this morning.
The police also mentioned that they have seized five firearms in 2010 thus far.
On receiving news of yet another death by gun violence today, Minister David Burch responded by saying:
Each death in our country is a matter of sorrow, grief and anger. I am deeply saddened by the senseless loss of life and will continue to seek solutions to this vexing problem plaguing our country. I will continue to support the Bermuda Police Service in their law enforcement efforts as well as partner with any agency to address this challenge.
This is the fifth murder of 2010, following the murders of Perry Puckerin, James Lawes, Kimwandae Walker and George Lynch. All the victims were killed by guns, and as of yet no one has been charged with any of these murders.
Police are appealing for witnesses or anyone with any information to contact them on 295-0011, or call the confidential crimestoppers number 1-800-8477. You can also use the Crimestoppers website to send a tip anonymously. The Police have asked for people to contact them with any information whatsoever, no matter how insignificant their information may seem.
Bernews joins with the wider Bermuda community in extending our condolences to Mr Martin's friends and family.
The full statement from the Bermuda Police follows below:
Acting Assistant Commissioner of Police Antoine Daniels:

The Bermuda Police Service can now confirm the death of 24 year old Dekimo Martin of Sandys Parish. He was pronounced dead at 1:45am today by an on duty physician at the King Edward Memorial Hospital.

Police are treating the cause of death as murder due to the nature of the injuries and a forensic pathologist will arrive on island in the coming days to provide a confirmed cause of death. The investigation is being led by Chief Inspector Nicholas Pedro, who is the officer in charge of the Serious Crime Unit.

On behalf of members of the Bermuda Police Service I express sincere condolences to the family and friends of Dekimo Martin.

The murder of Mr. Martin represents the 5th death caused by gunfire in Bermuda this year (2010), while an additional 12 persons have been injured. (In 2009 there were 4 individuals killed by gunfire & 13 injured respectively).

The Bermuda Police Service remains committed to targeting the persons responsible for carrying out these violent acts, and as previously stated, the organization has put a number of initiatives in place to combat this behavior.

Some of these include:

Realignment of organization by shifting 85% of resources to frontline policing duties
24/7 firearms response capability
An increase in armed officers
Creation of a Gang Targeting Team
Partnership with law enforcement agencies that have experience in dealing with gang culture

As members of the Bermuda Police Service we recognize that there is a level of concern circulating within the community regarding the regularity of these firearms incidents (30 can be confirmed). We are extremely sensitive and cognizant to the feelings of the community thus the reasons for our continuous robust approach to targeting guns, gangs and anti-social behavior.For example, this past holiday weekend police officers made 72 arrests for various offences and conducted 126 stop & searches.

This is combined with some recent successes in the courts of Bermuda and the charging of a number of individuals for firearms offences; e.g. shooting of 2 persons outside Southside Cinema, 2nd Court Street Shooting incident, attempt murder of a man in Dockyard (Feb 13) and the shooting of a man at RAA. Investigators are also working towards gathering additional evidence and compiling files for a number of other firearms offences including murder.

Five firearms have also been recovered.

The Bermuda Police Service is asking anyone with any information regarding today's or any other firearms incidents to contact Chief Inspector Nicholas Pedro at the Serious Crime Unit on telephone number 299-8106, or the confidential Crime Stoppers Bermuda hotline at 800-TIPS (8477).

I will now hand you over to Chief Inspector Nicholas Pedro who will provide an update on the progress of this morning's shooting.

Detective Chief Inspector Nicholas Pedro – Officer In Charge of the Serious Crime Unit

The Bermuda Police Service can confirm the murder of 24 year old Sandys Parish resident Mr. Dekimo Martin.

At 1:04am this morning, the Bermuda Police Service received reports via 911 of a man having been shot at #8 Peacock Crescent, Sandys Parish.

On arrival at the scene, Officers determined that Mr. Martin had been shot multiple times, and had been conveyed to the King Edward VII Memorial Hospital where a doctor pronounced him dead.

A full and robust investigation into this incident is underway, being lead by myself. A full complement of Detectives from the Serious Crime Unit and our Forensic Support Unit has examined the scene to collect evidence, and witnesses have been sought, and interviewed.

This morning, I have spoken personally with family members of Mr. Martin as we seek to find out why this brutal crime has occurred. My deepest sympathies go out to the family of Mr. Martin at this time.

The investigating team would like to speak with any area residents or anyone that was in the locality of Woodlawn Road, Butterfield Lane, & Peacock Crescent – that may have seen or heard anything related to this incident – however irrelevant it may seem.

Whilst the Police will actively seek out witnesses and collect all available evidence, we encourage anyone with pertinent information to come forward. Again, this information can and will be treated in the strictest confidence.

The Serious Crime Unit can be contacted on 299-8115 or anyone with any information is urged to contact the confidential & independent Crime Stoppers Bermuda hotline 800-8477 (TIPS).
Read More About