(Updated) Two weeks after he allegedly escaped outside Magistrates Court, 24-year-old Alvone Maybury was brought back to Magistrates Court this morning [July 28].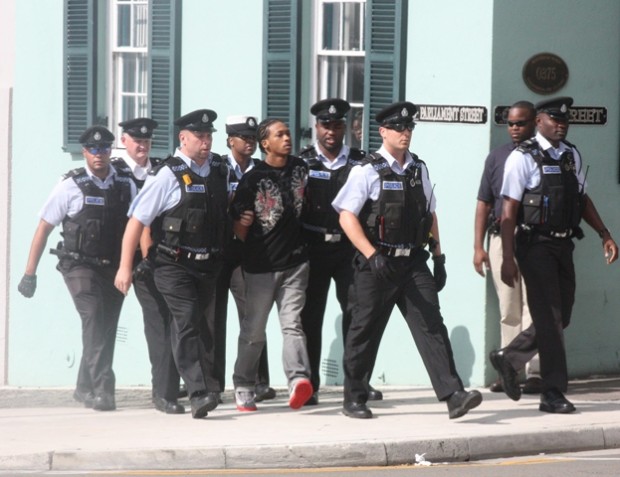 Mr Maybury was facing three firearm charges [possession of firearm and ammunition and discharging a firearm in December 2009] when he allegedly ran for freedom outside Magistrates Court on July 13th. He was free for two weeks, and his Facebook updates attracted international attention causing him to be dubbed the 'Facebook Fugitive'. He was caught yesterday afternoon at approximately 1:20pm.
With in excess of a dozen Police officers on hand, he was lead from Hamilton Police Station into court, surrounded by seven Police and Prison officers and appeared to be handcuffed with his hands in the back. When escorting Mr Maybury from Hamilton Police Station, Police temporarily blocked traffic at the intersection while there was further Police presence on the corners and surrounding areas.
He was charged with escaping lawful custody, and was not required to enter a plea as the matter must be heard in Supreme Court. He was escorted out of court shackled at the wrists, waist and ankles, and placed in a Police van. A police car left behind the Prison van, and appeared to be following them.
Mr Maybury was silent while being brought in and out of court, and the whole scene was calm.  Curious onlookers, likely attracted by the heavy police and media presence, stood by and watched the procedures. The heavy Police presence was also due to the court appearance just prior to Mr Maybury of a man being charged with the attempted murder of Randy Lightbourne.
Click to enlarge the images:

Update 1:05pm: Video of Mr Maybury being brought in and out of court is here.
Read More About
Category: All, Court Reports, Crime, News