Yesterday [Sept 4] the final phase of the Loughlands housing development was opened by the Gombeys and various politicians who joined to formally cut the ribbon. The development was initially announced in March 2006 as a public/private partnership between developer Gilbert Lopes and the Government of Bermuda, which was facilitated under a Special Development Order.
The 96 two and three bedroom homes were made available to first time home buyers, with Colonel Burch saying at yesterday's presentation that "It is important to note that Government did not make a profit on nor have we subsidised this project, but simply acted as an agent to facilitate sales to Bermudian families."
Below Minister David Burch marches with the H&H Gombeys, marking the formal opening of Saturday's events at Loughlands: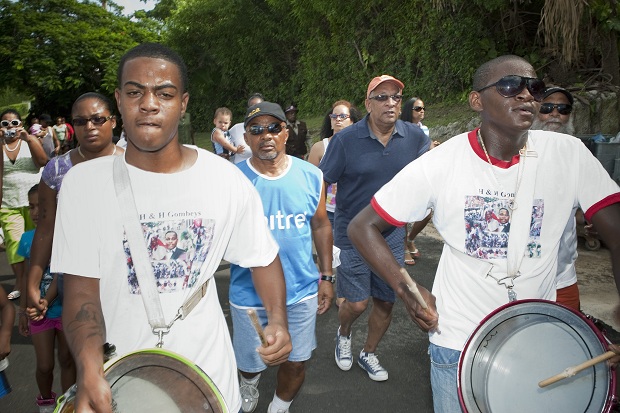 Below Premier Dr Ewart Brown, Minister of Health Walter Roban, MP Michael Weeks and the Deputy Premier Paula Cox take in Loughlands activities: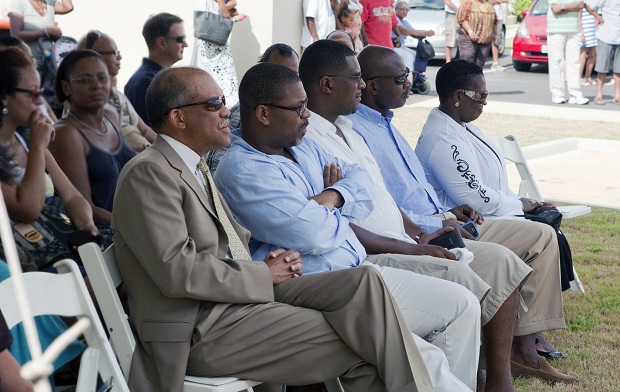 Premier Dr Brown joins Minister Burch, BHC General Manager Barrett Dill and Loughlands' newest tenants in the formal ribbon cutting: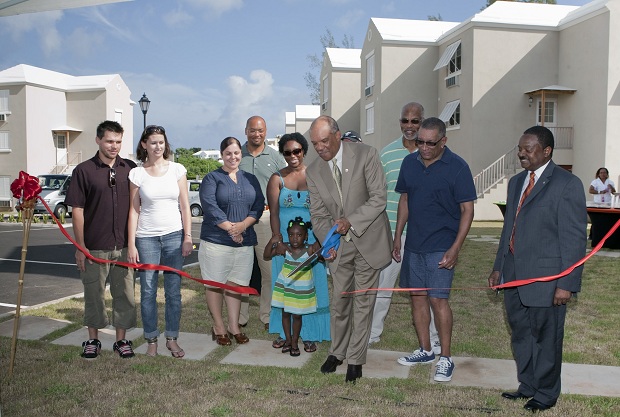 Click to enlarge images:
Minister Burch's remarks follow in full:
Good afternoon and thank you for joining us on this most special of occasions – the completion of the Loughlands Housing Development.

Premier, Deputy Premier, Cabinet colleagues, current residents of Loughlands, new residents of Loughlands – friends all.

So special an occasion is this, that we had to have the finest Gombey Troupe in the Island – in this most Bermudian of traditions – to begin today's proceedings. Thank you H & H Gombeys.

It was the 1st of March, 2006 that I announced the public private partnership between developer, Mr. Gilbert Lopes and the Government of Bermuda to redevelop this site.

Late in 2005, Mr. Lopes approached the Ministry of Works & Engineering and Housing with a view to establishing a partnership with government to provide affordable housing for Bermudians. Mr. Lopes, the owner of the Loughlands Estate, expressed his desire to do his part to assist with this country's housing crisis.

This government having committed itself to the provision of homes for Bermudians at prices that the average hard-working man and woman can afford jumped at the opportunity.

The agreement called for the redevelopment of the estate into ninety-six housing units 28 – 3 bedroom and 68 -2 bedroom units and a day care facility.

Before that though we had to seek the support of the Historical Buildings Advisory Committee for the project, as the Loughlands main building is a grade '3′ listed building. The late Hon. Nelson B. A. Bascome, JP, MP was the chair and readily agreed.

At that time the land was zoned for "Tourism development," – so we had to secure the agreement of the Minister of Tourism and Transport, Dr. the Hon. Ewart Brown, JP, MP – who immediately recognised the priority of providing opportunities for Bermudian home ownership and did not hesitate to lend his support to the rezoning of the land in order to accommodate this development.

The project required a Special Development Order, so through the support of then Minister of the Environment, the Hon. D. Neletha Butterfield, JP, MP a Special Development Order was secured.

Then we wanted to have Customs duty relief for materials to further reduce the cost of the units, so the support of the Minister of Finance, the Hon. Paula A. Cox, JP, MP was sought and secured.

So – if you have any understanding of how Cabinet style Government works you will readily see that before going to Cabinet for approval – a majority of Ministers had already signed on – thus making the approval process by the full Cabinet easy.

It was envisioned that Government, through the Bermuda Housing Corporation, would initially own the lands and buildings on the redeveloped site once occupancy was received – so that individual purchasers could finalise their arrangements. Upon the completion of Phase I, a Condominium Association was formed to manage and own the site. Completed units at each phase were then re-sold to first-time homeowners. Today marks the completion of Phase IV – all 96 units will soon have been sold to first time home owners.

It is important to note that Government did not make a profit on nor have we subsidised this project, but simply acted as an agent to facilitate sales to Bermudian families.

More than housing, this project represents genuine economic empowerment. Young professionals who could not see a means of 'owning a piece of the rock' soon learned that this Government's commitment to same was not just words. Making homes available to first time homeowners at prices that are simply unavailable in the ordinary marketplace – represents the "hand-up" that honest, hard-working young Bermudians deserve and we are happy to provide.

I am pleased to say that these families have not just bought a house but have created a community in the good old fashioned Bermuda tradition – where they know their neighbor, where they look out for each other, where they care for all the little people in the neighbourhood and most of all are living together in peace.

The development of the Day Care Centre has not proceeded as we had planned and has suffered some setbacks as a result of changing funding priorities. I anticipate an announcement soon after consultation of a revised plan for its delivery.

The economic realities of Bermuda today demand innovative solutions, so I want to publicly thank Mr. Gilbert Lopes for coming forward and doing his part to help his fellow Bermudians. I also want to thank all those artisans, craftsmen and professionals who had a hand in making this a reality. I particularly want to thank Mr. Charlton Dill, the Chairman of the BHC Board and the entire Board, former General Manager Major Glenn Brangman, current GM Major Barrett Dill and his staff but particularly Mr. Blake Lambert who in addition to having direct oversight of this project has had to personally deal with Gilbert and me for the last 4 and a half years – mercy. Give that bye a medal.

This has been a long journey but all of us draw tremendous comfort and joy from being able to help our fellow Bermudians in home ownership. I can assure you that we shall not cease until all our people are adequately housed.
Read More About