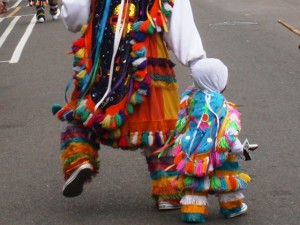 In recognition of the completion of the final phase of the Loughlands housing development, two of the Island's Gombey troupes will lead processions from the former Harmony Club and the Elbow Beach Resort parking lot respectively, and will both march to the Loughlands development for its official opening.
The Police will stop traffic flow from the Paget stop lights to the Elbow Beach entrance until the procession has completed its route on Saturday, September 4, between 3.30 and 4.30 pm.
The interruption according to Ministry Officials is anticipated to be brief, and the Ministry would like to apologise in advance for any inconvenience this may cause to residents, motorists and businesses in the area.
Following the gombey procession, Premier Dr Ewart Brown and the Minister of Labour, Home Affairs and Housing Lt. Col. David Burch will conduct a key handover and ribbon cutting ceremony at the Loughlands property on Saturday.
The 96 new housing units were built on the site of the old Loughlands Hotel in Middle Road, Paget. Government said that over 500 people applied to own one of the two- and three-bedroom units which were available to first-time buyers for a price in the region of $500,000.
Read More About