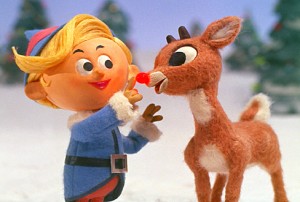 A Bermuda filmmaker's Christmas gift to the world will light up CBS tonight [Nov. 29] when "Rudolph the Red-Nosed Reindeer" airs once again.
The iconic special — first aired on NBC in 1964 — made its debut on CBS 39 years ago. It has been shown on one of the US networks every year since its premiere airing and remains the longest-running, highest-rated special in TV history.
"Rudolph" was a pioneer not just because of its protagonist's navigational prowess, but because of its "Animagic" method created by Bermuda producer Arthur Rankin Jr. and his American partner Jules Bass who went on to make a calendar's worth of seasonal specials in the 1960s, '70s and '80s.
"At the time, there was nothing like it," said CBS chief marketing officer George Schweitzer. "From 'Rudolph' and 'The Little Drummer Boy' to 'Santa Claus Is Coming To Town', Rankin/Bass Productions' stop-motion animation has a distinctive look, recognisable for its doll-like characters with spheroid body parts, and powdery snow projected over the action to create the look of a blustering snowfall."
Recently the US Academy of Television Arts & Sciences Foundation's Archive of American Television uploaded a three-hour interview with Harrington Sound resident Mr. Rankin covering the span of his entire 50-year career.
Now retired from the entertainment industry, in recent years Mr. Rankin has lectured on showbusiness at the Bermuda College and directed plays staged at Hamilton's City Hall. He is married to Olga Rankin, who at the age of 65 became the oldest newly-qualified lawyer ever called to the Bermuda bar.
Mr. Schweitzer said over the years, fading and degeneration of the animation print caused Rankin/Bass' flagship "Rudolph" special to take on a reddish hue that differed significantly from the bluer tones and starker contrasts of the original.
"But in 1998, an ambitious color correction process restored the special to its original visual texture and color palette," he said. "Thanks to digital remastery, Santa's elves regained their blue suits back after years of wearing faded green.
"Today, the animation techniques used in the special have long since been eclipsed. Yet 'Rudolph' remains powerful because of the creativity of its initial vision and the strength of the characters and story."
Mr. Schweitzer concluded: "Who could forget that shy reindeer and his misfit pal, Hermey the elf and a snowman version of Burl Ives singing 'Silver and Gold'? Yet more proof that no matter what, good content outlasts changes in technology."
Tune in tonight to relive the magic with "Rudolph the Red-Nosed Reindeer" at 9:00 p.m. Bermuda time on ZBM.
Read More About
Category: All, Entertainment, News