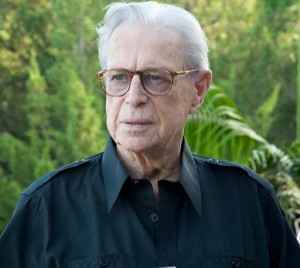 He optimistically called his new animation technique "Animagic".
It's been almost 50 years since writer/director/producer Arthur Rankin Jr. launched his improbably successful career with little more than the rights to a Christmas novelty song, a felt-covered, lightbulb-nosed reindeer puppet and the sort of boundless faith which marks his most famous characters. But  "Animagic" continues to weave its spell over successive generations of television viewers.
"Rudolph The Red-Nosed Reindeer", the flagship Rankin/Bass production, remains the longest-running, highest-rated special ever aired on US network television. The special has appeared on one of the broadcast networks every year since its debut on NBC's "General Electric Fantasy Hour" in 1964, routinely landing near the top of the Nielsen Ratings Top 10 — a feat unparalleled in television history.
And recently the US Academy of Television Arts & Sciences Foundation's Archive of American Television uploaded a three-hour interview with Mr. Rankin covering the span of his entire 50-year career.
The Academy –which hands out the annual Emmy Awards for excellence in television — established the Archive of American Television in 1997 and since then has conducted more than 700 long-form interviews [over 3000 hours] with the legends of television.
Award winning producer-executives Grant A. Tinker, David L. Wolper, Tom Sarnoff, and Dean Valentine were the founding forces behind this historic collection which chronicles the birth, growth and cultural influence of American TV history.
"Rudolph's" phenomenal success ultimately resulted in Mr. Rankin and American partner Jules Bass becoming to holidays what Walt Disney had been to mice.
Santa Claus And The Title Character From "Rudolph The Red-Nosed Reindeer"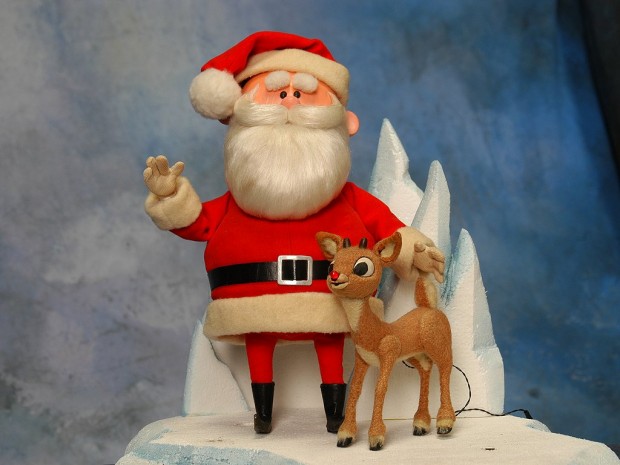 They produced a slate of animated seasonal TV specials in the '60s and '70s, all of which employed variations on the "Rudolph" theme: a holiday-centred plot, good-humoured but arresting musical numbers — based around standards or original songs which themselves became classics of their kind  ["The Snow Miser Song", "Here Comes Peter Cotton Tail"] and misunderstood leading characters and supporting casts comprised of genial neurotics [think "Rudolph's" Hermey The Misfit Elf, who yearns to leave Santa Claus' workshop to pursue his dream of becoming a dentist].
Providing the vocal talents and likenesses for Rankin/Bass Productions were some of the most well-established stars in Hollywood.
Starting with Oscar-winning actor/folk singer Burl Ives — who provided the voice and look of narrator Sam Snowman in "Rudolph" — all subsequent Rankin/Bass productions featured casts most Hollywood studios would have been hard-pressed to assemble.
Arthur Rankin Jr. Talking About His "Animagic" Process 
Danny Kaye, Fred Astaire, Shelly Winters, Eartha Kitt, Walter Matthau, Boris Karloff, Zero Mostel, Greer Garson, John Huston, Jimmy Durante and Roddy McDowell were among the cinema legends who worked on Rankin/Bass seasonal specials.
James Cagney was even persuaded to come out of retirement by then US President Lyndon B. Johnson to lend his trademark staccato vocal inflections to a Rankin/Bass production.
The specials — some made using puppet-type figures and the same demanding stop-motion "Animagic" process as "Rudolph", others employing more tradition cartoon cel animation — resulted in a calendar's worth of programming. Christmas ["Rudolph", "The Little Drummer Boy", "Frosty The Snowman", "Santa Claus Is Coming To Town" and countless others]; Easter ["Here Comes Peter Cottontail]; Thanksgiving ["The Mouse On The Mayflower"]; New Year [Rudolph's Shiny New Year"] and even Hallowe'en ["Mad Monster Party], all had their own Rankin/Bass holiday programme.
From "South Park" — originally a one-shot short titled "Jesus Vs. Santa Claus" which gleefully subverted the Rankin/Bass  holiday formula — to last year's animated Christmas episode of the TV hit "Community", the team's pop culture footprint remains as large and imposing as that of "Rudolph's" Abominable Snow Monster.
"Like a lot of people, I grew up loving the animated special 'Rudolph The Red-Nosed Reindeer' that appeared every year," said Oscar-nominated producer/director Tim Burton, who styled his animated theatrical productions "The Nightmare Before Christmas" and "James And The Giant Peach" after the Rankin/Bass specials.
Mr. Rankin, who has made Bermuda his home and base of operations for the last 40 years, has often said he's humbled by the enduring popularity of his evergreen TV productions.
Mr. Rankin Talks About His Live Action Features Including "The Bermuda Depths" And "Ivory Ape"
"I'm always pleased by success, and I'm always surprised by it. Why has 'Rudolph the Red-Nosed Reindeer' been on the air for more than 40 years? … I don't know the answer to that. But over the last few years, I've become very honoured by that… I guess that is my legacy. Longevity is the answer for art."
But he added that "Rudolph's" multi-generational success story and Rankin/Bass' ensuing lock on the holiday market almost never happened since the project was nixed — Hollywood slanguage for turned down — by every potential backer he approached in Tinseltown.
"In America they used to say 'Go West, young man' to people seeking their fortunes," Mr. Rankin once said. "Well, I followed that advice — and had every door in Hollywood closed in my face when I pitched the concept of 'Rudolph' back in the early '60s. No one was interested.
"I was disappointed but not deterred. So I kept going West — until I reached Japan. Tokyo's Toho Studios  had an animation unit which specialised in the stop-motion technique I wanted to use on 'Rudolph'.
"Ultimately we were able to enter into a partnership — one which lasted for more than 20 years. Virtually all of the Rankin/Bass seasonal specials — which have come to be regarded as American television classics — were actually made in Japan."
American-born Mr. Rankin, who has made Bermuda his home and base of operations for more than 40 years, was interviewed in New York City by the Archive of American Television.
In a written synopis of the lengthy interview, the Archive said Mr, Rankin discusses:
His family's background in vaudeville and his time as a page boy at Radio City Music Hall.
How his interest in painting and graphic design that led him to television, where he worked as an art director on several anthology series at ABC.
The creation of his own company, Videocraft International Ltd., which initially specialised in commercials.
How he teamed up with longtime partner Jules Bass, and the company became Rankin/Bass.
Some of the earliest projects of the company that were sold station-to-station and done in both "Animagic" — their stop-motion animation technique — and traditional cel animation including "The New Adventures of Pinocchio", and the landmark special "Rudolph the Red Nosed Reindeer."
The painstaking work involved in creating the stop motion work, described outsourcing the animation to Japan, and talked about several longtime company employees as well as some of the famous actors who appeared in the specials.
Other timeless holiday favourites the company  produced including the Christmas-themed "Frosty the Snowman", "Santa Claus Is Comin' To Town", and "The Year Without a Santa Claus. He also talked about adapting J.R.R. Tolkein's "The Hobbit" and "The Return of the King."
The two music-group based animated series he produced for ABC, under Michael Eisner, "The Jackson Five Show" [featured below on the cover of "Ebony" magazine] and "The Osmonds."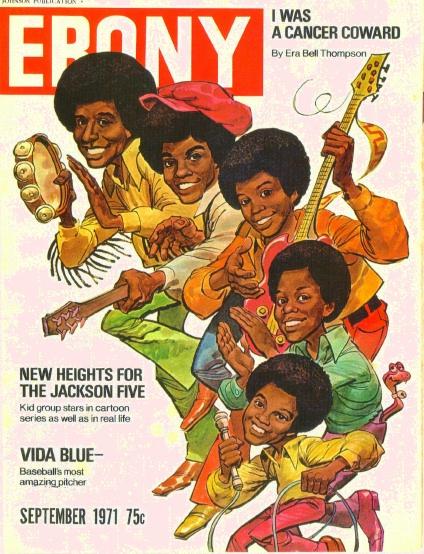 Later projects including the locally produced television movies "The Bermuda Depths" and "The  Ivory Ape", the feature film "The Last Unicorn", the syndicated series "Thundercats" and his last Rankin/Bass seasonal television special "Santa, Baby!"
Now retired from the entertainment industry, in recent years Mr. Rankin has lectured on show business at the Bermuda College and directed plays staged at City Hall.
He is married to the former actress Olga Karlatos — who last year, at the age of 65, became the oldest newly-qualified lawyer ever called to the Bermuda bar.
The couple live on Harrington Sound with their two cats.
For the full eight-part  interview with Mr. Rankin, visit the Archive Of American Television website.
Read More About
Category: All, Entertainment, Films/Movies