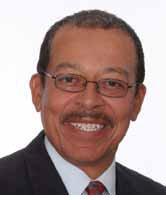 Tonight [Oct 28] Derrick Burgess became Deputy Leader of the PLP after being selected at the delegates conference at Devonshire Rec.
Mr Burgess was elected out of the five candidates that stood; himself, Randy Horton, Terry Lister, Walter Roban and Michael Weeks. The results of the first round of voting was; Derrick Burgess 68, Terry Lister 59, Michael Weeks 21, Walter Roban 15 and Randy Horton 6.
Although Mr Burgess won, he did not win by the required 50%, so a second round of voting took place between him, Mr Lister and Mr Weeks, which saw Mr Burgess walk away with the victory.
Upon winning, former Premier Dr Ewart Brown congratulated Mr Burgess on his win saying "The soon to be Deputy Premier has overseen some of the largest public works project's in Bermuda's history as Minister of Works & Engineering. We look forward to his working with the same tenacity he's shown as Minister in his new role as Deputy Leader and Deputy Premier."
A graduate from the now-closed Robert Crawford School in Prospect, Mr Burgess earned a Diploma in Hotel Management from the Lewis Hotel School in Washington, D.C. and has pursued programmes of study at Bermuda College, the City College of Chicago, the University of Maryland, the Lewis Hotel School in Washington, D.C. and the George Meany Labour College, also in Washington, D.C.
Having commenced his career as a busboy at the now defunct Coral Island Hotel, he rose to the post of General Manager. He later worked at the now defunct Holiday Inn, later Lowes Bermuda, later Club Med Hotel, and at the Hamilton Princess Hotel. In addition, he has served as Director of Human Resources at Grotto Bay Beach Resort.
Known for his background in the unions, he held the full-time post of President of the Bermuda Industrial Union [BIU]. His involvement in trade unionism commenced upon his election as shop steward at the Holiday Inn Hotel. In October 2001, he was elected First Vice President of the Caribbean Congress of Labour, the first Bermudian to hold that position.
He has travelled extensively throughout the United States and the Caribbean, and Geneva, Switzerland wearing the hat of a trade unionist. In December, 2004, Mr. Burgess was re-elected to the position of 1st Vice President for the Caribbean Congress of Labour.
He was first elected to Parliament in February 1998 during a bye-election representing constituency 5, Hamilton East. On 1st September, 2006, he was appointed Minister of Labour, Home Affairs and Public Safety, with his Ministry re-configured as the Ministry of Labour and Immigration some three months later. Previous to being elected as Deputy Leader, he served in the capacity of Minister of Works & Engineering.
Mr Burgess is not an MP who has spent large amounts of time in the spotlight, however earlier this year he made a statement in the House of Assembly to the UBP's Trevor Moniz that was considered controversial in some circles, saying "You never thought that you would have to come to slaves' children for an answer or a decision. That's the problem: he doesn't like that Mr. Speaker and he better get used to it."
A member of St. Phillip's A.M.E. Church, Derrick Burgess is married to the former Brenda Walker of St. George's, and they have three children, two foster children and five grandchildren.
Read More About