[Updated] At a press conference held this afternoon [Dec 9] the United Bermuda Party announced that Susan Jackson will stand as their candidate for Constituency #30, Southampton East Central.
Ms. Jackson has a professional background in corporate communications, and is currently public relations manager for HSBC and has also worked at the law firm Appleby and telecommunications company KeyTech.
Ms. Jackson is walking in family footsteps, as she is the daughter of veteran UBP MP Louise Jackson, who spoke today saying that she is "overwhelmed" by her daughter becoming part of the UBP family.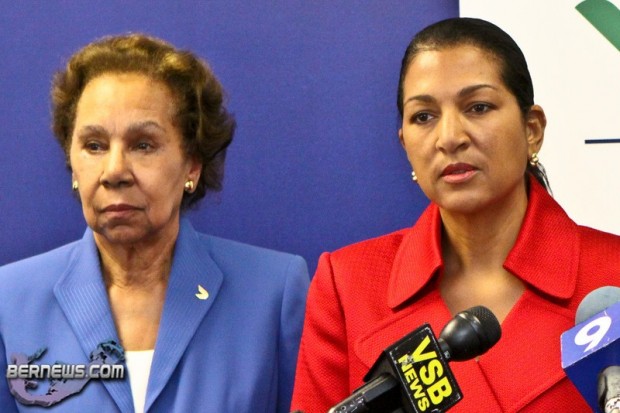 Mrs Jackson also spoke about her daughter's previous service to the community, and said she raised  her to understand the importance of community service.
The seat she will be contesting is presently held by the PLP's Zane DeSilva, who presently serves as Minister of Health. Minister DeSilva won the seat in 2007,besting hotelier David Dodwell, who was first elected there in 2003. At that election Mr. Dodwell, who had previously represented another Southampton constituency, defeated the PLP's Raymond Tannock by a paper-slim margin, 466 votes to 446.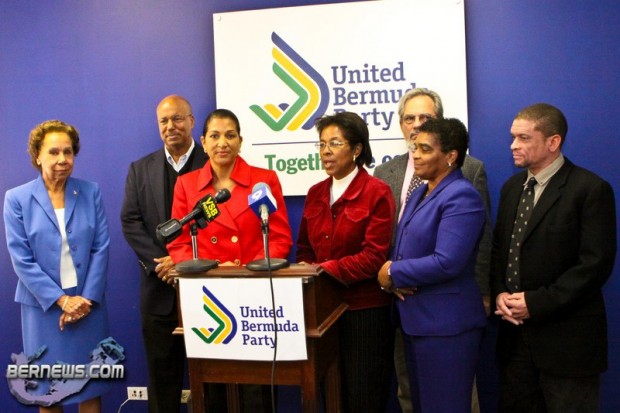 Unlike the recent roll-out for Devrae Noel-Simmons for the upcoming by-election, a full showing of UBP elected MPs were present today for Ms Jackson's rollout. Pictured above from left to right is the new candidate's mother MP Louise Jackson, MP Bob Richards, Senator Jeanne Atherden, MP Trevor Moniz, MP Patricia Gordon-Pamplin and MP Charlie Swan.
"I am really committed to work tirelessly to bring about positive results for the community and the people of Bermuda," said Ms Jackson. "I bring 48 years life experience to the United Bermuda Party … I am the fourth generation of Jacksons that have comitted to public service in Bermuda. I am the daughter of the late Albert Jackson, who was president of the Senate for 12 years, and my mother is Louise Jackson, a present Memember of Parliamentnd Shadow Minister for Health and Seniors. My greatgrandfather was the second black Bermudian elected Member of Parliament in 1887.
She continued on to say that "I stand with the UBP because I believe together we can move this county forward. As Bermudians we can live together in a safe and just and tolerant society."
This is the third general election candidate announcement from the UBP in recent months, following the announcement that former MP Erwin Adderley will be the UBP's candidate for Pembroke West, and former MP Allan Marshall will contest the Hamilton South seat for the UBP in the next election.
Below Senator Jeanne Atherden introduces Ms Jackson:
Ms Jackson introduces herself, and explains why she has decided to run:
Susan Jackson and her mother MP Louise Jackson take questions:
Update: Ms Jackson's full statement follows below:
I want to thank the constituents of Southampton East Central for the opportunity to serve as your adopted candidate. I am committed working tirelessly to achieve positive results for you.

I am the product of an integrated, caring education system, a strong economy and a social system that encouraged us each day to be at our best. I am now ready to give back to a community that has supported me.

I bring 48 years life experience to the United Bermuda Party, 30 years as a communications professional working in Bermuda's electric utility, telecommunications, the Department of Education and currently the financial services industry.

I am also a Committed Partner in the Mirrors programme and a mentor in YouthNet. I serve on the Board of PRIDE Bermuda, The Bermuda National Library, and have trained in domestic violence and rape crisis with the Women's Resource Centre.

I am a 4th generation Jackson to commit to public service. I am the daughter of the late Senator Albert Jackson, an Independent who served as President of the Senate for 12 years. I am daughter of Louise Jackson, Member of Parliament and Shadow Minister of Health & Seniors.

The Jackson family commitment to politics traces back to my great grandfather, the second black Bermudian to be elected to Parliament in 1887.

This is my opportunity to get involved and serve the community in a greater capacity, to effect changes for a better Bermuda.

I stand with the United Bermuda Party: Bound together by determination to get this country moving toward to one future, where all Bermudians can live together in a society that is safe, just and tolerant.

I am stepping forward because I believe in Bermuda. We can do better.
Read More About