[Updated with video] Louise Jackson's daughter Susan Jackson will stand for the Opposition in C#20 Pembroke South West, the OBA confirmed this afternoon [Nov 28]. This is the final candidate rolled out by the OBA, who has now confirmed all 36 candidates for the General Election, which will be held in 18 days.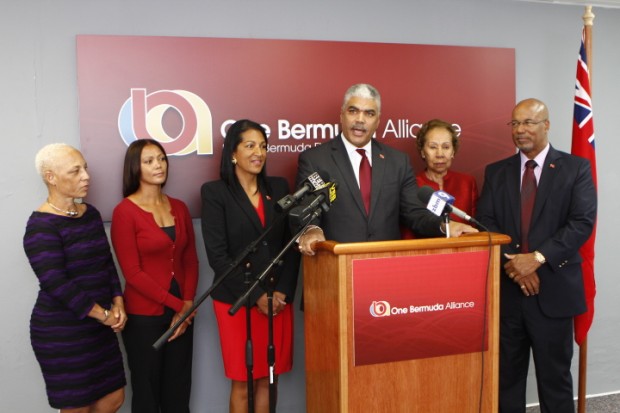 Ms. Jackson has a professional background in corporate communications, and is currently public relations manager for HSBC and has also worked at the law firm Appleby and telecommunications company KeyTech. She was previously announced as a UBP candidate in 2010.
Louise Jackson — the incumbent Pembroke South West MP — is retiring, which paves the way for a new MP for the area. Considered by many to be a safe seat for the Opposition, Mrs Jackson [under the UBP] won 83% [711-145] of the vote vs the PLP's Laverne Furbert. In 2003, Mrs Jackson won  81.83% of the vote against the PLP's Neville Darrell.
Ms Jackson will join a four-way battle, with the PLP's Marcus Jones and Independents Johnathan Starling and David Petty already set to contest the area. The two parties exchanged words about the late rollout of the C#20 candidate last month.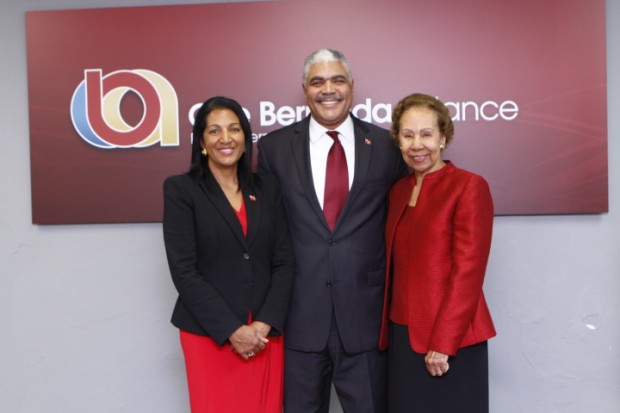 In introducing her, OBA Leader Craig Cannonier said: "Susan comes to us with an impressive background in corporate communications, and public service, and a deep familiarity with public life of the country through her parents, the late Albert Jackson, long-time President of the Senate, and, of course, her mother the great Louise Jackson.
"With Susan's candidacy, we have put forward nine women to carry the OBA flag. That's one quarter of our field of candidates, and I can tell they are a strong group committed to the issues that matter to the women of Bermuda.
Mr Cannonier continued: "Although today marks her official rollout, Susan has already spent months on the doorstep speaking with the people of Pembroke West Central, as well as canvassing with her OBA sisters in their constituencies.
"Some of you may wonder why Susan was not rolled out earlier, and the reason we didn't was because there were other potential candidates wanting to run in that seat. So we gave everyone a chance. Susan was the overwhelming favorite based on constituency feedback."
Ms Jackson's full speech follows below:
I am excited and proud to be a candidate for the One Bermuda Alliance in this election, and to have the opportunity to represent the people of Pembroke South West, Constituency 20.

There is no higher calling than to be able to work for and represent people, and I am ready to do that with every fibre of my being.

Everything about my life – the ups and the downs – leads to this moment.

I was raised in a family that was devoted to public service.

I am a single mother who sacrificed so that my children can have a better life.

I have been unemployed and faced the doubts that I would ever get another job.

I have been involved in community-based public service from the Women's Resource Centre, to Mirrors, YouthNet and Pride.

And I have survived cancer and chosen drastic surgery to live to see this day.

I am ready to serve.

I have been meeting with the constituents of Pembroke South West over the past few months, and I can tell you that people from all walks of life are extremely concerned about the direction Bermuda is heading.

They are concerned about crime.

They are concerned about rising unemployment.

They are concerned about the massive debt.

They are concerned about the education of their children.

And they are concerned about the future.

Many have said they feel helpless to stop what is happening.

They say the Government gives them no confidence it knows what to do.

The stress and anxiety is real.

People are worried.

And they are ready for change.

I am proud to stand here today with Craig as a member of the One Bermuda Alliance team.

Because I believe the OBA can bring the change the people of Bermuda need.

The team has a wonderful diversity and optimism that makes one confident for the future.

I see Bermuda working every time we gather together.

There is respect for each other, and recognition of the value each person brings to the table.

There is the shared commitment to making the Island work again for the people.

It's about moving forward together. And that is the opportunity this election brings to the people of Bermuda.

The goal is to put in place a government that takes care of the Island's business,
that gives people the confidence they need to enjoy their lives;

A government that takes care of the economy, protects the environment and ensures public safety; and

A government that builds an education system in which children are safe and learning.

My aim as a public servant is to help people live their lives – to advocate for them when they need an advocate and to have the good sense to get out of the way when they don't.

I am an optimist. I believe in Bermuda and I believe in our people and their ability to overcome the challenges we face.

There is love and compassion everywhere. I know that from speaking with the people of Pembroke South West and from canvassing with my OBA team mates.

There is also a deep love for this Island, and a longing to make it better.

Let's let it all work for us.

That's the opportunity.

And that's the change Bermuda needs.
-
Update 5.53pm: PLP candidate for C#20 Marcus Jones welcomed newly announced OBA candidate Susan Jackson to the field of candidates vying to occupy the Parliamentary Seat vacated by Mrs. Louise Jackson.
"The people of Pembroke South West have been waiting to have the opportunity to hear where each candidate stands on the issues, what attributes we bring to the table and how we will represent their interests in Parliament," said Mr. Jones.
"While canvassing the people of constituency #20 I have had the opportunity to listen to their concerns and lay out our 10 Point Plan for jobs and reviving the economy. We look forward to a vibrant and healthy debate."
Read More About