[Updated] A firearm incident occurred minutes ago this evening [Mar.1]. We do not have official confirmation yet, however we unofficially understand that one person may have been shot. We have limited information at this time, and will update as able through the evening.
Update #1: We unofficially understand the scenario to be extremely serious…
Update#2: The shooting took place in the Boundary Crescent, Hermitage Road area. Police are on the scene.
Update #3: We are awaiting a Police briefing. We hope this is not the case, but continue to understand the situation to be serious, and are awaiting the official statement.
Update #4: Police Spokesman Dwayne Caines confirmed that a 26-year-old man was fatally shot.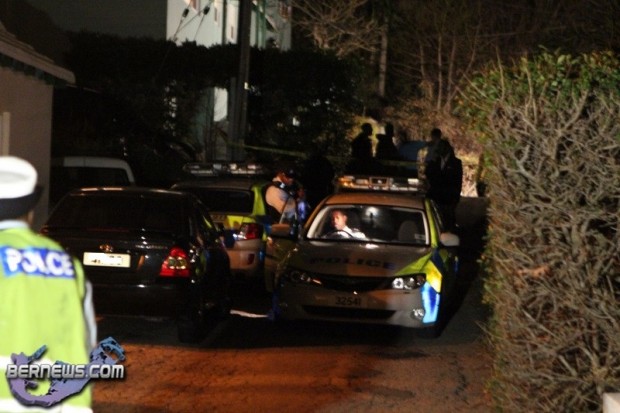 Update #5: Official Police statement:
The Bermuda Police Service can confirm that a 26 year old man was fatally shot in the Boundary Crescent, Devonshire area tonight. No further information will be released until the next of kin have been notified. An active investigation into this incident is underway. Any witnesses or anyone with any information is urged to contact the Serious Crime Unit on 295-0011 or the independent, confidential Crime Stoppers Bermuda hotline on 800-8477.
Update #6: Police spokesman Dwayne Caines gives a brief statement.
Update #7 Although the victim's identity is becoming widely known in the community, he has not been officially named as yet, and we are expecting his name to be released by officials later today [Mar.2]
Update #8: This morning in the House of Assembly BDA MP Mark Pettingill named the victim, and expressed his condolences to his family, and to his pregnant girlfriend. He said the victim's mother works for his law firm and Mr Pettingill said how close to home this is for him, but said all shootings are close to home really.
Update #9: Police have officially named the victim as Jahmiko Leshore, and confirmed the arrest of three men on suspicion of murder. Details here.
Update #10: Minister of National Security Lt. Col. David Burch:
First and foremost I wish to extend my sincerest condolences to the family and friends of the deceased. This is a tragic situation and it is terribly disheartening that we continue to grapple with these callous acts of gun violence.

I understand that the investigation, while in its early stages has already yielded results with three arrests. This is a positive development and I want to commend the Bermuda Police Service for their swift efforts in these early hours.

Finally I want to take this opportunity to encourage anyone who may have any information about last night's shooting to please share that information with the Police. If you wish to share your information anonymously, you can do so by calling the Crime Stoppers hotline at 800-TIPS (8477) or via the Crime Stoppers website at www.crimestoppers.bm.
This is the second murder of 2011, following the tragic murder of 29-year-old Colford Ferguson, who was fatally shot on February 4th in Sandys parish.
Bernews extends our sincere condolences to the victim's family and friends.
Read More About