On June 5th Anthony Hunter Jr. will graduate from South Kent Prep School in the U.S., however today he has already begun to map out his future signing a partial soccer scholarship to Depaul.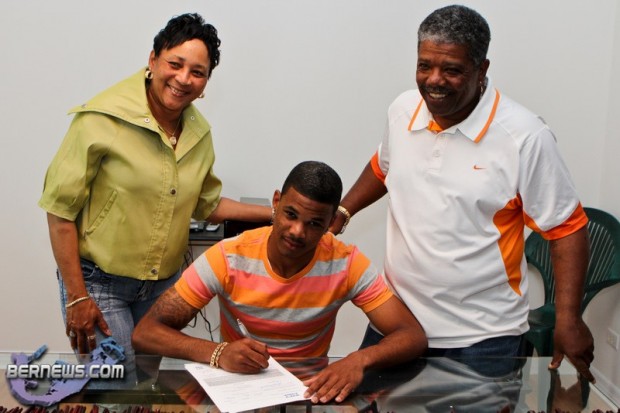 Spring is the season for growth, and that's exactly what DePaul men's soccer coach Craig Blazer has in mind for his young team. Hunter Jr. said, "I am hoping to get a chance to start early and I will be looking to make sure he keeps his spot."
"I am looking forward to this new challenge and I want to make sure I make it work," continued Hunter Jr. Proud parents Debbie & Anthony Sr. were thankful that their son was offered this partial Scholarship. "I am grateful to the Bermuda Football Association (BFA) who awarded Hunter Jr. a scholarship when he attended South Kent," said Hunter Sr..
"DePaul is a Division One School playing in the Big East against powerhouses Uconn, Syracuse, St. John's and Rutgers just to name a few," continued Hunter Sr..
Hunter Jr. attended the Berkeley Institute for his S1 & S2 years before moving to South Kent as a result of a Prep School Tour where he was offered a scholarship from the school as well as the BFA scholarship to attend and play football.
Mother Debbie Jones-Hunter, a former sprinter who ranks amongst one of our best ever, said, "What I am mostly proud of is the fact that when Hunter Jr. was at South Kent he maintained a 3.7 grade point average for his two years and has been on the Principal Honors list for two consecutive years."
Hunter Jr. played for the Somerset Eagles locally, and has represented Bermuda internationally. While at South Kent he played on two Class B Connecticut State Championship Teams.
Read More About