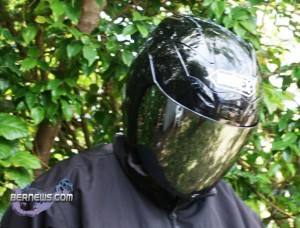 [Updated] As many locals are aware, it is not unusual for the perpetrators of crime to be described as wearing a helmet with a dark visor, and a move is underway to urge the Government to ban the use of them.
The online petition is spearheaded by the group 'Colfords Family Against Violence,' which was formed after 29-year-old Colford Ferguson was murdered earlier this year. The family said after his murder they decided to try and take action to put an end to this senseless violence that is plaguing our  island.
The petition says, "We, the undersigned citizens of Bermuda along with Colford's Family Against Violence and HSOB "Help Save Our Bermuda" are presenting this petition to eliminate the use of tinted visors on bicycle helmets.
"The increase in the shooting incidents have bought this idea with the hope that assailants faces being visible to others would hopefully dissuade the culprits from taking action. This might seem like a small matter, but at this time anything that we can do to hopefully avoid another life loss. We have to stand up an start somewhere, and what better place then here."
"Our Country is currently suffering from this violence, families are watching their loved ones die to gun violence. April 27th, 2003 our 1st ride by shooting with a tinted visor occurred, now April 2011, 18 murders later, majority murders were ride by shootings with tinted visors and they are still legal to use. "
"We, the people of Bermuda, would like to request our Government, to please put the lives of our people above everything else. It is our people who repeatedly suffer and suffer. Enough is enough. Therefore we ask that the Government of Bermuda to ban the use of tinted visors."
The online petition was started yesterday [Apr.28], and has garnered close to 200 signatures thus far. A hard copy is also circulating.
Update 11:05am: National Security Minister Wayne Perinchief said, "I appreciate the concern of the public translating into action. I would be happy to receive the petition. I have previously indicated my support for some revision to the law and support the banning of tinted visors."
Read More About