The Bermuda Humpback Whale Project has completed its photo-ID cataloguing of the island's greatest return visitors for 2011 — documenting at least 150 of the magnificent migratory animals in the island's waters between February and May.
Headed by conservationist and filmmaker Andrew Stevenson, the Humpback Whale Project — founded in 2007 — researches and collect visual and acoustics data on the great sea creatures.
"I haven't counted the exact number of individual humpback whale fluke IDs we have obtained this season but it is well over 150," said Mr. Stevenson. "That is about the same as our previous record two years ago when we obtained 158 individual fluke IDs.
"Keep in mind the total number of fluke IDs obtained in Bermuda by marine scientists from 1968 to 2007, when I started my project, was 146."
"That brings the total of Bermuda fluke IDs in the past five seasons to well over 500 individual animals out of 7,000 humpbacks that have been identified in the North Atlantic."
"The key to our studies of humpbacks is individual photo-identification," said Mr. Stevenson. "Each humpback has a unique pigmentation pattern on the underside of its tail flukes — some are mostly black, some are mostly white, and many have a mixture of black and white."
Photos of these patterns, plus various nicks and scars on the tail, make a photograph of the flukes — taken from behind when the whale dives and lifts its tail – the equivalent of a person's passport photo.
By examining these photo IDs, Mr. Stevenson and other researchers can determine how many different whales are in Bermuda waters, how many return here each spring, and what other areas they visit.
Mr. Stevenson said many of the humpbacks his team have sighted more than once in Bermuda have not been seen anywhere else.
But he added the Bermuda Humpback Project had matched about a third of this season's IDs to the Provincetown Centre for Coastal Studies catalogue in Massachusetts — a major whale conservation and rescue centre — and the Allied Whale's North Atlantic Humpback Whale Catalogue at the University of the Atlantic, Maine.
"We've also made some additional matches with the Newfoundland catalogue in St. Pierre-et-Miquelon," he said.
About 20 percent of this season's fluke IDs are re-sightings to whale fluke IDs obtained here in Bermuda over the last five years.
And two whales Mr. Stevenson sighted this year were first recorded in Bermuda's waters 27 and 34 years ago, respectively.
"Two whales we have observed here for a period of eight days," said Mr. Stevenson. "One whale, presumably a female, was with the same escort for the eight-day period.
"We have some others that were spotted over a six-day period. We have one whale that we have photographed five times in the last six years."
"And once again, there are remarkable similarities in the timing of the whales' arrival in Bermuda from year to year. All of this is cutting edge stuff, at the sharp end of marine exploration."
Last month Mr. Stevenson spotted humpacks and dolphins playing together on Challenger Banks, with the smaller sea mammals riding the bow waves created by the whales.
Mr. Stevenson — whose 2010 humpback documentary "Where The Whales Sing" has won awards and accolades on the international environmental film festival circuit — said he also obtained striking new film footage of the animals this year.
"Some of  it records humpback whale activity off Bermuda which has never been documented before," he said.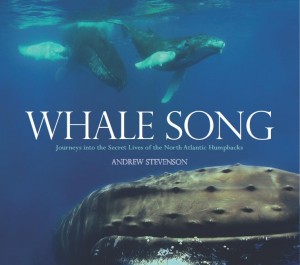 A humpback usually blows three or four times before diving and usually stays down for ten to 15 minutes, although 45 minute dives have been recorded.
As the whale rolls forward at the surface, it lifts its flukes high in the air in what's known as a fluke-up dive.
The high arch of the back is the characteristic which gave the humpback its name.
Mr. Stevenson is currently putting the finishing touches to an upcoming book based on the research he has conducted for the Bermuda Humpback Whale Project.
"Whale Song: Journeys into the Secret Lives of the North Atlantic Humpbacks" [cover art at left] will be published by Constable and Robinson in London with co-publishers in Canada and Germany.
It will be  published in September, 2011
"This 200-page large format book with 300 of my photographs and 37,000 words of text will be published in London later this year," he said.
Read More About
Category: All, Environment, News