Bermuda has attracted two long term repeat visitors of the marine variety, as two whales that were first recorded here in 1977 and 1984 respectively, were filmed back in Bermuda waters last week.
Whale researcher Andrew Stevenson said, "We managed to identify both these whales and both were first photographed in Bermuda, one 34 years ago and the other 27 years ago." The migratory animals unique tail fluke markings are used for individual identification.
The video below, filmed on April 5th 2011 just off Chubb Head, shows the footage of the two humpback whales in shallow 40 foot deep water scratching their backs, stomachs, chins, and heads by rolling around in a sand hole:
Judie Clee matched the fluke ID of one of the whales seen in the video to the NAHWC catalogue as #6042, which first photographed in Bermuda in 1984. The whale was later seen in 1992 in both the waters of Newfoundland and Strait of Belle Isle, Canada.
She matched the second whale's fluke ID  in the NAHWC catalogue as #6002. The whale was first photographed in 1977 in Bermuda and was photographed again in Bermuda thirty years later in 2007 [pictured below].It was also seen in Newfoundland, Canada in 1980 and 2001.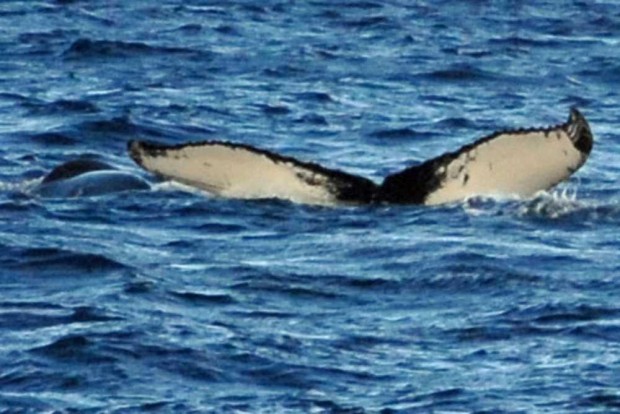 When asked how old the whales might be, Mr Stevenson said, "The bigger whale that was mostly in the sand hole is a very very large whale. I know she looks small with wide angle on the camera housing dome port but she must have been at least fifty feet, an indication that she is an older whale."
"How long do they live for? No one really knows for sure. We do know for sure that this was is at least 34 years old and she wasn't a calf when she was first photographed 34 years ago. The biggest and oldest whales were the prime targets for whalers and it wasn't until 1986 (quite some time after this whale was first identified in 1977 and even after the other whale was first photographed in 1984, coincidentally enough in Bermuda) that there was a moratorium on whaling."
"By the time the moratorium came the great whales were almost extinct. I'd take a rough guess that humpbacks natural life spans are probably similar to humans and that we would find humpbacks in their sixties and seventies and eighties and maybe even older, if they hadn't been so extensively hunted."
Read More About
Category: All, Environment, News