Andrew Stevenson's "Where the Whales Sing" screened at the Nations Capital Environmental Film Festival earlier this month, with Mr Stevenson invited to present the film at the Washington DC film festival.
Some 400 schoolchildren, parents, and teachers came to the THEARC theatre complex in South East Washington DC to watch the screening.
Mr Stevenson said, "For me it was very moving to see how well behaved these young children were, and how they related to Elsa in the film, despite the huge differences in lives. As often happens when I attend a screening of the film to schoolchildren, I was impressed by their obvious knowledge, curiousity and enthusiasm for the whales." He is pictured below along with a group of school children who came to view the film: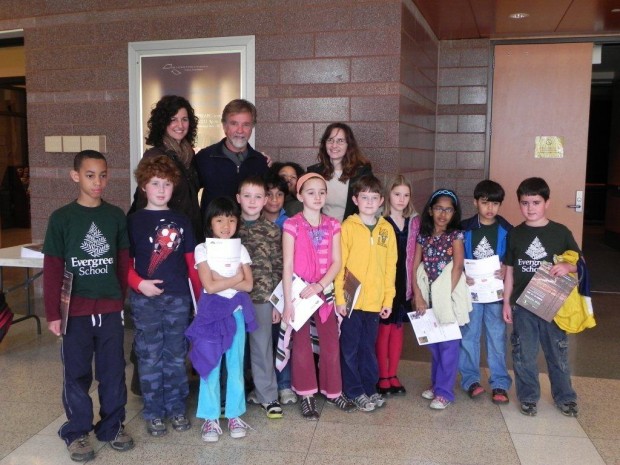 This film was first shown at the Bermuda International Film Festival in March 2010. At its second film festival, the BLUE Ocean Film Festival in Monterey, California "Where the Whales Sing" was one of over 400 entries and one of 19 award winners. The film won "Best Emerging Underwater Filmmaker". Subsequent to that award "Where the Whales Sing" was awarded High Honours at the Princeton Environmental Film Festival held in New Jersey.
Three years ago Mr. Stevenson embarked on a project to film the North Atlantic humpback whales underwater in the middle of their mid-ocean migratory crossings.
He worked on the film between February, 2007 and February, 2010 during which time the humpback whales became an overriding passion. The film shares his journey, told through the eyes of his six-year-old daughter, Elsa.
The 60-minute documentary is the culmination of Mr. Stevenson's Humpback Whale Film & Research Project, intended to research and collect visual and acoustics data on the humpbacks as they migrate past Bermuda to broaden our knowledge of these magnificent animals.
Footage of humpback whales Mr. Stevenson shot off Bermuda during the course of his research for the documentary is shown below.
Mr. Stevenson donated copies of his film to the Bermuda Department of Education so it can be shown in the island's schools, and he is now working on an illustrated book of 30,000 words and 300 photographs based on the Humpback Whale Film and Research Project. This will be published by Constable and Robinson in London with co-publishers in Canada and Germany and will come out in September 2011.
Read More About
Category: All, Environment, Films/Movies