This morning [June 18] pomp and pageantry took over Front Street as the Bermuda Regiment, Bermuda Police, Bermuda Cadets Corps and the Bermuda Sea Cadets all combined to take part in the annual Queen's Birthday Parade. The parade was commanded by soon-to-retire Major George Jones, marking his last major duty in the Regiment after almost two decades of Service.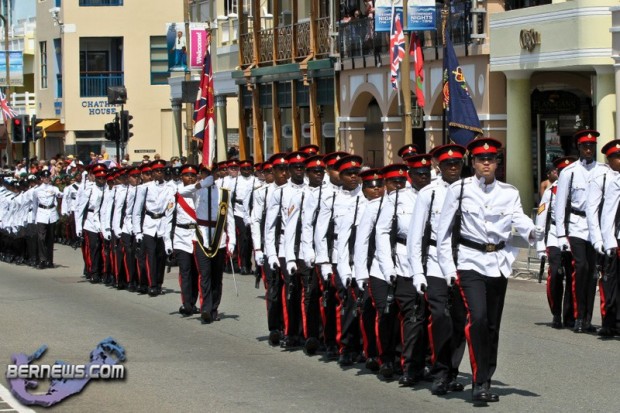 Due to financial reasons this year there were two guards, rather than four, from the Bermuda Regiment, including the Colour Party who displayed the Battalion's new Regimental Colours presented by Her Royal Highness The Duchess of Gloucester last year.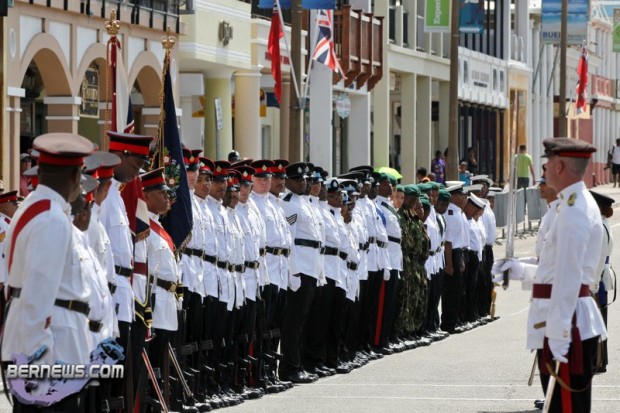 Also on parade was joint Police guard [Cadets, Reserves, and Regulars] commanded by Inspector Charlene Thompson, and guards by the Bermuda Cadets Corps and the Bermuda Sea Cadets.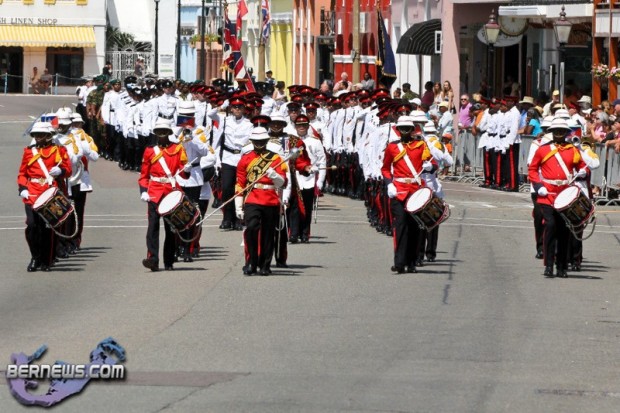 The military in Bermuda has always celebrated the Sovereign's Official Birthday with a June parade. From the nineteenth century until 1955, the ceremony was put on by the soldiers of the infantry battalion that was garrisoned in Bermuda.
Until the 1950's, the ceremony itself was a purely military celebration, with minimal public participation and took place at the Prospect Garrison field. This field is now the site of Bermuda's National Stadium.
From 1950 to 1955, the Queen's Birthday Parade took place at Bernard's Park with units from the British Garrison and the Royal Navy playing the lead role. From 1952, there was participation by local units such as the newly formed Bermuda Rifles, the reformed Bermuda Militia Artillery, and the Bermuda Cadets Corps.
In 1966, following the formation of the Bermuda Regiment, the parade shifted to Front Street where it became a major Tourist drawing card. The parade has taken place on Front Street ever since 1966.
In 1980, the Bermuda Regiment mounted a 120 person Guard of Honour when it presented four Guard sections made up of men, and one complete Guard section made up entirely of Bermuda Regiment servicewomen who were taking part for the first time.
Read More About