[Updated with video] George Fergusson officially became Bermuda's Governor at a Swearing-in Parade on the grounds of the Cabinet Office this morning [May 23]. The 56-year-old diplomat arrived last night from London, where he was greeted at the airport by a number of dignitaries.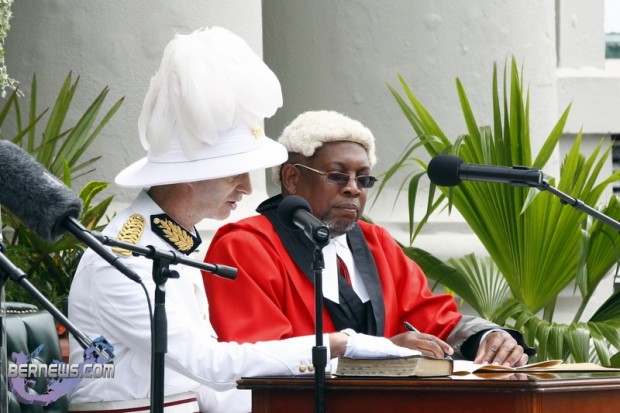 The Regiment band and soldiers marched onto the Cabinet Grounds before the dignitaries arrived. Mr Fergusson then arrived in a horse drawn carriage accompanied by a police motorcade, and where he signed paperwork, and inspected the Regiment troops.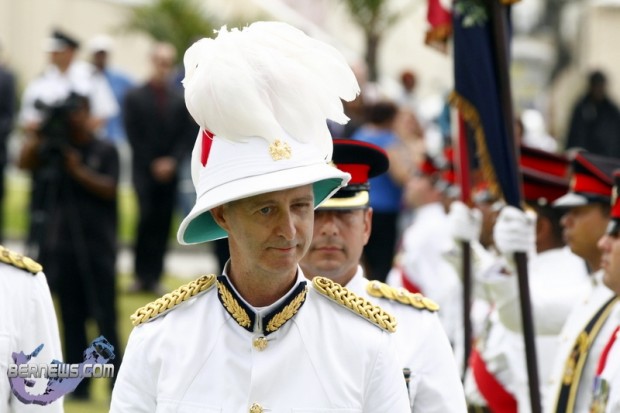 The Governor was then escorted by Premier Paula Cox and introduced to some of the invited guests, before leaving the grounds on a horse drawn carriage.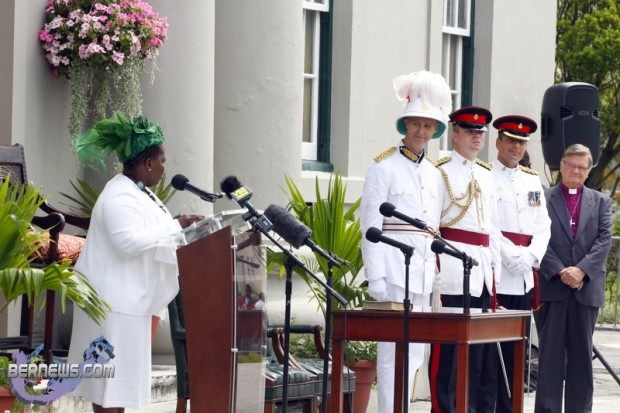 Mr Fergusson — Bermuda's 88th Governor — took over from Sir Richard Gozney who served as Bermuda's Governor from 2007 to 2012. The traditional 17-gun salute was performed by Bermuda Regiment in honour of the occasion.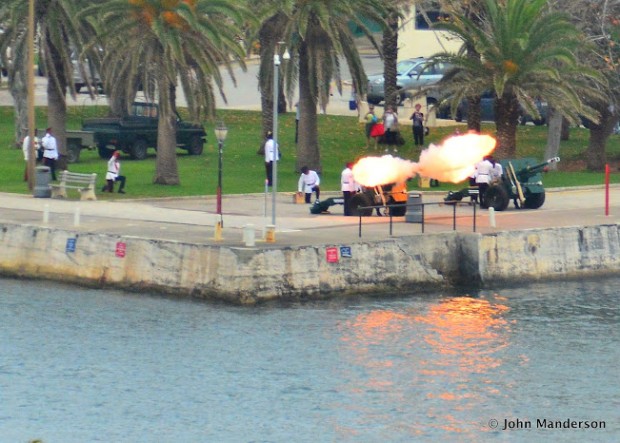 "I am delighted to be here," Mr Fergusson said. "I might have hoped to see Bermuda over the next few years with two eyes, but it's looking pretty good with one," he said referencing the attack last month in London which left him blind in one eye.
The new Governor also said that Bermuda faces two immediate challenges; gang related violence and a "serious and obvious economic challenge."
Prior to taking up the post in Bermuda, Mr Fergusson's last overseas posting was as the British High Commissioner to New Zealand and Samoa and Governor of Pitcairn, and he also served as Consul-General in Boston. A full photo gallery of this morning's ceremony can be viewed here.
The Governor's full remarks are below:
I thank you Madam Premier for your welcome.

I am delighted to be here. I might have hoped to see Bermuda over the next few years with two eyes. But it is looking pretty good with one.

I am very grateful indeed for all the messages of good cheer I have had over recent weeks from people across Bermuda. They have been welcome support; and I appreciate them.

I am sad to be arriving alone. My wife Margaret was unexpectedly told last Friday evening that she could not fly pending medical tests. She is looking forward enormously to being here soon. And again, I am grateful for the many wishes we have had for her good health.

I bring the Queen's greetings. I called on her formally last month. She spoke, far from formally and with great warmth, of her regard for Bermuda and how much she has enjoyed her visits here. She had just received her Easter lilies.

She clearly appreciates that tradition – and spoke knowledgeably about the lilies themselves. I look forward to celebrating Her Majesty's Diamond Jubilee with many of you over the coming weeks.

When my appointment was announced, I said I admired Bermuda's great combination of sophisticated business and well-preserved history. I have since learned a good deal more that is very positive – things like voluntary work, which we both hope to visit and support.

And I have heard impressive accounts of the Bermuda Regiment. The Regiment certainly looks – and has sounded – impressive in its ceremonial role today. But I will take a real interest in its other important roles, like that in disaster support in the wider region, and its other established and developing tasks.

Bermuda has an internationally respected record of living by the rule of law and managing its own affairs and local and international business to the highest standards.

That reputation is hard earned. It is a major asset to the country, not least during economic turbulence. It is a tribute to those who interpret the law, those who make the laws, and those who enforce the law. I shall play my part, working with the elected government of Bermuda, to uphold and preserve this asset.

Bermuda faces two immediate challenges. Along with most of the Western world, there is a serious and obvious economic and financial challenge. In this, again, I shall work with the Government to do what I can to help support and expand the activity we have; and diversify into new, promising and sustainable areas.

The second challenge is gang violence. The Bermuda Police Service has a big role to play. But, here as elsewhere, the police, even with their internationally high reputation, can't address this problem alone. It is a problem for all of us.

It needs partnership with many people and organisations, in the public and private sectors as well as others like the churches and voluntary groups. This will be a high priority for me, working with the widest possible set of committed colleagues.

I value the many links, current and historic, between Bermuda and Britain. They bring benefits to both countries. I know that the links towards the West are also close – and just as old. We have lived in New England, and look forward to finding again the historic and modern links with the United States and Canada.

Where we live in London there is a strong, visible – and during football matches – very audible Portuguese community: another common factor.

Enjoying diversity more generally and the mutual respect that must accompany it is, with much else, part of the joint experience of Britain and Bermuda.

I see it as central to my role, to do my best for Bermuda. This includes of course the public issues I have mentioned. But it includes, just as naturally, the world of sport.

This summer, as eyes turn to London – and to Weymouth – for the Olympics and

Paralympics, I will be shouting for Bermuda's athletes and hoping they do well. From today, 'The privilege is now mine, to sing Long Live Bermuda!' And I hope we'll be hearing the rest of the song played in London in July and August.

Madam Premier, Thank you for your words of welcome.

And, Ladies and Gentlemen, thank you also for welcoming me to Bermuda.
-
Read More About