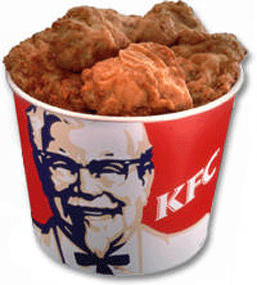 Kentucky Fried Chicken (Bermuda} said fiscal 2011 was a "challenging year" for the company as declining sales combined with increased staff costs resulted in a decline of $89,925 (-44.7%) in operating income.
The Chairman's Letter to Shareholders said, "KFC has endured a rocky start to fiscal 2012 and continues to see a downward trend in sales together with expense control challenges continuing from the last two years."
"With the decline in Hamilton cruise ship visitors, few major construction projects underway within Hamilton, a continuing outflow of guest workers from Bermuda, and difficult economic circumstances for many of our customers, it will be essential for KFC to adapt its operations and cost structures to these realities in order to maintain strength for the company, provide stable employment opportunities for its staff, and deliver an acceptable return to its investors. "
KFC commenced discussions with the Bermuda Industrial Union [BIU] early in April 2011 regarding renewal of the company's collective agreement for its unionised staff.
KFC said, "To date those discussions are ongoing. Our negotiating team has been given a mandate to reach a fair and economically sensible agreement with the BIU membership that respects the historical service of existing employees, the need for our staff to be fairly compensated, as well as the financial realities of KFC's business operations and the economic climate of our marketplace."
2011 sales were $5.032 million, down $249,390 (-4.7%) from the prior year. Operating expenses declined by $97,546 (-2.6%) as tight cost controls by management enabled declines in all expense categories except Payroll costs and benefits which increased slightly, year-over-year.
Net income for 2011 was $167,480 (vs. $234,656 in 2010) or $0.29 per share (vs. $0.40 in 2010) – a decline of $67,176, or $0.11 per share (-28.6%).
Read More About