Today [July 21] the Bermuda Police Service released the second quarter [Q2] crime statistics, which cover from April 1st to June 30th 2011.
There were 1,139 offences in Q2 2011, an increase of 14.9% [149 offences] when compared to Q1 2011.
Crimes Against the Person offences in Q2 2011 increased by 10.1% [18 offences] compared to Q1 2011. In Q2 the notable crimes categories within the Crimes Against A Person category were murder, with 3 offences, the same as in Q1 2011 and robberies which decreased from 21 in Q1 2011 to 18 in Q2 2011.
In Q2 there were 28 firearm incidents of which 13 were confirmed, and 15 were unconfirmed.This is a decrease of -7 firearm incidents compared to Q1 2011, with -1 confirmed firearm incidents and -6 unconfirmed firearm incidents. There was a substantial increase in firearm incidents between 2007 and 2010, with Q2 2011 showing signs of a decrease.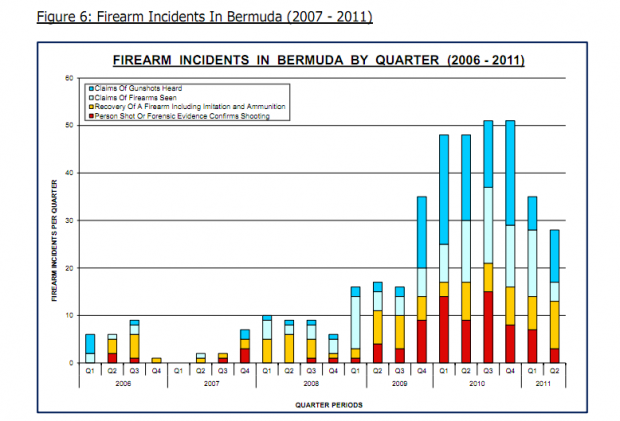 Crimes Against The Community offences in Q2 2011 increased by 20.7% [39 offences] compared to Q1 2011. In comparison to the same period last year (Q2 2010), Q2 2011 has decreased by 2.6% [6 offences]
The full 23-page report is below, click 'Fullscreen' for greater clarity:
Read More About