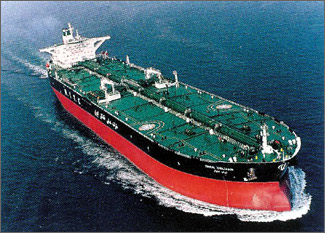 Bermuda-based Frontline Ltd., the world's largest operator of the biggest oil tankers, said it may run out of cash next year and is seeking talks with lenders after eight months of unprofitable rates, the Bloomberg financial news service reports today [Nov.22].
The Hamilton company, which has $1 billion of bonds and public loans maturing in the next decade, may need more funding in 2012 and there are "significant uncertainties" about meeting some loan terms at the end of this quarter, Frontline said in a statement today.
Billionaire chairman John Fredriksen "has the funds available and he is prepared to go in and try to find solutions," Tor Olav Troim, one of his aides, said in an interview in Oslo today.
Tanker rates slumped 69 percent since the start of 2010 as a glut of vessels overwhelmed growth in oil demand hurt by the worst global recession since World War II.
General Maritime Corp., the second-largest US-based owner of crude carriers, filed for bankruptcy protection last week. Forward freight agreements, traded by brokers and used to bet on future transport costs, are anticipating unprofitable charter rates for at least two more years.
"The industry is struggling substantially today with vessels that are not generating any cash flow at all," said Herman Hildan, an analyst at RS Platou Markets AS in Oslo. "A lot of companies are going to need to go through restructuring in 2012. Frontline is doing it now before everyone else is in the same position."
Shares of Frontline fell as much as 45 percent to 16.77 kroner in Oslo trading and were at 17.61 kroner by 2:02 p.m. local time, extending this year's slump to 88 percent.
The company is now valued at 1.39 billion kroner [$241 million], down from as much as 27.7 billion kroner in June 2008, data compiled by Bloomberg show.
Frontline Ltd. had its origin in Sweden's Frontline AB, which was founded in 1985, and which was listed on the Stockholm Stock Exchange from 1989 to 1997.
Hemen Holding Ltd. — a company indirectly controlled by trusts established by Mr. Fredriksen — became the largest shareholder of Frontline AB in 1996.
In May 1997, a decision was made at the general meeting in Frontline AB to change its domicile from Sweden to Bermuda and to list its shares on the Oslo Stock Exchange. The change of domicile was executed through a share for share exchange offer from the then newly formed Frontline in Bermuda.
As a result of the acquisitions of vessels and shipping companies, Frontline established itself as the world leader in the international seaborne transportation of crude oil, with one of the world's largest fleets of VLCC and Suezmax tankers and Suezmax OBO carriers.
Read More About