[Updated with videos] One Bermuda Alliance leader Craig Cannonier was sworn in at Government House this morning [Nov.3] as Bermuda's newest Parliamentarian and also as the new Opposition Leader.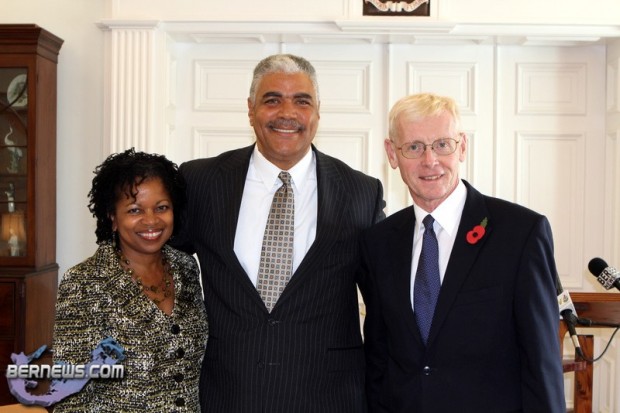 His replacement in the Senate has yet to be named. However, the One Bermuda Alliance is expected to make an announcement on the new line-up of its Senate team in the near future since Dr. Katherine Michelmore will also be stepping down. She and her family are leaving Bermuda for Australia shortly. The "Bermuda Sun's" Raymond Hainey reports today that Michael Fahy and Toni  Daniels are in line to become the new OBA Senators.
Two days ago Mr. Cannonier romped to an easy victory in the Devonshire South Central by-election, winning almost four times as many votes as his two rivals combined.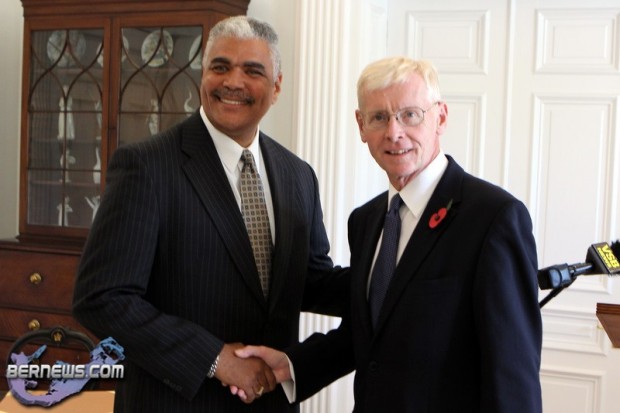 He bested Progressive Labour Party candidate Anthony Richardson and Independent candidate David Sullivan to win the seat with 504 of the 608 votes cast. Mr. Richardson placed second with 75 votes while third-place finisher Mr. Sullivan drew just 29 votes.
On a percentage basis, Mr. Cannonier won 82.89% of the votes,  Mr. Richardson took 12.43% and Mr. Sullivan 4.77%.
The by-election was called due to the resignation of veteran Parliamentarian John Barritt, who had promised to step down if the new Opposition Leader selected at a September OBA party conference was not an elected MP.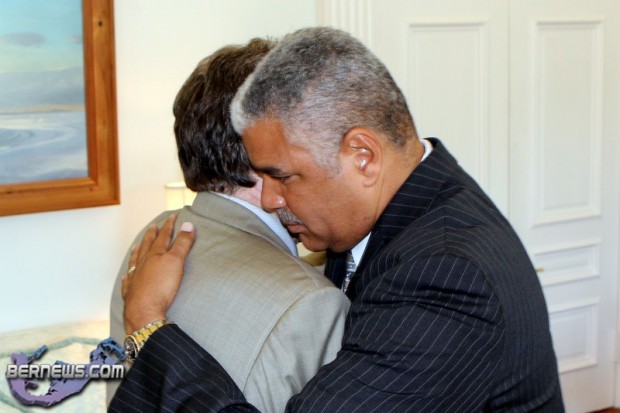 When Sen. Cannonier bested MP Bob Richards in the leadership contest, Mr. Barritt tendered his resignations as interim OBA Leader and as the Parliamentarian for Devonshire South Central.
Sen. Craig Cannonier was born and raised in St David's, attending St. George's Preparatory School and the Bermuda Institute.
After obtaining a BSc in Industrial Psychology from Towson State University in Baltimore, Maryland in 1986, he went on to acquire retail management experience in a number of different arenas.
Mr. Cannonier began his career by working for the MarketPlace Group where he was responsible for human resources, training and purchasing. He later served as the general manager of People's Pharmacy for some ten years, and currently runs Esso City Tigermarket, Collector's Hill Esso and Warwick Esso.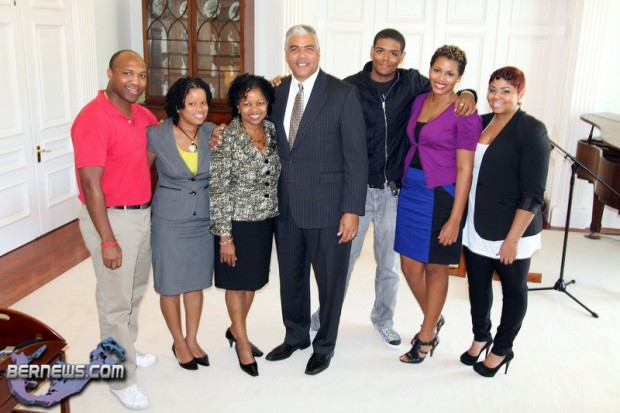 He entered politics in 2009, and in February 2010 was elected leader of the Bermuda Democratic Alliance, winning 157-38 over Myron Piper.
In May of this year the Governor, acting on the advice of the Interim Leader of the Opposition John Barritt, appointed Craig Cannonier to the Senate, along with Michael Dunkley and Dr Katherine Michelmore.
In September 2011 Mr. Cannonier was elected leader of the One Bermuda Alliance, beating fellow candidate Bob Richards by 14 votes. There were 680 votes cast in the leadership race; 6 spoiled [0.88%], Senator Cannonier received 344 votes [50.44%], while Bob Richards got 330 votes [48.52%].
Update 8.23pm: Short video interview with Mr Cannonier
Read More About