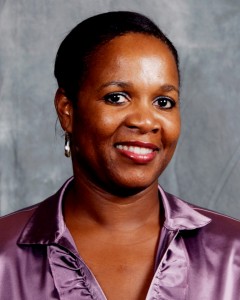 For first-time pantomime director Jenny Burrell-Jones [pictured], this year's Bermuda Musical & Dramatic Society Christmas production is a Cinderella story — both literally and figuratively.
Tickets go on sale on for this year's Christmas pantomime tomorrow [Nov. 26], a knock-about version of the age-old and much-loved tale of Cinderella featuring romance, adventure and and uproarious comedy.
A longstanding Bermuda Christmas tradition, this year's pantomime will be directed by Ms Burrell-Jones, who is fast making a name for herself as one of the leading new directors on Bermuda's theatre scene.
"Cinderella" will be Ms Burrell-Jones' first show to appear on the City Hall stage, and she describes her experience directing the show to date as a tough challenge well worth taking on: "I am thrilled to have the opportunity to direct this year's pantomime.
"It is great to work with such a talented young cast and seeing how they make my vision for this show a reality," she said. "Directing such a large cast can be a challenge — this year we have a 30-strong cast.
"Rehearsals have been in full swing for over five weeks and it is exciting to see everything beginning to come together. It has been extremely rewarding so far and I am relishing the experience."
The show's cast includes Katie Witkowski as Cinderella, Matthew Wedlich as Prince Charming, Dion Ming as Buttons and Kelvin Hastings-Smith as Millipede, one of the Ugly Step Sisters.
As director, Ms Burrell-Jones is the central creative force for the production team and crew, and works closely with the musical director to create the vision for the show.
While the pantomime is a much larger production than Ms Burrell-Jones' previous outings as a director each of these shows has received rave reviews — particularly the hit musical "The Railway Children" and the drama "Intimate Apparel."
"Pantomime is timeless and has great community appeal, and is always a popular event in Bermuda," she said. "This year, we have several new and exciting surprises. Our characters will also feature in the Marketplace Santa Parade this week Sunday, and will make a special appearance at Daisy 'n'Mac on Saturday, December 3."
Ms Burrell-Jones is no stranger to pantomime and has acted in several recent productions, including "Jack & the Beanstalk".
She continues to be an active member in all areas of theatre both on and off stage for BMDS and Gilbert & Sullivan Society, and has produced several shows in recent years including the hit sell-out production of "Dad's Army".
Tickets are available at the BMDS Daylesford Theatre located at the corners of Dundonald and Washington Streets.
Box office opening times for "Cinderella" are:
12.00pm-3.00pm Saturday, November 26
5.30pm-7.00pm Monday, November 28 through Friday, December 2 and Monday December 5 through Wednesday, December 7.
Any remaining tickets will be available One hour before curtain on performance dates at City Hall Box Office (tel 292 2313)
Online bookings can be made at the BMDS Box Office from 3pm on Saturday [Nov. 26]
Read More About
Category: All, Entertainment